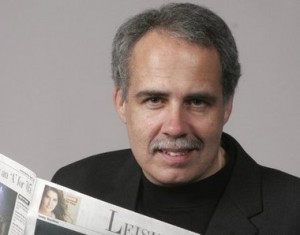 One of the highlights of seeing a lot of terrible concerts over a 12-year period at the Hartford Courant was running into my colleague Kevin O'Hare. Even if we spoke briefly to commiserate our fate – covering some teeny bop act that would be forgotten in five years, deadline pressures – it was a breezy exchange over what was exciting in music, or what was coming up worth looking forward.
Because we were roughly the same age, and the only guys around with notebooks, we stood out at shows and updated each other on family, work situations and details in the arcane world of Beatledom, of which we were both heavily invested.
In fact, among a lot of friends who knew a whole lot about the doings of the Beatles, Kevin might have been the most knowledgeable, pointing me in the direction of the odd new bootleg or arcane video.
I stole a ride with Kevin and his Holyoke buddies after a memorable Rock and Roll Hall of Fame induction dinner at the Waldorf Astoria in New York; talking music nonstop the 100 miles back to Hartford made it one of the speediest trips back in the middle of the night.
It was refreshing to see him at a Red Sox game the odd Patriot's Day because we were both indulging in enthusiasms that had nothing to do with our regular jobs.
Kevin's coverage for the Springfield Republican over decades was solid and dependable, keeping on top of an array of musical genres, ready to heap praise where warranted and be honest about what let him down. He'd cover music with the enthusiasm of the fan, but always keeping in mind the audience, and how they were treated to what was expected. Because he was so dedicated to his tasks, readers got to know deeply his tastes, making him a reliable source for shows from clubs to stadiums.
He covered an awful lot of ground for a paper as medium-sized as the Republican; more ground than the Courant did eventually (the Courant has no full time music writer currently, after Eric Danton took the buyout earlier this year).
But he always did it with extreme good cheer and doggedness. He was always unnecessarily complimentary of my own work, sent me some kind words when I went off the music beat, and again when I left the Courant altogether last year after another nine years. I appreciated it.
Glimpses of his past life came into focus, as it does, through random Facebook postings by friends – sharing pictures of his life in Western Massachusetts bands, or at ball games, or with his family.
It was never clear to me that he was critically ill though I suspected something dire was up when people would post vaguely they were thinking of him. So it's a bit of a shock to read of such an unfairly early departure of such a vital soul. Musicians and readers alike will be saddened to hear of his passing.