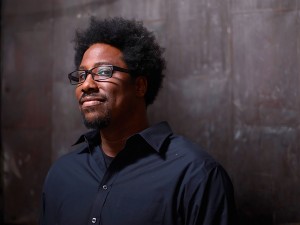 Russell Brand's stab at nearly-live topical monologue on late night cable sort of went off the rails as he floundered for topics and relevance (it will be retooled by the time t returns in the fall).
In its place is a much fresher feeling approach from a smart new comedian. The format for the new "Totally biased with W. Kamau Bell" (FX, 11 p.m.) is similar in that Bell largely stands before a live audience and riffs on the day's event; and the riffs are recent – shows are shot earlier in the day, just as the other late night monologists he'll be competing with.
Despite his admitted bias, he's freewheeling in his political approach, with a quick and nimble manner that sets him apart from other topical comics in that he's not completely jaded.
That Chris Rock is on board as a producer is a plus; he obviously admires Bell's style and his graciousness, as he steps aside to let other comics take over with small bits.
But Bell himself is a great comic find.
Based for the past 15 years in San Francisco, Bell told reporters at press tour earlier this month "I was doing standup, but I felt like I wasn't being able to tackle the issues I wanted to tackle in standup, and I really was like and so what I did is I was like, I'm going to write a one man show. Basically, 'What would I do if I was famous?' is what I asked myself.
"And I said, 'Well, I would have a one man show. I would talk about racism, and I would have a screen onstage, and I would have video clips and slides.' And so I basically wrote this show as if I was famous, as if, 'Yeah, come see this show that you like.' And it took off very quickly in San Francisco. And then I started taking it around the country to festivals, and I performed in L.A. and New York."
He kept building his audience in San Francisco until Rock called out of the blue and said he wanted to have him star in a show.
"Every comedian wants a TV show based on what they do," Bell said. But he had a different goal for his career. "Well, I'm just going to be, you know, the Ani DiFranco of comedy."
"It is definitely Kamau's show," Rock said via sattelite. "I always say the secret to being a good producer is to hire your boss. So I you know, I chose to work with Kamau because I figured, you know, in three weeks, a month, or whatever, he probably won't need me. If, six months from now, he needs me to make a bunch of decisions, I picked the wrong guy."
"Chris does a great job of giving his opinion and saying, 'But do what you want to do,' " Bell says. He ends up often doing what Rock says "because he's done this before," Bell says. But, he added, "I still very much feel like this is my show."
Working with Rock, Bell says, is "like a master class in comedy, but it's also just about how to how to approach my career.
"I feel like a lot of the knowledge I am getting from Chris is something I'm going to take with me for the rest of my career," he says, so he listened to Rock when he said don't do any standup as you prepare for your show.
"So I'm not doing any live dates and standup because he's like, 'Put it all into the show. Don't treat this show like a day job. Put it all into the show.'
"That's a big deal for me to not be doing standup right now, but that's what Chris said," Bell says. "So I'm going to put it all into the show."