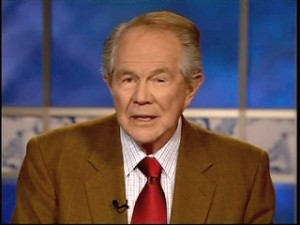 Vacation means a change of scenery and likely chance of sunburn but it doesn't mean I have forsaken blog readers, as you know.
So I spent this morning peeking into CBN, Pat Robertson's Christian Broadcasting Network, not far from Virginia Beach, for a taping of his "700 Club," still seen nightly on ABC Family and dozens of syndicated spots on the dial.
Aside from a metal detector and satchel-search, it was easy to be among the dozen or so audience members for the morning taping.
Most were, like me, from the mid-Atlantic and here on a visit. Others were animated by something other than sheer curiousity to see one of the bigtime evangelical broadcasters really worked.
Despite a late night at a marvelous bar in Sandbridge that lets you choose from a big selection of classic vinyl and full access to a turntable, we got there a little early. But Pat himself came in the studio just minutes for the day's broadcast.
An elfin, slightly more frail man at 82 than he was when he ran for President in 1988, Robertson gets noted in the news only when he says truly nutty things like earthquakes and floods are the fault of God's disapproval with increased rights for homosexuals.
He entered with his Irish water spaniel Princess Maggie who immediately lunged at the crowd as her owner just cackled – a chilling image.
Even more chilling, of course, was the "news" broadcast that begins the show, told by an anchor from a newsroom. If Fox News looks at its world with a unique slant, the one from CBN News is even more skewed.
The lead story was a shooting incident at the Family Research Council in D.C. that injured a security guard. The angle wasn't about the latest gun tragedy in a country overrun with guns; it was about how gay activists who have called those who are against gay marriage "haters" and how that immediately led to this.
Along these lines, there was another news update about the ramifications of gay equality that will infringe on the rights of straight homophobes, such as the wedding photographer in Colorado who refused to do a same sex ceremony and was sued for discrimination.
The format was pretty much: one sided report followed by in studio head-shaking by Robertson saying stuff like "Can you believe this? It's nuts!" An old man muttering at the news.
Like Fox News, the themes were pretty well cast, with Obama the bad guy at every opportunity. Other things you didn't see in your mainstream newspaper (or in reality): Obama was losing to Romney in polls of likely voters, the bailout of General Motors cost taxpayers billions and will cost them even more in the future, and in a tricky one, Obama allowing young people to get deportation waivers was hailed as humanitarian if exploitative (Robertson needs Hispanic viewers as much as Obama may rely on Hispanic voters). But the anti-Obama twist was unique: he broke "all kinds of laws" in trying to implement. They even found a kid who would benefit from the ruling to say (via Skype) that he disagreed with the way it was accomplished.
Aside from the super right wing approach to each story, there wasn't necessarily a Christian emphasis in them, at least this morning. In fact the feel of "The 700 Club" is mostly to assimilate and look like other morning programs, with Robertson and his co-host Kristi Watts looking like the Regis and Kelly of a different network (though their back and forth banter was a little strained).
"The 700 Club" which is still a part of ABC Family (as it was for Fox Family before it) – part of the stipulation of selling the old Family Network, chock ablock with wholesome and dated old TV shows along with religious fare, was to keep "The 700 Club" on no matter what, even if its lead in are things like "Bunheads" or "Pretty Little Liars."
The show got its name from an early fundraising effort – trying to get 700 people to donate $10 a month in their regular telethons to keep them on the air. The goal was reached a little more than a year later, and the name stuck, though the telethons are part of the show's annual fare.
It was surprising, though, how little fundraising was asked of those who came in to watch. Nor were we asked to do anything else, frankly. Actualy network shows will spend time trying to make the crowd a part of the show, overclapping to applause signs or following other directions of stage managers. Here the audience wasn't seen, wasn't asked to clap, though there was some for a musical performance, and wasn't involved in the broadcast at all.
Indeed, most in the three rows of seats (with "700 Club" blankets provided to those chilled by the air conditioning levels) watched the show through the monitor, not from the direct presentation at the other side of the studio, where Robertson's whispery voice could hardly be used.
How powerful now is the onetime Presidential candidate? You have to wonder, not only at his tsk-tsking of the news but in the entire segment devoted to his not very well trained dog, who slobbered over the co-host and generally didn't do any of the things Robertson asked of it.
Just having his own dog on the show is the kind of indulgent thing some TV star would do if there was nobody above him to advise against it.
Robertson doesn't stay long either, exiting the studio after 20 minutes or so following a strange segment that's sort of like Johnny Carson's Canac, with viewers emailing in concerns (Is God trying to tell me something through my dreams? one asked. It was probably something you had at dinner, he says). Another askes why men shy away from her because she has three adopted kids from different cultures, he says he can't blame them. "Nobody wants to take care of the United Nations."
Once he's fled, co-host Watts takes care of the guest segment, which features David and Temela Mann, who almost have too much to cover in the rest of the hour. They're stars of "Tyler Merry's Meet the Browns" except that the husband and wife team portray a dad and daughter, weirdly. But she is also a gospel singer, who belted out a number appropriate for the show, and the two are cooks who have a cooking show. So they cooked something – a Shrimp Po' Boy. And the added attraction of live TV became apparent: Smell (we couldn't taste any of it).