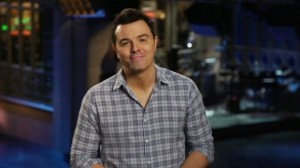 At 38, "Saturday Night Live" has long since aged beyond its target demographic. At the start of a new season Saturday, it showed it in a very precarious spot.
The absence of Kristin Wiig, Andy Samberg and Abby Elliott hasn't been filled with the new additions, some of which only got to say one line in the season opener.
At least some of the old featured players have moved up to full cast members, and some big assignments have changed.
That's how the show started, with Fred Armisen behind the presidential podium for the last time, introducing the new Obama. He almost looked relieved ("Who'd want that job?" he joked).
Taking over is Jay Pharoh, who slowed down the diction and added a lot of "aahs" but was no better really than any number of Obama impersonators. (Since when did the show have the notion that the person doing the impersonation should actually look like his target? Chevy Chase didn't look like Ford; Dan Ackroyd didn't look like Jimmy Carter; Will Ferrell didn't look like George W. Bush).
What was clear with both Obama impersonations is that it was the writing for both that failed, making both of their Obamas singularly unfunny.
There was a lot of political humor – and a summer's worth of news – to choose from in the return episode, but it all seemed to have a slapdash quality. Was the Clint Eastwood and Empty Chair skit really necessary? There wasn't much to it. And the long, exaggerated Obama negative ad. Wouldn't it be funnier if they stuck to the actual time of a commercial?
There was very little of substance in the whole of the show. One sketch early on traded on an internet star who may already be fading. After marveling that Park Jae-Sang, known as Psy, had already been on the MTV Awards and Ellen DeGeneres, here he was on "SNL." Not exactly breaking ground, especially in a sketch that didn't have a point other than do that goofy Gangnam Style dance (save it for the after party).
Part of the problem of the premiere was its host, Seth MacFarlane, who did a monologue that combined his two interests: Singing Broadway style songs and doing cartoon voices from his various shows.
He appeared in a variety of wigs in different sketches, a sergeant who stutters, a puppet workshop leader, a guy on a date who says "I'm all like" (as does everyone else in the sketch) or as various young people.
Because of the wigs, and his bland looks, you couldn't really tell at first if it were the host or a new face that was filling in. The one new featured player who stood out was Cicely Strong, who brought some life to the show as a Latina commentator during "Weekend Update."
Expecting so much from a season premiere, the result was disappointing enough to make a fan worry about the cast being able to hold up standards. At least they won't have to include Seth MacFarlane in their sketches going forward.