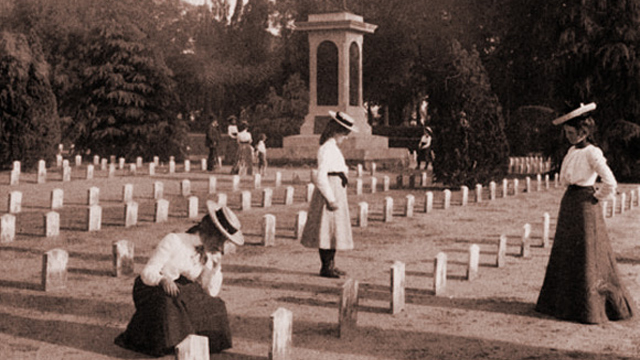 Call it the Civil War Death Trip.
When 60,000 soldiers died in America's bloodiest war, representing fully 2 percent of the nation's population survivors found it hard to deal with (a two percent death rate among the current population would be 7 million).
The deaths then forced the nation to come to terms with how the war dead were treated and set up protocols for counting, identifying and alerting next of kin. In a week where the 150th anniversary of the bloody battle of Antitam, "American Experience" (PBS, 8 p.m., check local listings) presents Ric Burns' "Death and the Civil War," an adaptation of Harvard president Drew Gilpin Faust's best selling work "The Republic of Suffering." As gripping as the focus is, some of the book is not covered, such as how faith was tested by the carnage.
What's at stake in the year-long rebel uprising in Syria? A fearless Guardian reporter rides into the front lines and gets some harrowing footage and makes some unbiased observations in the season premiere of "Frontline" (PBS, 10 p.m., check local listings).
"BAD 25 – The Short Films of Michael Jackson" (BET, 8 p.m.) is a special showing the videos from the album, which is marking its silver anniversary today with the release of a deluxe edition with additional tracks. It's not to be confused with Spike Lee's Michael Jackson documentary of the same name, "Bad 25," which premiered at the Venice and Toronto international film festivals in recent weeks and will air on ABC Nov. 22. Tonight's video compendium is followed by a replay of "Michael Jackson: The Life of an Icon" (BET, 10 p.m.).
Killing time before Sunday's Emmys and the start of a new TV season, "A Special Edition of "20/20" (ABC, 9 p.m.) lists the all time best TV shows in categories such as comedy, drama, cop shows and TV parents. Barbara Walters Hosts, fervently hoping somebody voted for her in a category (Most enduring parody target?). The show is a co-production of ABC News with People Magazine.
First, there was "Face Off" (Syfy, 9 p.m.), in which would be effects makeup artists compete (tonight they're creating makeup for superheroes and their sidekicks). Now there's "Hot Set" (Syfy, 10 p.m.) in which prospective set designers must show their skills for a prize. The first challenge for teams is to create an alien planet set for a visiting astronaut. Ben Mankiewicz, occasional host on Turner Classic Movies, is host.
The season finale comes for "So You Think You Can Dance" (Fox, 8 p.m.) with the final four of Eliana Girard, Tiffany Maher, Cyrus "Glitch" Spencer and Chehon Wespi-Tschopp cut to the two winners — one male, one female. Before that happens, Carly Rae Jepsen sings her new single "This Kiss" and the rest of the Top 20 return to dance.
Two new judges were announced for "The Voice" (NBC, 8 p.m.) yesterday: Usher and Shakira, possibly because their single names would fit so well on the swivel chairs. For now, though the usual four continue to conduct blind auditions.
It was another NBC show that did a good jab at the new "Go On" (NBC, 9 p.m.) by calling it "Goon." A new episode airs alongside a new "The New Normal" (NBC, 9:30 p.m.), which won't be able to top last week's impersonation of Little Edie from "Grey Gardens" by child actor Bebe Wood.
TV talk shows are the new big campaign spots today, with Barack Obama sitting down on a new "Late Show with David Letterman" (CBS, 11:35 p.m.) and Mitt and Ann Romney doing a taped show this morning on "Live! with Kelly and Michael" (syndicated, check local listings). Clint Eastwood, meanwhile, is on with "Ellen DeGeneres" (syndicated, check local listings).
"Sons of Anarchy" (FX, 20 p.m.) has already had a strong start and keeps the intensity level high.
Magic Johnson is profiled on a new "Real Sports with Bryant Gumbel" (HBO, 10 p.m.).
"White Collar" (USA, 9 p.m.) holds its season finale at an FBI conference.
Overbearing instructor Abby Lee Miller could well face some blowback when "Dance Moms" (Lifetime, 9 p.m.) holds its first reunion special.
The wickedly funny "The Burn with Jeff Ross" (Comedy Central, 10:30 p.m.) takes aim at "19 and Counting" (TLC, 9 and 9:30 p.m.). Don't worry, he's already covered "Abby & Brittany" (TLC, 10 and 10:30 p.m.), who travel to Rome tonight, in terms you don't want to hear.
"Man Fire Food" (Cooking, 10 p.m.) is not a food show hosted by cavemen. Instead Roger Mooking looks at various and unusual ways to barbecue.
The work of underrated director Gregory La Cava is featured on Turner Classic Movies with "Gabriel Over the White House" (8 p.m.), "Smart Woman" (9:45 p.m.), "The Half Naked Truth" (11 p.m.), "The Age of Consent" (12:30 a.m.), "Bed of Roses" (1:45 a.m.), "What Every Woman Knows" (3 a.m.) and "Laugh and Get Rich" (4:45 a.m.).
Daytime Talk
Kelly & Michael: Mitt and Ann Romney, Kelsey Grammer. Katie Couric: Raffaele Sollecito. The View: Jon Cryer, Andrew McCarthy. The Talk: Christina Applegate, Janet Montgomery. Ellen DeGeneres: Clint Eastwood, Pattie Mallette, Carly Rae Jepsen.
Late Talk
David Letterman: David Letterman. Jay Leno: Justin Timberlake, Steve Nash, Ryan Bingham. Jimmy Kimmel: Richard Gere, Josh Radnor. Jimmy Fallon: Jon Cryer, Taraji P. Henson, Nelly Furtado. Craig Ferguson: John Goodman, Arjay Smith, Melissa Etheridge. Tavis Smiley: Iyanla Vanzant. Carson Daly: Matt Walsh, Flying Lotus, band of Skulls (rerun). Jon Stewart: Salman Rushdie. Stephen Colbert: Jeffrey Toobin. Conan O'Brien: Chris Colfer, Adam Scott, Nikki Glaser. Chelsea Handler: Eva Longoria, Ryan Stout, Retta, Ross Mathews.