We're looking at the new fall season day by day this week. With a half dozen comedies and six new shows, here's how Wednesday shape up in the new fall TV season.
NEW SHOWS
"Animal Practice" (NBC, 8 p.m., starts Sept. 26). Hopeless comedy about an animal hospital run by a cad and his monkey sidekick, heavily promoted and shown after the Olympics, seemed to herald the whole disappointing fall TV season. Jason Kirk, so good in "Weeds," seems wasted here as star of this effort to be absurd that merely ends up silly.
"Arrow" (The CW, 8 p.m., Oct. 10). Dark adaptation of the DC comics franchise about a billionaire playboy who gets shipwrecked and is presumed lost for five years, while all the time he is sharpening his archery skills and returns as a crime fighter with a bow and arrow. More time seems spent promoting the smoldering good looks of its lead, Stephen Amell than his acting and maybe that's what its potential audience (former "Smallville" vans, confused "Beauty and the Beast" fans) may want. Heroes are popular on the big screen; to me this just seems dumb.
"The Neighbors" (ABC, 8:30 p.m., Sept. 26). Dumb is the admitted goal of this deliberately absurd story about a family that moves into a neighborhood that is otherwise populated with aliens trying to pass as suburban Americans. In any other era, this would be a "Coneheads" sketch – five minutes and out. But as this tries to establish itself as a series in the "Third Rock" vein they try to pause for some touching moments, too. Which never works. Still, it's not hateful, it has some cast members woth watching – Leny Venito and Jami Gertz as the central couple – and some funny parts. But it doesn't seem to be the kind of thing to commit a lot of time to.
"Guys with Kids" (NBC, 8:30 p.m., Sept. 12). Also dribbled out in NBC's post Olympic strategy, this one focuses on dads raising babies as if that's an unusual thing. Producer Jimmy Kimmel plots it like one of his Capitol One commercials – cute kids, frustrated dads, quite a bit of physical comedy. But the cringes some just as often as any laughs in this strangely out-of-time sitcom.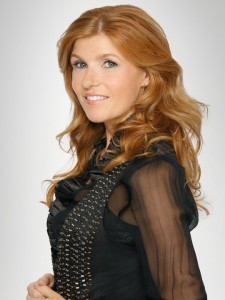 "Nashville" (ABC, 10 p.m., Oct. 10). It would seem that I don't like anything this season, which would be pretty close to true, except for only a couple of shows, this one being one. Initially focusing on the attempts of a longstanding country queen to stay on top despite inroads made by wiley younger acts, writer Callie Khouri ("Thelma & Louise") broadens the focus to make it a grander drama about the city itself. Best of all, her husband, T Bone Burnett is music director, coaxing not just confident voices from the strong leads Connie Britton and Hayden Panetierre but great songs from his pals, from Lucinda Williams and Elvis Costello to the Civil Wars. With any luck it will be the break out serial soap this fall.
"Chicago Fire" (NBC, 10 p.m., Oct. 10). Think "Rescue Me" minus the laughs and the smarts, a by-the-number fire department procedural where the firefighters spend an awful lot of time with their shirts off. With bad writing, wooden acting, contrived situations, it's from the "Law & Order" creator Dick Wolf. With Jesse Spencer of "House."
RETURNING SHOWS
"The Middle" (ABC, 8 p.m., returns Sept. 26), "Survivor" (CBS, 8 p.m., tonight), "The X Factor" (Fox, 8 p.m., Sept. 12), "Modern Family" (ABC, 9 p.m., Sept. 26), "Criminal Minds" (CBS, 9 p.m., Sept. 26), "Law & Order: SVU" (NBC, 9 p.m., Sept. 26), "Supernatural" (The CW, 9 p.m., Oct. 3), "Suburgatory" (ABC, Oct. 17), "CSI: Crime Scene Investigation" (CBS, 10 p.m., Sept. 26).
Here's what's going on Sunday, Monday, Tuesday, Thursday and Friday.