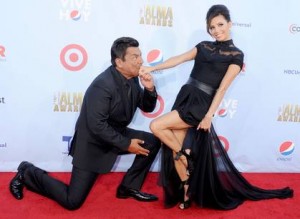 The grandiosity comes a bit thick and tedious on the special "From Dust to Dreams: Opening Night at the Smith Center for the Performing Arts" (PBS, 9 p.m., check local listings). Ostensibly a record of the first night performance at the Las Vegas cultural institute, it did draw a lot of big names, but the three hour presentation here also has some corny inspiration tapes about the Old West, that includes Warren Beatty as Bugsy Malone, apparent a pioneer arts lover.
Jennifer Hudson, Carole King, Martina McBride, Merle Haggard, Willie Nelson, Emmylou Harris, John Fogarty, Joshua Bell, Mavis Staples and Arturo Sandoval are among the performers performing in interesting duets. Neil Patrick Harris hosts.
Latin leaders in the arts are honored during the annual "2012 ALMA Awards" (ABC, 8 p.m.) from Los Angeles. George Lopez and Eva Longoria, right, return as co-hosts of the event, where Flo Rida will perform with Roselyn Sanchez. America Ferrera, Michael Pena, Nicole Richie and Wilmer Valderrama will be on hand to give out awards.
Changing demographics in the electorate sent a"Need to Know" reporting team to the deep South to show an example of the rapidly-shifted diversity often found in rural America on the eve of the election in "America by the Numbers with Maria Hinojosa: Clarkston, Georgia" (PBS, 8:30 p.m., check local listings). The new minorities don't automatically mean a windfall for Democrats, she found.
"Secret Princes" (TLC, 10 p.m.) looks like a flat out reworking of the BBC reality show "Undercover Princes," in which eligible royals from various countries converge to try and date women while hiding their lineage for now. Like the earlier one, the success will be predicated on whether the visiting princes are jerks or not
A third season starts for "Haven" (Syfy, 10 p.m.).
An app for cheaters is among the ideas pitched on a new "Shark Tank" (ABC, 8 p.m.).
Rana Foroohar, Roger Hedgecock, Chris Matthews, Eugene Jarecki and Salman Rushdie are guests on "Real Time with Bill Maher" (HBO, 10 p.m.).
Alicia Keys drops in and shows the contestants about poise and presence on "America's Next Top Model" (The CW, 8 p.m.).
It's not a badly-made anti-Muslim movie that makes people riot and loot on a new "Boss" (Starz, 9 p.m.); it's the mayor's housing project maneuvers.
A political leader from Zimbabwe is sprung from jail on "Strike Back" (Cinemax, 10 p.m.).
The reality series "Boston Metal" (National Geographic, 9 p.m.) isn't about headbaning bands from Beantown; it's about life at a recycling company.
Charlie's broher in law goes missing on a new "Yukon Men" (Discovery, 10 p.m.)
Things are no easier earlier on "Bering Sea Gold: Under the Ice" (Discovery, 9 p.m.)
Films worth investigating tonight includes Lars von Trier's "Melancholia" (Showtime, 8 p.m.) and Stanley Kubrick's "Paths of Glory" (TCM, 10 p.m.). The latter is part of an all-Adolphe Menjou night on Turner Classic Movies, with "Easy to Love" (8 p.m.) and "The Hucksters" (11 p.m.).
In college football, it's Baylor at Lousiana-Monroe (ESPN, 8 p.m.).
Daytime Talk
Kelly & Michael: Michael Chiklis, America Ferrerra, Richie Sambora. Katie Couric: Dr. Robert Cantu, Dr. Pamela Peeke. The View: Tim Hasselbeck, Paul Rudd, Ed Asner, Mario Cantone, Vanilla Ice. The Talk: Jon Cryer, Phil Keoghan, Aaron McCargo Jr. Ellen DeGeneres: Dennis Quaid, Jenna Dewan-Tatum.
Late Talk
David Letterman: Bruce Willis, Brian Regan, the Heavy (rerun). Jay Leno: Zooey Deschanel, Anthony Anderson, ZZ Top. Jimmy Kimmel: Terry Bradshaw, Dave Matthews (rerun). Jimmy Fallon: Jake Gyllenhaal, Penny Marshall, Bobby Womack with Damon Albarn and Richard Russell. Craig Ferguson: Neil Patrick Harris, Gerry Dee. Tavis Smiley: Jamie Lee Curtis. Carson Daly: Max Greenfield, Golden Road Brewery, Laura Marling (rerun). Chelsea Handler: Milla Jovovich, Nico Santos, Loni Love, Greg Fitzsimmons (rerun).