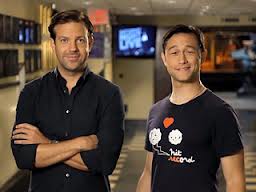 The comic possibilities of Mitt Romney's campaign are so rich, you might think the cast of "Saturday Night Live" may all end up voting for him just to keep the laughs coming.
A week after a season opener and a Thursday night primetime "Weekend Update" that focused on politics, there was a lot more to lampoon on this week's Saturday night session, particularly a loopy, starmaking performance by newcomer Kate McKinnon as Ann Romney, professing love and support for her husband, defense of his campaign (What other Republican candidate would you rather have? she asked) and a previously undisclosed love for Beyonce, whose lyrics she quoted extensively.
It came during a long "Weekend Update" segment that was almost a third of a show that included a funny appearance by Fred Armisen and Vanessa Bayer as a couple who talk trash about a friend but only when using very whispered voices.
Joseph Gordon-Levitt, returning to host, was comfortable and fit in so well, he was like one of the cast members. But if there was a star Saturday, though (other than Seth Meyers of course, who has never been seen more) it might be Jay Pharoah, who was all but AWOL last season, but this year was chosen to take over the Obama impersonation. But I'm wondering how they feel about his work with that. After last week's debut as the President, he hasn't repeated the role either on the Thursday political show or on this week's "SNL." But he was used effectively multiple times, from a wide-eyed Michael Strahan in the cold opening parody of "Live! With Kelly and Michael" then as short-fused sports commentator Stephen J. Smith during "Update" and in a hip-hop goes upscale sketch late in the show with Kenan Thompson.
The episode included one of those jokes between a chorus of a song – a marvel in timing if nothing else. But the song this time was different, the Beatles "You've Got to Hide Your Love Away."
The overall sketch quality was up from last week, though the monologue was pretty much non-existent (a Gordon-Levitt version of a "Magic Mike" dance number), and the musical guests Mumford & Sons just sort of bland.