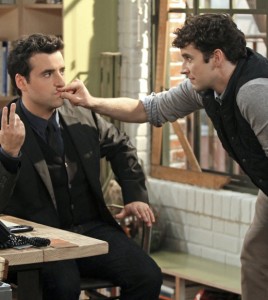 "Modern Family" swept the Emmys again Sunday, and as it sets the pace in comedy ratings in network TV, it is also the most influential factor in the crush of new sitcoms this fall, which hope to snatch some of the same success by also including new takes on families or depictions of funny gay couples.
On "Partners" (CBS, 8:30 p.m.).it's Michael Urie as the gay friend and co-worker of David Krumholtz, a straight guy who announces he's finally marrying his girlfriend. Urie's character doesn't take it well in a plot that's strangely like an earlier network series with the same name. This one presents the gay-straight friend alliance as if it were some new invention, making it seem as out of date as it is less than entertaining.
By definition, each season of "Dancing with the Stars" (ABC, 8 p.m.) is supposed to be all-stars. So this year's season of returning past competitors may be more "retread" than "all-star." At any rate, here come such former winners as Drew Lachey, Shawn Johnson and Emmitt Smith alongside such memorable competitors as Kirstie Alley, Bristol Palin, Joey Fatone and Pam Anderson. What makes the show work as much as anything is Tom Bergeron, who won his first Emmy Sunday.
The populist poet is recast as the father of poetry slams in the interesting biography "The Day Carl Sandberg Died" on "American Masters" (PBS, 10 p.m., check local listings). The film includes a lot of readings and performances of his work as well as interviews with experts on his work. But there's such a wealth of film of the subject himself speaking, you wish there were more. The surprising thing is that he looks like an elderly version of Alfalfa from the "Little Rascals."
Today is the official first day of the new TV season, which means the first new episodes in a while from "How I Met Your Mother" (CBS, 8 p.m.), "2 Broke Girls" (CBS, 9 p.m.), "Mike & Molly" (CBS, 9: 30 p.m.), "Castle" (ABC, 10 p.m.) and "Hawaii Five-0" (CBS, 10 p.m.) – many with major cliffhangers from May left to resolve.
Some new shows have already began their season, such as "The Mob Doctor" (Fox, 9 p.m.) and "Revolution" (NBC, 10 p.m.), both of which will offer up clues as how they will proceed.
And "Bones" (Fox, 8 p.m.) also began its new season last week.
But one network show still hast to get out of the way, as first season Canadian import "The L.A. Complex" (The CW, 9 p.m.) concludes.
Joan Rivers and company dish on what they wore Sunday night in the "Fashion Police Emmy Special" (E!, 10 p.m.).
George Lopez, Soledad O'Brien, Christy Turlington Burns and Victor Cruz are among the interview subjects in "The Latino List: Volume 2″ (HBO, 9 p.m.).
Ian Bohen  of "Teen Wolf" begins a stint on "Major Crimes" (TNT, 9 p.m.).
"Anthony Bourdain: No Reservations" (Travel, 9 p.m.) travels to Italy.
Today is Sukkot on the Jewish calendar, marked at Turner Classic Movies with "The Chosen" (8 p.m.), "The Diary of Anne Frank" (10 p.m.), "Fiddler on the Roof" (1:15 a.m.) and "Bye Bye Braverman" (4:30 a.m.).
It's Green Bay at Seattle (ESPN, 8:30 p.m.) in Monday Night Football.
Daytime Talk
Kelly & Michael: Maggie Gyllenhaal, Billy Gardell, Lawrence, Gabby Douglas. Katie Couric: Demi Lovato. The View: Nicki Minaj, Carol Burnett, Tim Conway, Vicki Lawrence, Gabby Douglas. The Talk: Neil Patrick Harris, Nancy O'Dell, Jamie Krell, Dr. Travis Stork. Ellen DeGeneres: Bethenny Frankel, Viola Davis, Pamela Anderson.
Late Talk
David Letterman: Steve Martin, Goyte. Jay Leno: David Spade, Giancarlo Esposito, Rebecca Ferguson. Jimmy Kimmel: Julianna Margulies, Jesse Tyler Ferguson, the Killers. Jimmy Fallon: Blake Shelton, Serena Williams, Andrew Rannells, David Byrne & St. Vincent (rerun). Craig Ferguson: Dennis Quaid, Ellie Kemper. Carson Daly:  Artie Lange, Chely Wright, We Are Augustines (rerun). Tavis Smiley: Salman Rushdie. Jon Stewart: Bill Clinton (rerun). Stephen Colbert: Jeffrey Toobin (rerun). Conan O'Brien: Elizabeth Banks, Jordan Peele, Animal Collective. Chelsea Handler: Carly Rae Jepsen, Bobby Lee, Ingrid Haas, Jo Koy.