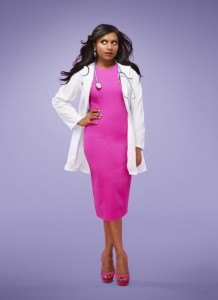 There are a lot of new female doctors in prime time this season. To add to the bunch on "Grey's Anatomy," "Private Practice" and "Hart of Dixie," there's "Emily Owens, M.D.," "The Mob Doctor" and the star's character on "The Mindy Project."
Mindy Kaling's Kelly Kapoor character took off from "The Office" in last week's premiere and tonight Kaling plays Mindy Lahiri, the lovesick doctor in a new Fox sitcom. Which may put a smile on the faces of her folks.
"Oh, my parents would have loved for me to have been a doctor," Kaling told reporters at the TV Critics summer press tour. "But I was bad at science."
Not that she was stage struck at en early age. "I wasn't like a theatrical kid," she said. "I didn't do plays or anything. I was largely silent until I was like about 15 or 16 years old. But I was always a comedy nerd, like a silent comedy nerd. So, you know, stay up late, sneak downstairs, watch 'Saturday Night Live' and 'Kids in the Hall' and things like that. So very early on, my parents realized that I was not going to go into anything. Like I wasn't going to be an engineer or a doctor. I just don't have those inclinations at all."
Still, she chose a medical profession for her character in "The Mindy Project."
"I picked a doctor because my mother was an OB/GYN, and it was just a job that I had done a lot of research had done a lot of research on — kind of accidentally — throughout my life," Kaling says.
"Weirdly, her hours are really similar to my hours as a writer/performer. I could call her in the middle of the night and she would be awake," she says. "Just seemed we have the same sleep deprived schedule."
She tried to make her character strive for improvement, which is what the old boss on "The Office" used to do.
"The really fun thing about this character, which is not unlike Michael Scott in some ways, is that she wants to just be a better person," Kaling says.
"In some ways, she's, I think, a great doctor, kind of hyper-educated but wants to be like a better catch, wants to be a better friend, wants to work out, wants to actually read books instead of magazines and things like that, which is something I also strive to be a little bit."
"The Mindy Project" airs Tuesdays at 9:30 p.m. on Fox.