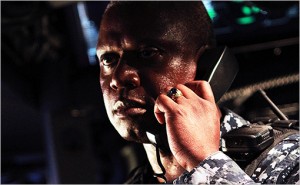 The most compelling new network drama of the new season is undoubtedly "Last Resort" (ABC, 8 p.m.), which begins with a chilling act of insubordination on a sub when troubling orders come to suddenly start nuking Pakistan. The refusal causes swift counter-moves from whatever rogue government seems to be taking over Washington and the submarine moves to a tiny island to hide out.
Andre Brougher brings depth to any role he plays, and he portrays the commander her well. The crisp script is from Shawn Ryan, who arguably opened the door for cable drama renaissance with "The Shield." While the pilot is indelible, the rest of the series may actually play out like a castaway series. But it looks to be far more like "Lost" than "Gilligan."
So many series have borrowed the basic premise of Sherlock Holmes ("House" among them) that it seems painfully obvious to just go with the original character on "Elementary" (CBS, 10 p.m.). Jonny Lee Miller plays the English detective who for some reason has transplanted to New York (cheaper to shoot there?). There he finds an unlikely sidekick with Watson portrayed by the grim Lucy Liu. And then it's just another CBS grisly death of the week.
"Louie" (FX, 10 p.m.) found a new level of excellence this year in a comedy that's unlike everything else on TV (and rather like independent film of the 1970s). After the remarkable three-episode storyline in which Louie comes very close to taking over a late night show (in his mind anyway), the third season finale culminates at holiday time.
Natalia Almada has a very unconventional approach to telling the tale of drug cartels tearing up Mexican border towns. Her film "El Valador (The Night Watchman" making its debut on "POV" (PBS, 10 p.m., check local listings) uses strikingly beautiful visuals, very little dialog, aside from the grim news on the radio, to witness the work of extravagant – and necessary – mausoleums being built to bury the thousands who are being slain.
Master violinist Itzhak Perlman helps open the new season of the New York Philharmonic on "Live from Lincoln Center" (PBS, 8 p.m., check local listings), playing Rimsky-Korsakoff, Massenet, Tchaikovsky, John Williams, Sarasate and two of the three Symphonic Poems by Ottorino Respighi.
"The Next" (The CW, 9 p.m.) begins the first round of the semifinals while "The X Factor" (Fox, 8 p.m.) is still deep into auditions.
They're still crawling out of that plane crash as the ninth season starts for "Grey's Anatomy" (ABC, 9 p.m.). Also returning tonight with fresh episodes for a new season: "The Big Bang Theory" (CBS, 8 p.m.), "Two and a Half Men" (CBS, 8:30 p.m.), "Person of Interest" (CBS, 9 p.m.) and "Scandal" (ABC, 10 p.m.).
It seems kind of mean, but "Prank My Mom" (Lifetime, 10:30 p.m.) is the latest hidden-camera reality series. Vivica A. Fox hosts.
If Ryan Murphy didn't get all of his political thoughts on "The New Normal" the other night, he will tonight on a new "Glee" (Fox, 9 p.m.) ostensibly about student council presidential elections.
"Up All Night" (NBC, 8:30 p.m.), "Parks & Recreation" (9:30 p.m.) and especially "The Office" (NBC, 9 p.m.) returned for new seasons in fine form last week.
Last week's "Saturday Night Live: Primetime Election Special" (NBC, 8 p.m.) proved more potent than the weekend standby, perhaps because it's packed into 30 minutes. They should really be on next week, so they can riff off of Tuesday's first debate, but by then "30 Rock" will be returning for its final season.
It's ladies night on "Childrens Hospital" (Cartoon Network, midnight).
Hilary Duff is guest judge on a "Project Runway" (Lifetime, 9 p.m.) where the challenge is baby fashions.
"CMT Crossroads" (CMT, 8 p.m.) pairs Emmylou Harris with Mumford & Sons for some musical collaboration.
The monthlong Thursday night salute to film pioneer Mack Sennett with a series of films from the mid 20s, starring people like Andy Clyde, Vernon Dent, Alma Bennett and Vernon Dent. It starts with "Hoboken to Hollywood" (TCM, 8 p.m.) and ends with classic Laurel & Hardy: "Sons of the Desert" (TCM, 4 a.m.) and "The Music Box" (TCM, 5:15 a.m.).
The Obama girls said his preparing to go out to give the speech at th Democratic National Convention reminded them of a scene from "Hannah Montana: The Movie" (Disney, 8:30 p.m.). Watch and get the reference.
There's some college football tonight with Morgan State at North Carolina A&T (ESPNU, 7:30 p.m.), Wingate at Carson-Newman (CBS Sports, 8 p.m.) and Stanford at Washington (ESPN, 9 p.m.).
There's one NFL game (with the replacement refs still in place), Cleveland at Baltimore (NFL, 8 p.m.)
Daytime Talk
Kelly & Michael: Sara Ramirez, Lana Parrilla. Katie Couric: Delilah. The View: Vanessa Williams, Pam Anderson. The Talk: Penny Marshall, Cloris Leachman, David Myers. Ellen DeGeneres: Jennifer Garner, Dwight Howard, Green Day.
Late Talk
David Letterman: Regis Philbin, Neil Young, Lupe Fiasco. Jay Leno: Liam Neeson, Lisa Lampanelli, the Gaslight Anthem. Jimmy Kimmel: Selena Gomez, Lenny Venito, Tony Bennett. Jimmy Fallon: Sofia Vergara, Damian Lewis, Jeff Mauro. Craig Ferguson: Anne Heche, Jennifer Carpenter. Carson Daly: Diana Nyad, Chairlift, Samsara. Tavis Smiley: Penny Marshall. Jon Stewart: Amare Stoudemire. Stephen Colbert: Vince Gilligan. Conan O'Brien: Jake Gyllenhaal, Karen Gillan, the Chevin. Chelsea Handler: Kristin Chenoweth, Brody Stevens, Sarah Colonna, Brad Wollack.