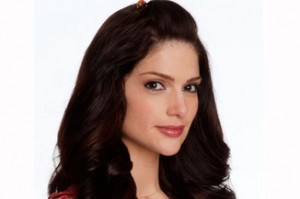 With the cynical intent to cash in on that now fading Viacom product "Jersey Shore" the latest CBS legal procedural puts the slightest bump in the hair of Janet Montgomery, a British accent who puts a honk in her voice to make it seem like she's a "Real Housewife from New Jersey."
The resulting "Made In Jersey" (CBS, 9 p.m.)  plays like an even older movie, "Working Girl," but it still is at its heart another case-of-the-week law show. None of it works particularly well and the fact they scheduled "Made in Jersey" (CBS, 9 p.m.) for Fridays indicates the network doesn't think they did a very good job with it either.
Start feeling bad about ignoring "Fringe" (Fox, 9 p.m.) all these seasons. The creative and solid series is beginning its fifth and final season with Peter and Etta looking for their mom, who's covered in ether. It's not hard to drop into the drama now if you've missed a lot; it's easy to catch up.
"CSI: NY" (CBS, 8 p.m.) was the spin-off that survived last season (Miami did not); so the ninth begins with a blaze that kills a fire chief.
Also returning tonight for the third season is "Blue Bloods" (CBS, 10 p.m.), in which Michael Madsen kidnaps Danny's wife.
Mayor Kane is back from treatment on "Boss" (Starz, 9 p.m.); now to fix the political problems he caused.
"The Cliburn: 50 Years of Gold" (PBS, 9 p.m., check local listings) looks at the history of the Van Cliburn piano competition.
The third season of "Voces on PBS" (PBS, 10 p.m., check local listings) begins with "Tales of Masked Men," a history of lucha libra, better known as Mexican wrestling Sure beats WWE Smackdown (Syfy, 8 p.m.) or The Ultimate Fighter (FX, 10 p.m.).
"Real Time with Bill Maher" (HBO, 10 p.m.) is a replay from earlier this month. He's back with a new episode next Friday. Must be preparing for the debates.
"Strike Back" (Cinemax, 10 p.m.) concerns unrest following the shooting of a poltical leader in Lutulu.
"Grimm" (NBC, 9 p.m.) seems a little too grisly for its fairy tale roots.
Contestants on "America's Top Model" (The CW, 8 p.m.) enter a video game.
On a new antique resell competition, "Flea Market Flip" (HGTV, 9 p.m.) two teams are given $500 eachto buy items they can fix up and sell for a higher price. Those who make the most get a $5,000 prize.
A device meant to aid posture is meant to make those on "Shark Tank" (ABC, 8 p.m.) sit up and take notice as well.
"20/20″ (ABC, 10 p.m.) looks at bullying at school.
Westerns usually take themselves pretty seriously but there were a few send-ups of the genre over the years, including "Support Your Local Sheriff!" (TCM, 8 p.m.), "Along Came Jones" (TCM, 10 p.m.) and "Carry On Cowboy" (TCM, midnight).
One of the great amateur filmmakers in history was one Sid Laverents, who taught himself how to handle a camera and chronicled his life, doing many jobs and marrying three wives and doing some musical performances with multiple exposure experiments. The bulk of his work shows up tonight on Turner Classic Movies, with all three parts of "The Sid Saga" (TCM, 2 a.m.) along with the famous nine minute short "Multiple SIDosis" from 1970.
Daytime Talk
Kelly & Michael: Julianna Marguiles, Emily VanCamp. Katie Couric: Chelsea Handler. The View: Damian Lewis, Jennifer Morrison, Michael Corbett, Andy Cohen. The Talk: Marcia Cross, Andrew McCarthy. Ellen DeGeneres: Selena Gomez, Kobe Bryant, the Killers.
Late Talk
David Letterman: Tom Dreesen, Dwight Yoakam. Jay Leno: Christina Aguilera, Sherri Shepherd, the Piano Guys. Jimmy Kimmel: Julie Bowen, Nate Parker, Afghan Whigs (rerun). Jimmy Fallon: Ice-T, Justin Kirk, Hunter Hayes. Craig Ferguson: Michael C. Hall, Martha Plimpton. Carson Daly: Chuck Zito, Estelle, Rian Johnson. Tavis Smiley: Elizabeth Banks. Chelsea Handler: Alyson Hannigan, Chris Franjola, Arden Myrin, Matt Braunger (rerun).