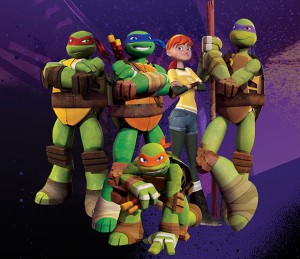 There's something usually very chilly and off putting about the precision and robot-like motions of computer generated animation. But it turns out to work very well for a new incarnation of "Teenage Mutant Ninja Turtles" (Nickelodeon, 11 a.m.).
Voices for this generation of the heroes in a half shell are provided by Jason Biggs as Leonardo; Sean Astin as Raphael; Rob Paulsen as Donatello and Greg Cipes as Michelangelo.
The biggest change might be April O'Neil, the friend and former TV reporter who is now much younger.
And as Brown Johnson, president of animation for Nickelodeon puts it, "She's
no longer a news reporter. She's 16, along with the rest
of the turtles, and an awesome chick."
Mae Whitman, currently of "Parenthood," provides her voice.
And the show's executive producer Ciro Nieli says she needed to change.
"The one component we really wanted to bring to the show was the word 'teenage' — which in all the other iterations it was either kind of glanced over or completely betrayed," Nieli says.
"I think the last series they were very muscular and they seemed like they were in their mid 20s," he told reporters at press tour last month. So when it came to Nickelodeon, he adds "it was like, hey, let's actually make them teenagers and have these teen kind of stories."
That meant making April a teen too.
"I remember the movie as a kid and April would be on her way to work and she's late and she's frustrated, kind of like a mother, and she would be like, 'Okay, guys, just don't break anything. I'll be back.' Then she would come back and be like, 'Oh, you guys ate pizza again.'"
Bummer!
"In making her more active and integral — and actually part of the four brothers and their action — I think it was kind of necessary to age her down," Nieli says.
"I see her as the above-surface, above-sewer counterpart to Splinter. If they're learning about martial arts, and this kind of Ninja code, it's underground," he says. "When they finally come up above ground, they need this,
 like, hip, cool, young energetic person to kind of show them, hey, this is New York City, let's do it up."
As Whitman says, "She loves pizza now."