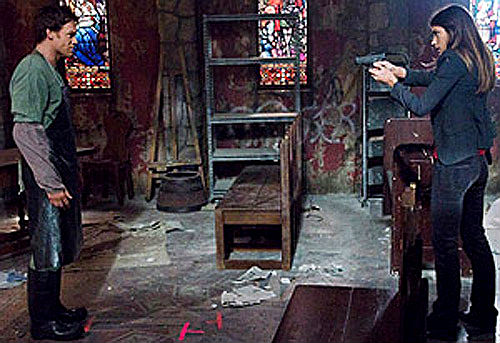 The first official week of the TV season is capped by a day when more good TV series start than any other day of the year.
First, of course, is "Homeland" (Showtime, 10 p.m.) which follows its half dozen Emmys last week (including best drama, best actress and best actor) with a new season that looks to be as assured and riveting as its first, with Claire Danes lured out of her recovery to make contact with a source she once cultivated. It leads to a tension filled trip overseas.
Damian Lewis' Col. Brody is still very much in play, this time inside Congress. And that's all I'll say. Go order the channel.
That move is made easier by the arrival of the new season for "Dexter" (Showtime, 9 p.m.) and what looks to be it best season yet, if only because Dexter's sister has caught her brother in the act and she knows finally what he is. The question now is what she will do with that knowledge. It all points to a season where the focus will always be on Michael C. Hall's complex Dexter and not the usual line of criminals he skewers.
Those without cable are not deprived by a good new series to watch. "Call the Midwife" (PBS, 9 p.m., check local listings) looks exactly like the kind of highquality British production that would otherwise be on "Masterpiece," where another Emmy contender, "Downton Abbey" made its home.
This one is another period drama, but this time in the early 1950s with the new National Health Care has brought a new squad of midwives to help just the kind of prenatal care they talk about on "Boardwalk Empire" (HBO, 9 p.m.). Newcomer Jessica Raine is just right as the determined new midwife Jenny Lee working out of a convent on the East End to be on call for women, such as the one tonight, who has already had two dozen babies. What may be shocking about the series, based on the writing of Jennifer Worth, is that it both stars women and, initially at least, doesn't spend a minute worrying about their finding men. In England it proved more popular than "Downton" and deserves to do well here.
On "Masterpiece Classic" (PBS, 9 p.m., check local listings) meanwhile, a replay of the revived "Upstairs, Downstairs" will help lead into next week's set of new episodes.
It's a big night on network TV too, as new season start for such favorites as "Revenge" (ABC, 9 p.m.), on a new night in a plum timeslot, though it does play directly against "The Good Wife" (CBS, 9 p.m.).
Other network dramas back tonight include "The Mentalist" (CBS, 10 p.m.) and "Once Upon a Time" (ABC, 8 p.m.), which warrants a first season summary in "Once Upon a Time: Magic is Coming" (ABC, 7 p.m.).
The one new network show tonight, "666 Park Avenue" (ABC, 10 p.m.) is a tepid eye-roller that never quite delivers. A couple move into a Gothic apartment building on Central Park West and run into some odd characters. It's the odd real estate tale about possession, not repossession. Terry O'Quinn plays it broadly as the devil of a super; Vanessa Williams fulfills some sort of contract obligation by being his partner. Together they get tenants to sell their souls. It's about as scary as the original "Dark Shadows." Ho hum.
A double amputee professional snowboarder, a lumberjack, a heavy metal musician, a pair of married monster truckers, a couple of Chippendale dancers and "The Fabulous Beekman Boys" are among the 11 teams on the 21st season of "The Amazing Race" (CBS, 8 p.m.), which once more won the Emmy for reality competition last weekend. Though there's no need to do so, the $1 million prize has been doubled.
I used to think that surrounding "The Simpsons" (Fox, 8 p.m.) with unfunny, awful stuff of "Family Guy" (Fox, 9 p.m.) and "American Dad" (Fox, 9:30 p.m.) only made Bart and company seem funnier. Now I'm thinking it's starting to drag it down some as well. How many times have we seen episodes where Bart tries to woo a girl (in this case voiced by Zooey Deschanel) while on a trip to New York? Starting the 24th season; it's been plenty. Amid the network's animation, though, I have to say "Bob's Burgers" (Fox, 8:30 p.m.) is getting better and better, and now may be the best of the bunch.
The future of Afghanistan and the confessional book of Arnold Schwarzenegger are covered on "60 Minutes" (CBS, 7 p.m.), starting its 45th season.
It's the New York Giants at Philadelphia Eagles (NBC, 8 p.m.) in Sunday Night Football. Earlier, it's San Francisco at N.Y. Jets (Fox, 1 p.m.), New England at Buffalo (CBS, 1 p.m.), and Washington at Tampa Bay (Fox, 4:15 p.m.).
As a high school band teacher Antoine organizes a student outing to Preservation Hall on a new episode of "Treme" (HBO, 10 p.m.).
A winner is named on "The Great Food Truck Race" (Food Network, 9 p.m.).
Stephen Colbert is the subject on a new "Oprah's Next Chapter" (OWN, 9 p.m.).
Egypt has always been an exotic locale for movies. Three of them show tonight on Turner Classic Movies: "The Mummy" (8 p.m.), "Charlie Chan in Egypt" (9:30 p.m.), and "Abbott and Costello Meet the Mummy" (11 p.m.).
Sunday Talk
ABC: Gov. Chris Christie, White House adviser David Plouffe, former Govs. Howard Dean and Haley Barbour. CBS: Christie, Newt Gingrich, Rep. Marsha Blackburn, Bob Shrum. NBC: Christie, Plouffe, former Gov. Ed Rendell, Ralph Reed. CNN: Sens. John McCain and Roy Blunt, Obama campaign adviser David Axelrod, Gov. Martin O'Malley. Fox News: Rep. Paul Ryan.