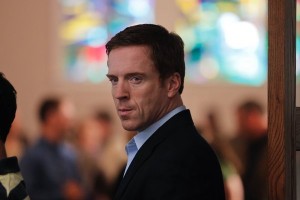 For much of the first season of "Homeland," the intent of the returning prisoner of war played by Damian Lewis was not immediately clear – even to the actor.
"They came to me midseason and said, 'Do you know you are going to strap on a vest, and you are going to go blow yourself up,' and I went, 'Really? Wait a second. I thought we'd been trying very hard to tell the story that he hadn't been successfully radicalized and created into a jihadist,' and that seemed to undo all of that.
"But in the end, it didn't, and it was a big political symbolic statement, Brody doing that," Lewis told reporters at the TV critics summer press tour. "It was a stroke of genius. But that was the final and biggest surprise for me last season when that emerged."
He's still not sure which way Brody will go this season, although when the second season started Sunday, he's an elected Congressman being groomed for vice president.
"Brody made a mission statement at the end of the first season saying he wanted a nonviolent political subversion of American policy," Lewis says. "He would like to think he's in control of his own destiny. He absolutely won't be is my prediction for this season, and I think he will live in a state of heightened anxiety and paranoia and uncertainty."
While in the first season, Brody was a man just trying to reenter civilian life, he says. "There was a degree of damage which elicited some sympathy from the audience, but at the same time he also was the menace. So people were terrified of him. He's more, I think, knowingly juggling balls this season, but essentially he's everybody's bitch. He's pretty @#$%ed."
But Lewis the actor is doing very well. Long before he won his Emmy last aweek, he was invited to the White House to meet the President, who has said "Homeland" is his favorite TV show.
"I think it was just a serendipity," says Lewis, who says he was shocked by the turn of events. "It was a British state visit to see the President, who happened to have this as his favorite show on TV at the time, and I'm a Brit playing an American part, and I kind of ticked a lot of boxes. So it was fantastic talking to him about it.
"But I did ask him and David Cameron, I said, 'When do you guys get to watch TV? Aren't you supposed to be running the free world together? And because I hear, Mr. President, you really like the show.' And he said, 'Yes, Saturday afternoons, Michelle and the two girls, they go play tennis. I go into the Oval Office. I pretend I'm going to work, and I switch on "Homeland." ' So that's when he's watching the show."
It's no surprise that so many people find the show so compelling — even the chief executive.
"Any good show finds a context and a narrative with which to ask more serious questions, and this seems to be asking all sorts of questions," Lewis says. "Carrie represents a sort of a broken, slightly sort of hobbling West at the moment. And your country is rebuilding yourself, as is mine. We're all trying to. The glory years are gone. But she represents the best hope.
"Brody represents a strong anti war message, the effects of war on an individual, how that can poison an individual and then poison people around him. He's like a suppurating sore that will, I imagine, need to be lanced at some point.
"So there are these bigger stories," he says. "Can nation states commit acts of terrorism? Do you believe they can? Do they? Do we? How do we perpetrate our war on terror? Was it justified? It goes on and on."
"Homeland" runs Sundays at 10 p.m. on Showtime.