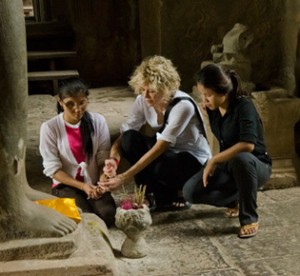 One would think that the shocking reports in the film version of the best seller "Half the Sky," from forced prostitution and slavery to gender based violence, genital mutilation and sex trafficking, would be potent enough alone to warrant a large audience.
But what if there were celebrities involved?
Anything to help spark change in corners of the globe to help women.
So on every trip taken by the husband and wife reporting team of Nicholas Kristof and Sheryl WuDunn is a big name including Eva Mendes, Olivia Wilde, Meg Ryan, Diane Lane and America Ferrara.
In some instances, as when seeing Lane wince at the heartbreaking violence in Sierra Leone, it drives home the point more effectively. But the sad fact is that in America, if stars aren't involved, some people wouldn't tune in.
"Fame and celebrity just generally is so supremely bizarre," Ryan shrugged to reporters at the TV critics' press tour. "All you know is that there are occasions where your, whatever, spotlight is on you. You can just saddle up next to something smart and important and that will get some attention."
"It's not like any of us are, you know, any more clear about it than anybody else," said the star of "Sleepless in Seattle."
Lane, who had a hit film in "Unfaithful," said she was surprised that "everywhere I went in some of these conservative Islamic areas, they'd all seen the film and they enjoyed the film and they thanked me for their enjoyment of the film, and I was conflicted about that."
What she did in "Unfaithful" would cause some women to be stoned to death in their countries.
"I was grateful that I wasn't barred from entry at the airport or something," Lane said. "But rather, that there was an acceptance of another world that maybe is forbidden, certainly in their culture — but that they acknowledge entertainment encompassing things that are outside of the boundaries of their culture."
Most of the stars were not known by the women in countries they visited. Most of the young Indian women stuck in brothels visited by America Ferrera "had actually seen anything I'd been in because they don't really have exposure to that. Their mothers certainly had no idea who I was," she said. "And if the girls were told that, oh, she's an actress and she was in this TV series or this movie, they really just wanted to know what was my mom like and where did I grow up and what do I do with my friends and if I had ever seen a movie 'Titanic' and did I know that song that Celine Dion sang and could they sing it for me — and they did."
It was sort of a relief, she said. "They really didn't care about me as an actor, which was wonderful."
Certainly nobody wanted autographs, Ryan said. "No, they just wanted hugs."
And the real stars, Ferrera said, were the workers on the ground level of the country, such as Urmi Basu, who worked to free enslaved women in India.
"She walked through an alley and saw a need, and she could have walked out of that alley and never looked back and no one would have blamed her, but instead she saw a need and realized that she had the potential to meet that need, and she did," Ferrera said. "Urmi changed hundreds of children's lives by deciding to say yes instead of no and walking away."
The four hour, two part "Half the Sky" airs on PBS Monday and Tuesday at 9 p.m.