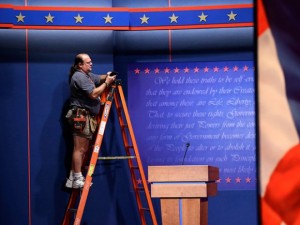 It's one of the great dramas to unfold on TV and the only thing that has the possibility of shaking up something as important as the presidential election. Barack Obama and Mitt Romney take to their podiums tonight at the University of Denver for the first 2012 Presidential Debate (ABC, CBS, NBC, PBS, CNN, CSPAN, Fox News, MSNBC, CNBC, Fox Business News, Univision, 9 p.m.).
The moderator is an old hand at this, Jim Lehrer; the topic is domestic policy. Romney's been practicing zingers; Obama has been coached to be less professorials. Post debate spinners will be saying all kinds of outlandish things.

The candidates will be coached to be natural; the one network not opting for debate coverage opts for "Supernatural" (The CW, 9 p.m.). The eighth season begins with Dean reuniting with his brother after a season in Purgatory.

It's preceded by the finale of the musical chairs adaptation, "Oh Sit!" (The CW, 8 p.m.).
ION is usually a network of reruns, but tonight it's the home of the WWE Main Event (ION, 8 p.m.), bringing (fake) wrestling back to broadcast TV.
The next phase begins on "The X Factor" (Fox, 8 p.m.), with those who passed auditions going to Miami for boot camp. Only a one hour episode today, though.
One team has been losing members on "Survivor" (CBS, 8 p.m.). Maybe they'll have to merge sooner than later to save them.
Because they don't want to let go of the stars they created on earlier seasons, "Life
After Top Chef" (Bravo, 10 p.m.) follows four former contestants at their home restaurants — Richard Blais in Atlanta, Jen Carroll in Philadelphia, Spike Mendelsohn in D.C., and Fabio Viviani in Los Angeles.
No "Modern Family" tonight, but there is a new episode of "The Middle" (ABC, 8 p.m.) in which Frankie loses her job at the auto dealership.
A special called "How Booze Built America" (Discovery, 10 p.m.) plays opposite the fictional version, on "Boardwalk Empire" (HBO, 10 p.m.).
It didn't take long for "South Park" (Comedy Central, 10 p.m.) to take on Honey Boo Boo.
Is there an E-level for celebrities? Those are the ones who've agreed to go on the second season of "Couple's Therapy" (VH1, 10 p.m.): Alex McCord and Simon van Kempen of "Real Housewives of New York City," rapper Todd "Too Short" Shaw and Monica Payne, Joel "JoJo" and Tashaunda "Tiny" Haily, and Doug Hutchison and Courtney Stodden. Dr. Jenn Berman conducts the sessions.
A mother and son intervention team from Dallas are featured in the special "Cracking Addiction" (TLC, 9 p.m.).
Some themes from the presidential debate play out in tonight's movie titles: "The Debt" (HBO2, 9 p.m.), "Conviction" (HBO Signature, 9 p.m.), "Collateral" (More Max, 9 p.m.) and "Due Date" (Cinemax, 9 p.m.).
NBC ordered full seasons from three new series Tuesday, but not "Animal Practice" (NBC, 8 p.m.) and "Guys With Kids" (NBC, 8:30 p.m.).
Hey it's October! Time for some classic horror: "The Mystery of the Wax Museum" (TCM, 8 p.m.), "Doctor X" (TCM, 9:30 p.m.), "Mark of the Vampire" (TCM, 11 p.m.), "House of Dracula" (TCM, 12:15 a.m.), "Zombies of Mora Tau" (TCM, 1:30 a.m.), the original "Night of the Living Dead" (TCM, 2:45 a.m.) and "I Walked with a Zombie" (TCM, 4:30 a.m.).
Remember when this used to be important? Red Sox at Yankees (ESPN, 7 p.m.).
Daytime Talk
Kelly & Michael: Stephen Colbert, Leighton Meester. Katie Couric: Kate Gosselin, Abby Lee Miller, Theresa Caputo. The View: Queen Latifah, Phylicia Rashad, Jill Scott, Alfre Woodard, Adepero Oduye, Condola Rashad, Kenny Rogers. The Talk: Gloria Estefan, Dr. Tess Mauricio. Ellen DeGeneres: Eric Dane, Mike "The Situation" Sorrentino, Paul "Pauly D" DelVecchio, Ronnie Ortiz-Magro, Vinny Guadagnino, OneRepublic.
Late Talk
David Letterman: Tina Fey, Rick Santorum, LP. Jay Leno: Christina Applegate, Apolo Anton Ohno, A Fine Frenzy. Jimmy Kimmel: Amy Poehler, Alan Arkin, Garbage. Jimmy Fallon: Martin Short, Logan Lerman, Morrissey. Craig Ferguson: Keanu Reeves, Dan Riskin. Carson Daly: Adam Carolla, MURS, fun. Tavis Smiley: Ari Berman. Jon Stewart: Sen. Rand Paul. Stephen Colbert: Kenny Rogers. Conan O'Brien: Jennifer Garner, Terry Crews, Tegan & Sara. Chelsea Handler: Alyson Hannigan, Chris Franjola, Arden Myrin, Matt Braunger (rerun).