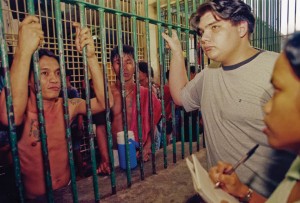 Without tonight's film on "POV" (PBS, 10 p.m., check local listings), we may have never learned about the amazing story out of the Phillipines about the death of two young sisters and the reckless trial and sentencing of a handful of young men from another corner of the country.
"Give Up Tomorrow" by Michael Collins and Marty Syjuco, was shot over a six year period and legal appeals that took it what was called the Phillipines "Trial of the Century" all the way to Spain.

The access to the defendant, prosecutor, victims family allows for a singular insight into the corrupted case in which the news media misbehaved as badly as the officials. Few documentaries would have spent as much time to continue telling the tale. Kudos to PBS for allowing the Sundance award winner to play in full rather than in the arbitrary hour-long time slot the show has had this season.

It would have been the perfect week to have one of those "Weekend Update Thursdays" with so much fresh material from the debate. But in its place comes the next best thing: the start of the seventh and final season of "30 Rock" (NBC, 8 p.m.), where Jack is planning a strategy based on the fall schedule, which Liz thinks is pretty bad.

Wondering if the second episode of "Last Resort" (ABC, 8 p.m.) could possibly be as good as the first? Turns out that it is.
The happiest thing about the season premiere of "Jersey Shore" (MTV, 10 p.m.) is that it will be the last.

Hey you think it was tough for the presidential candidates last night? Try the singers cut by the dozens on "The X Factor" (Fox, 8 p.m.) in the second boot camp episode from Miami.

The least watched singing competition this summer, "The Next" (The CW, 8 p.m.), reaches its two hour finale.
Wonder if  Jonny Lee Miller's Sherlock Holmes will ever investigate a crime taking place at a school on "Elementary" (CBS, 10 p.m.).

A breakup episode of "Glee" (Fox, 9 p.m.) means a lot of songs to choose from; they settle on Coldplay, Katy Perry, Taylor Swift and Duncan Sheik.
Leslie helps a swim team on "Parks and Recreation" (9:30 p.m.) and Lucy Lawless meets Ron Swanson.
"Grey's Anatomy" (ABC, 9 p.m.) flashes back to the plane crash.
Margo Martindale guest stars on "Person of Interest" (NBC, 9 p.m.); Rachel Dratch guest stars on "Up All Night" (NBC, 8:30 p.m.).
The Michelle Obama-Dunder Mifflin connection is explored on "The Office" (NBC, 9 p.m.); Andy is somehow related.
Mark Zuckerberg talks to Matt Lauer on "Today" (NBC, 7 a.m.) and tonight on "Rock Center with Brian Williams" (NBC, 10 p.m.).
FX announced it is developing a series out of the classic film "Fargo" (AMC 8 and 11 p.m.). But how could it replace the original?
Robert Osborne does the choosing tonight on Turner Classic Movies. His picks: "Son of Fury" (8 p.m.), "Thunder Birds" (10 p.m.), "Honky Tonk" (11:30 p.m.), "Marked Woman" (1:30 a.m.) and "Shadow of Doubt" (3:15 a.m.).
It's Cardinals at Rams (NFL, 8 p.m.) on Thursday Night Football.
In college football, it's USC at Utah (ESPN, 9 p.m.).
Daytime Talk
Kelly & Michael: Ricky Martin, Samantha "Sammi" Giancola, Deena Cortese, Jenni "JWoww" Farley, Cher Lloyd. Katie Couric: Suzy Spencer, Sheryl Sandberg. The View: Craig Ferguson, Joey Fatone. The Talk: Cheryl Ladd, Jaclyn Smith, Sara Leibowitz. Ellen DeGeneres: Zac Efron, Rebel Wilson, Ed Sheeran.
Late Talk
David Letterman: Craig Ferguson, Anna Kendrick, the Ravonettes. Jay Leno: Ben Affleck, Octavia Spencer, Neon Trees. Jimmy Kimmel: Zac Efron, Jack Black & Kyle Gass. Jimmy Fallon: Daniel Craig, Archie Panjabi, Animal Collective. Craig Ferguson: Roseanne Barr, Keke Palmer. Carson Daly: Wyclef Jean, Eugene Jarecki, the Walkmen. Tavis Smiley: Andrew McCarthy. Jon Stewart: Bill O'Reilly. Stephen Colbert: Dr. Georg Church. Conan O'Brien: Jenny McCarthy, J.J. Abrams, Slash. Chelsea Handler: Jennifer Garner, John Caparulo, Ali Wong, Ben Gleib.