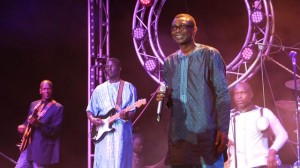 "Sound Tracks: Music Without Borders" (PBS, 9 p.m., check local listings) takes its mission seriously.
As a result, the music newsmagazine swings quickly to individual stories about artits on different parts of the globe, from Julie Fowlis, the Scottish folksinger who got a big audience when her songs were used in the animated film "Brave," Youssou N'Dour the musical giant who is running for president of Senegal, and America's own Wynton Marsalis, who talks before a children's concert about the music of Duke Ellington. It ends with a song by the old timey Carolina Chocolate Drops and a thrilling performance of Strauss by young pianist Yuja Wang. At a time when finding new music is harder to find on radio and TV, it's a great series to have around.
Later, first generation Mexican-American horsewomen are profiled on "Voces on PBS" (PBS, 10 p.m., check local listings).
Frank Luntz, Bill McKibben, Kerry Washington, Will Cain and Mark Foley are scheduled guests on a new "Real Time with Bill Maher" (HBO, 10 p.m.).
A woman recants her abuse claim on "Blue Bloods" (CBS, 10 p.m.).
An entrepeneur presents a new kind of chicken dip on "Shark Tank" (ABC, 8 p.m.).
"Forecast: Disaster" (National Geographic, 9 and 10 p.m.) looks at earthquakes first and then avalanches.
How do you unload nuclear bombs? The guys on "Strike Back" (Cinemax, 10 p.m.) try to figure it out.
Walter and company visit Harvard, circa 2036, on a new "Fringe" (Fox, 9 p.m.).. Wonder what it looks like. Probably still hard to get parking.
It took two episodes to clean up a restaurant in Boston's north end on "Kitchen Nightmares" (Fox, 8 p.m.). Tonight is the conclusion. Gordon Ramsay's eaterie-fixing series will continue through the year in the time slot, as the network announced Thursday it would hold the second season of "Touch" to midseason.
"A Night at the Movies: Hollywood Goes to Washington" (TCM, 8 and 11:15 p.m.) is a new special on the history of politics  and film. It's part of a month-long examination Fridays on Turner Classic Movies that kicks off with two Frank Capra classics, "Mr. Smith Goes to Washington" (9 p.m.) with Jimmy Stewart, and "Meet John Doe" (12:15 a.m.) with Gary Cooper.
Very late tonight, the 1981 Australian thriller
"Roadgames"
(TCM, 2:30 a.m.) with Stacy Keach and Jamie Lee Curtis is paired with 1967's
"Hot Rods to Hell"
(TCM, 4:15 a.m.) with Dana Andrews.
Welcome to baseball's postseason, which begins with the one-game playoffs of the wild card games. In the National League, it's St. Louis at Atlanta (TBS, 5 p.m.),; in the American League it's Baltimore at Texas (TBS, 5 p.m.).
In college football today, it's Pittsburgh at Syracuse (ESPN, 7 p.m.) and Utah State at Brigham Young (ESPN, 10:15 p.m.).
Daytime Talk
Kelly & Michael: Chace Crawford, Mindy Kaling, Mary Giles. Katie Couric: Hill Harper. The View: Ethan Hawke, Lewis Black, Jackie Evancho. The Talk: James Denton, Rob Morrow. Ellen DeGeneres: Winona Ryder, Cheryl Hines.
Late Talk
David Letterman: Billy Crystal, The Wallflowers. Jay Leno: Colin Farrell, Dakota Meyer, the Hives. Jimmy Kimmel: Julianna Margulies, Jesse Tyler Ferguson, the Killers (rerun). Jimmy Fallon: Katie Couric, Jerry Trainor, Dom Irrera. Craig Ferguson: Dr. Sanjay Gupta, Ginnifer Goodwin. Carson Daly: Chris Hayes, Regina Spektor, Rob Delaney (rerun). Tavis Smiley: T.I. Harris. Chelsea Handler: Kristin Chenoweth, Brody Stevens, Sarah Colonna, Brad Wollack (rerun).