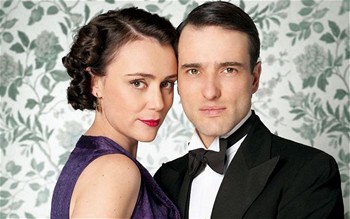 It was surprising to see how much the reboot decades later of "Upstairs Downstars" was so thoroughly overshadowed by another English import that pretty much was based on the same premise.
"Downton Abbey" was good looking, fast moving, with a lot of intersecting stories, but "Upstairs Downstairs" was the originator! And even with a practically new cast inhabiting the same house years later, there seemed something missing. Were the characters not as likable?

The story not as compelling? Whatever the reason, the return of "Upstairs Downstairs" once again tonight on "Masterpiece Classic" (PBS, 9 p.m., check local listings) comes with a lot less hoopla than the impending next season of "Downton."

And watching it, it's sort of easy to figure out why. Its characterizations seem flatter, its downstairs staff less colorful. But that's only as the story lumbers to a start. soon enough, it takes some bold chances, jumping out at the prewar drama, the doomed negotiations with Hitler and specific interactions with the U.S. Ambassador, Joseph Kennedy.

The settings are pretty lavish too.

It's preceded by the second episode of the series that's equally as good, "Call the Midwife" (PBS, 8 p.m., check local listings) but followed not by a second "Upstairs" episode, as they reran the last season in recent weeks, but by a replay of the overview "Broadway: The American Musical" (PBS, 9 p.m., check local listings).

Switching "Steel Magnolias" (Lifetime, 9 p.m.) from a Southern white melodrama to a black one is easier than you might imagine. Part of the duty of watching the new version is matching up the new actresses with the old ones — Queen Latifah in the Sally Field Role, Condola Rashad in the Julia Roberts role) Jill Scott in the Dolly Parton role. But the action is almost exactly the same. And while the cast is full of heavy hitters such as Phylicia Rashad and Alfre Woodard, it seems a bit unnecessary.
Here's an interesting way to do a music bio: Tell somebody's tale based on their songs alone. That's the premise behind "Song by Song" Johnny Cash" (Ovation, 8 p.m.). It helped that a lot of his songs reflected his own life.
Used to be you'd have to wait until after Halloween to catch the annual "Treehouse of Horror" episode of "The Simpsons" (Fox, 8 p.m.). By some good luck (and a switch in postseason baseball plans), we now get to see it nearly a month earlier than usual. It's the usual imaginative fun.
Another nail-biting episode of "Homeland" (Showtime, 10 p.m.) has Claire going back to Beirut.
The second season of "Curiosity" (Discovery, 9 p.m.) begins with a recreated plane crash, in order to learn lessons from it.
Now anticipating football overruns, CBS officially moves its entire Sunday night schedule a half hour so that it's "60 Minutes" (CBS, 7:30 p.m.) at half past; followed by "The Amazing Race" (CBS, 8:30 p.m.) and "The Good Wife" (CBS, 9:30 p.m.).
"Eating Giants" Elephant" (Animal Planet, 10 p.m.) follows hella hippos: "Hippo Hell" (Animal Planet, 8 p.m.), "Drug Kingpin Hippos" (Animal Planet, 9 p.m.) and "Eating Giants: Hippos" (Animal Planet, 9 p.m.).

It's San Diego at New Orleans (NBC, 8:20 p.m.) in Sunday Night Football.
Earlier NFL action includes Philadelphia at Pittsburgh (Fox, 1 p.m.), Baltimore at Kansas City (CBS, 1 p.m.) and Denver at New England (CBS, 4:25 p.m.).

But it's hard to beat postseason baseball, with Oakland at Detroit (MLB, noon), Washington at St. Louis (TBS, 3 p.m.), Yankees at Baltimore (TBS, 6 p.m.) and Cincinnati at Giants (TBS, 9:30 p.m.).

A new season of "Mythbusters" (Discovery, 8 p.m.) tests whether the things in the "Titanic" movie could have really happened.

Eve Arden is featured in both "The Doughgirls" (TCM, 8 p.m.) and "Night and Day" (TCM, 9:45 p.m.).

Sunday Talk

ABC: Obama adviser Robert Gibbs, Romney adviser Ed Gillespie, Bill O'Reilly, James Carville, Mary Matalin. CBS: Obama adviser David Axelrod. NBC: Arnold Schwarzenegger, Gibbs, Newt Gingrich, Hilary Rosen, Mike Murphy. CNN: Ohio attorney general Mike DeWine, former Ohio Gov. Ted Strickland. Fox News: Sen. Kelly Ayotte, Maryland Gov. Martin O'Malley, Brett O'Donnell.