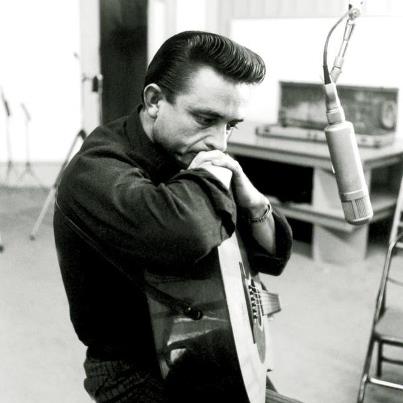 The new Ovation series "Johnny Cash: Song by Song" is, as the title might indicate, a little different approach to looking at the life of an artist. The six part series takes one song closely associated with the artist each week and shows how it reflects the life of the legendary singer.

It includes a lot of intereviews with artists who worked with or were influenced by Cash as well, including Shooter Jennings, the son of another icon, Waylon Jennings, who worked closely with the Man in Black.

"Most documentaries on artists are trying to cram their whole life into, like, an hour, or two hours," Jennings told reporters at the TV Critics press tour this summer. "And this is really intense because it's dissecting [him] song by song."

"Everybody relates to these songs," he says. "I mean, that's what music is about anyway. You find something in a song that you relate to. So it's — like, dissecting a song like that you end up kind of cracking the surface on a lot of things that relate to
people, Cash, everything."
From "Ring of Fire" to "Hurt," Cash's long career and personal life is recounted.
"He came from the rock 'n' roll side of things and made a giant impact on country music," Jennings said, adding "when it comes down to the simplicity and realness of songs and songwriters and singers like that, I think that it's always going to be timeless.

"There's no gimmick. It's real music. I feel like that when he's singing songs that touch so deep to so many people, you know, it will always live on."

I asked him about his personal memories of Cash, and he had a lot.

"He was actually my godfather," Jennings said. "When the Highwayman thing happened around '84. So I was like five, and all of our families went on the road for that. And there was a lot of, like, overseas touring, and things that went on. And so at that point those four families kind of were tight. And I was around Cash.

"I remember clearly a conversation that I had with him when I was about 13 or 14," he said, on a long drive Cash spoke of escapism. "I think he was trying to say that you got to kind of face things in life, not, like, run from them or bury yourself in something to get away from dealing with something, you know. And it kind of resonated with me and stuck with me."

The last time he saw Cash was at June Carter's funeral. "I think it would have been about ten years or something," he said. "He was like, 'Your hair got long,' you know. And I hadn't seen him in a long time.

"But, like, you know, the thing about him and my dad," Jennings said, "they grew up exactly the same. They both picked cotton, they both would sneak and listen to the opera all the time and stuff. So they had this like kind of identical background. So the two of them acted like brothers in this weird way."

"Johnny Cash: Song by Song" runs Sundays at 8 p.m. on Ovation.