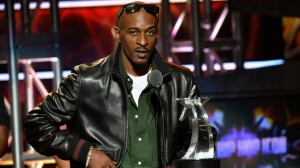 A bit of violence flared up at this year's
BET Hip Hop Awards
(BET, 8 p.m.) when it was taped last month in Atlanta. How much of it will appear on screen will be determined. Wiz Khalifa, Rick Ross, 3 Chainz, Kendrick Lamar and Diddy all perform. Salutes to Rakim, pictured right, and executive Chris Lighty are slated.
The network uses the event to launch a nre reality show
"Keyshia & Daniel: Family First"
(BET, 10 p.m.) following Keyshia Cole and NBA star Daniel Gibson.
A network debut finally comes for

"Dr. Horrible's Sing Along Blog"

(The CW, 9 p.m.) the five year old internet creation from Joss Whedon starting Nathan Fillon, Neil Patrick Harris and Felicia Day. It's so entertaining it may make you wonder why hasn't someone given Whedon another job in TV since then.
Jane Goodall reviews her life as a reknown primatologist on
"Jane's Journey"
(Animal Planet, 8 p.m.).
The latest "30 for 30″ documentary, "9.79″ (ESPN, 8 p.m.) looks into the 100 meter final at the 1988 Seoul Olympics in which a Canadian Ben Johnson beat American Carl Lewis, at least until the drug tests came in.
They were threatening a double elimination tonight on "So You Think You Can Dance" (ABC, 8 p.m.). The more the merrier.
God forbid we let the domineering woman behind "Dance Moms" without a series for a minute. So here is a competitition:

"Abby's Ultimate Dance Competition"

(Lifetime, 9 p.m.) in which 12 young dancers compete for a scholarship — not to Abby Lee Miller's Pittsburgh dance schoool, but to the Joffrey Ballet's Young Dancers Program.

More reality dance? The new "The Big Jig"

(TLC, 10 p.m.) profiles Irish dancers.
Jenny Slate pops up on
"Raising Hope"
(Fox, 8 p.m.).
A new business proposition is considered on
"Sons of Anarchy"
(FX, 10 p.m.).
The sixth season of "Iconoclasts" (Sundance, 8 p.m.) furthers James Franco's fascination with performance artist Marina Abramovic.
begins with the meeting of The monthlong Tuesday night series on films depicting the disabled continues with "Lucky Star" (TCM, 8 p.m.), "The Best Years of Our Lives" (TCM, 9:45 p.m.), "Reach for the Sky" (TLC, 12:45 a.m.) and "Bright Victory" (TLC, 3:15 a.m.).
Dan Savage's follow-up special
"It Gets Better 2″
(MTV, Logo, 11 p.m.) gets a two network showcase.
The gang on
"New Girl"
(Fox, 9 p.m.) seem threatened when younger hipsters move into the building.
There's no end to the exploitation on
"Teen Mom"
(MTV, 10 p.m.), where tonight's episode is titled "Amber Behind Bars."
Postseason baseball games today include

San Francisco at Cincinnati

(TBS, 5:30 p.m.) and

Detroit at Oakland

(TBS, 9 p.m.).

Daytime Talk
Kelly & Michael: Christopher Walken, Connie Britton, Rich Springfield. Katie Couric

: Magic Johnson, Kathy Ireland.

The View

: Bill O'Reilly.

The Talk

: Ozzy Osbourne, Kelly Osbourne, Nick Cannon.

Ellen DeGeneres

: Matthew Perry, Justin Bartha.
Late Talk
David Letterman: Kevin James, Chris Elliott, Miguel. Jay Leno: Tyler Perry, Oscar Pistorius, Plain White T's. Jimmy Kimmel: Megan Mullally, Father John Misty. Jimmy Fallon: Christopher Walken, Pete Townshend, Jens Lekman. Craig Ferguson: Jeremy Irons, Monica Potter (rerun). Carson Daly: Deepak & Gotham Chopra, Tig Noaro, Milo Greene. Tavis Smiley: David Pogue. Jon Stewart: Ben Affleck. Stephen Colbert: Morrissey. Conan O'Brien: Mila Kunis, Joel Stein, Rory Scovel (rerun). Chelsea Handler: Diego Boneta, Nico Santos, April Richardson, T.J. Miller.