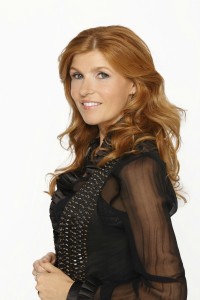 Connie Britton, who was a coach's wife on "Friday Night Lives" and a belagured homeowner on "American Horror Story" became a bona fide country star with the premiere Wednesday of "Nashville," the new ABC series.

"For me it's a dream come true," Britton told reporters at the TV critics' press tour.
"As an actor, I always want to stretch myself and do something that I haven't done before. So from 'American Horror Story' to 'Nashville' is a plenty big stretch."

And singing in front of people may  define stretching.

"I have sung my whole life, but not really that professionally," Britton says. "Not really professionally at all. And so it's very but as an actor to be able to work with the best, the best writer and the best music producer, that's also a dream come true."

Callie Khouri, screenwriter of "Thelma & Louise" wrote "Nashville," and her husband T Bone Burnett, the celebrated producer and performer, is music director.

Britton's character, an established country star who happens to be a redhead, has gotten some thinking she's playing a specific actual Nashville star. Which has caused some problems.

"I ran into Reba McEntire on a plane and she said, 'Did you hear that they're saying that you're playing my char me in your show?' And I said, 'No. I had no idea.'"

It's not really Reba, Britton says. "For me, at least, it's sort of an amalgam of a lot of different people, but I'm also I think it's really fun to take from that sort of palette and then just really let this lone character emerge. So I don't really have any one person that I'm basing the character on."

Likewise Hayden Panettiere's young upstart character who has taken Nashville by storm has generated its own comparisons.

"I've heard the Taylor Swift thing quite a bit," Panettiere says. "And I think aside from being around the same age and blonde, not even height, I mean, it's very different, very different. And I think you guys, once you see her and get to know Juliette, my character a little bit better, you'll see that. But I really think Taylor would disagree wholeheartedly as well. She's much nicer than my character.

In "Nashville," Britton says, "I think that we have a real opportunity here to show the complexities of these two kind of people in show business, and particularly women. And I for one feel a really strong responsibility to do that in a way that is that is true and dignified. And, you know, my whole mantra from the beginning is that this is not a catfight. I'm not doing a catfight, you know, and I don't think anybody's interested in that. I think we're much more interested in just showing these two people at different places in their lives and what their journeys will be."

"Nashville" airs Wednesdays at 10 p.m. on ABC.