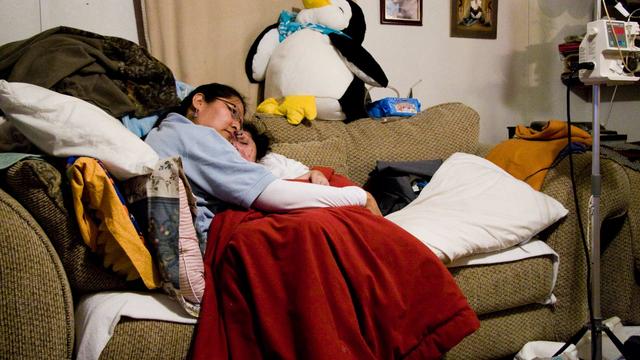 Out on the Navajo reservation in New Mexico, Dorey and Yolanda Nez were mourning the death of a son to XP, a rare and fatal skin disease that causes skin cancer from the slightest exposure to the sun, when they had another child with the same disease.
XP was supposed to occur once per 1 million people and here were two in the same family. The more that Yolanda, an advocate for Native Americans with disabilities, traveled her reservation, though, she found a higher than normal number of children with the disease. And in the heartfelt detective story that is the film "Sun Kissed," by Maya Stark and Adi Lavy, she finds the high incidence in her tribe is not because kids burned red ants when they were little (which more than one medicine man says) but because of genetics, genocide and history dating back to the Navajo Long Walk that nearly wiped out the tribe in 1864.
It's a fascinating and emotional trip, showing tonight on
"POV"
(PBS, 10 p.m., check local listings).
The untold story of the wife of Robert Kennedy, who co campaigned with him, bore 11 children and raised them to be activists (and filmmakers) is told in
"Ethel"
(HBO, 9 p.m.) by her youngest child, Rory Kennedy.

A winner is declared for season 10 of
"Project Runway"

(Bravo, 9 p.m.) between Fabio Costa, Dmitry Sholokhov, Christopher Palu and Melissa Fleis. Jennifer Hudson is a guest judge.

It was 60 years ago when

"This is Cinerama"
(TCM, 9:45 p.m.) began running on Broadway, showcasing an ambitious process that used  extended curved screens, triple projectors and general sensory overload. A generation still remembers the big roller coaster ride that began the show. It's on again tonight to mark the anniversary, surrounded by a documentary about the phenomenon,
"Cinerama Adventure"
(TCM, 8 p.m. and midnight). later comes one of the first films shot in Cinerama,
"How the West Was Won"

(2 a.m.).
President Obama is guest on

"The Daily Show with Jon Stewart"
(Comedy Central, 11 p.m.) and
"Late Show with David Letterman"
(CBS, 11:35 p.m.) repeats his recent appearance there. Perhaps he's trolling for jokes to tell at the
Al Smith Dinner
(CSPAN, 9 p.m.) where both Obama and Mitt Romney will attend in white ties and tails. And if you've been missing zingers in the debates, they will both be armed with jokes, as in the dinner's tradition.
Mutiny is in the sights on
"Last Resort"
(ABC, 8 p.m.).

Weather permitting, there's a Game 4 of the National League championship series with
San Francisco at St. Louis
(Fox, 8 p.m.). Yesterday's game was interrupted by a 3 ½ hour rain delay. Postponed entirely because of rain was the American League Championship Series Wednesday. So today will be game 4 of
Yankees at Tigers
(TBS, 4 p.m.), with New York on the brink of elimination.
Miley Cyrus guest stars on "Two and a Half Men" (CBS, 7:30 p.m.). Ryan Lochte makes an appearance on "30 Rock" (NBC, 8 p.m.),where Tracy gets in trouble for an errant tweet, imagine that.

Leslie runs a sex-ed class on
"Parks & Recreation"
(NBC, 9:30 p.m.) after Pawnee experiences an STD outbreak.

Don't remember Arthur Conan Doyle inventing a criminal named Balloon Man, who appears on tonight's Sherlock Holmes update,
"Elementary"
(CBS, 10 p.m.).

Scott's ex-wife begins to meddle on
"Up All Night"
(NBC, 8:30 p.m.).

A mobile workplace is introduced on
"The Office"
(NBC, 9 p.m.).

If you didn't see the in-depth biographies of the presidential candidates on
"Frontline"
(PBS, 8 p.m., check local listings), it's rerun again tonight.

Illusionist Steve Cohen spends two hours recreating tricks of the past in the special "Lost Magic Decoded" (History, 9 pm.).
The second season of
"The Will"
(Investigation Discovery, 9 p.m.) begins, looking into the estate of Tammy Wynette.

In Thursday Night Football, it's the
Seahawks at 49ers
(NFL, 8 p.m.). In college football it's
Oregon at Arizona State (ESPN, 9 p.m.). Daytime Talk
Kelly & Michael:
Shaquille O'Neal, Isaac Mizrahi.
Katie Couric:
Tyler Perry.
The View:
Ann Romney.
The Talk:
Anne Heche, Kristan Cunningham, Lisa Hughes.
Ellen DeGeneres:

Nicole Richie, Nina Conti.
Late Talk
David Letterman: President Barack Obama (rerun). Jay Leno: Bryan Cranston, Rebel Wilson, Cher Lloyd (rerun). Jimmy Kimmel: Matthew Fox, Emily VanCamp, Paul Weller. Jimmy Fallon: Christopher Walken, Pete Townshend, Jens Lekman (rerun). Craig Ferguson: Kelsey Grammer, Casey Wilson, Ben Hague. Carson Daly: Brother Ali, Desaparecidos (rerun). Tavis Smiley: D.L. Hughley. Jon Stewart: President Barack Obama. Stephen Colbert: The Killers. Conan O'Brien: Jeff Goldblum, Maggie Q, Sean O'Connor. Chelsea Handler: Christina Aguilera, Brad Wollack, Kerri Kenney-Silver, Lavell Crawford.