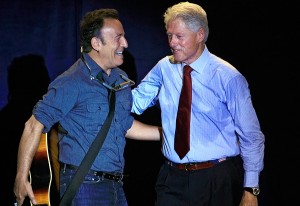 Bruce Springsteen changed his mind about sitting out the current political season, sending a letter to fans explaining it, and taking to the stage in Parma, Ohio and Ames, Iowa Thursday to serenade fans, attract a few votes for Obama and take his stand, as he sang bout in "Jungleland."
At an event that would otherwise be notable for its barn-burner of a speech from Bill Clinton, Springsteen took to the stage (indoors after weather threatened plans at the soccer stadium) in his honest workshirt, acoustic guitar and round-the-neck harmonica holder.
Chagrined to have been introduced by Clinton ("a little like following Elvis in this milieu"), he began with "No Surrender," dedicated to the President, though not indicating which one.
The format for acoustic Springsteen campaign stops were established in 2008, where a handful of apt songs from his catalog accompanied his own plainspoken endorsement for any who would hear it.
Once, Ronald Reagan invoked Springsteen's name in a New Jersey campaign stop in the 80s, hoping to snare young people. Nowadays, Springsteen is more a lure for the older white men who polls show are the hardest to reach for the campaign opposite Mitt Romney. Matt Orel writes in his blog that "there were more black people in the crowd than one might see in several month's worth of Springsteen tour dates."
Springsteen joked that if Clinton had brought his saxophone, they might have had something else on stage. Instead, it was dusty troubadour, an approach is more like that of another barnstormer and social activist, Woody Guthrie, whose songs are resonating more than usual in this year of his centennial.
Therefore: the full lyrics of "This Land is Your Land," aided by a music stand with lyrics.
Obama had already been using "We Take Care of Our Own" to close his stump speeches, so that was part of it. But to try to be more specifically topical, Springsteen tried a ditty about the 2012 race with some cute rhymes.
"I kissed your sister and I kissed your mama, This time of day I'm usually in pajamas, Let's vote for the man who got Osama….Forward and away we go." And he had his own instant debate analysis: "Smilin' Joe he really brought the drama, Tuesday Romney was schooled by Obama."
For the setting, he sang "Youngstown" and closed with "Thunder Road."
The concert wasn't easy to see for those outside the gym; CSPAN played one song and announced that it was not allowed to play more through arrangements with the campaign. Other snippets have eked out on the internet, as they do.