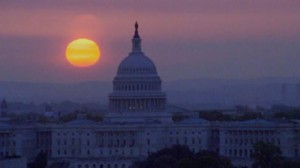 It's a strong night on public television, which is topped by an important "Frontline" (PBS, 10 p.m., check local listings) that looks into the industry the grew up around those who deny the science surrounding man-made global warming.
According to the report, "Climate of Doubt," although 98 percent of scientists who have studied it have agreed that global warming is real and created in part by man, those who disbelieve in it have made effective inroads. While four years ago, candidates in both parties agreed about the threat, nowadays just one of eight Republican candidates for president doubted global warming (as does the resulting nominee). And it's such a hot issue, most politicians won't mention it at all any more, fearing reprisals from Tea Party reactionaries.
"Frontline" reporter John Hockenberry is ferry good at letting the anti-warming pack talk about their influence, leaving the panic and alarm for viewers to have.
Already missing presidential debates? Try the most unusual one of the season when Larry King moderates the Free and Equal Presidential Debate (CSPAN, Ora.TV, Link TV, Al Jazeera English, RT America, 9 p.m.) from Chicago featuring candidates from outside the two party system, among them,  the Libertarian Party's Gary Johnson, the Green Party's Jill Stein, the Constitution Party's Virgil Goode and the Justice Party's Rocky Anderson. It will also be streaming online at freeandequal.org
New seasons start for a pair of second season ABC comedies, each of which are similar in their mean-spirited cynicism and toxic friendships. "Happy Endings" (9 p.m.) is not much better than "Don't Trust the B—in Apt. 27" (ABC, 9:0 p.m.). Both rely on groups of people who wouldn't naturally seem to be actual friends with one another, judging from the terrible things they do to one another and their inability to talk in nothing but bad zingers.
Viewers would be much better served by, for example,  "New Girl" (Fox, 9 p.m.).
The latest documentary on the "30 for 30" series looks at the death of Chicago high school basketball phenomenon Benjamin Wilson Jr. "Benji" (ESPN, 8 p.m.) was directed by the team Coodie Simmons and Chike Ozah.
The presidential debate cut into "Dancing with the Stars" (ABC, 8 p.m.) such that not all the couples got to dance in the Monday performance episode. So the remainder will dance tonight, and there won't be an elimination until next week.
No reality show in history was so affected by baseball as "The X Factor" (Fox, 9:30 p.m.), which in the middle of a long rain delay in a National League championship game last week, showed a couple of comedy reruns before starting an important episode that announced each team's finalists, only to be cut off after an hour. The second hour shows quite late tonight, running to 10:30 p.m. (alert the affiliates!). And in a case of further postseason baseball interference, the "X Factor" won't be back until Nov. 1, after the World Series winds up.
The judges on "The Voice" (NBC, 8 p.m.) finally fill each of their 10-member teams tonight, the last evening for the battle rounds. And by process of elimination, we can surmise that Christina Aguilera uses her final steal.
More politics: A senate candidate's wife is killed while crossing a street on "NCIS: Los Angeles" (CBS, 9 p.m.).
Fans should catch "Private Practice" (ABC, 10 p.m.) while they can; creator Shonda Rhimes announced Friday the current sixth season would be its last and it will only go to episode 13; tonight is episode five, with a new doctor starting.
There's a Halloween party on a special episode of "Pretty Little Liars" (ABC Family, 8 p.m.).
Kristina prepares for surgery on "Parenthood" (NBC, 10 p.m.), which has been awfully poignant this season.
Seth MacFarlane and Norah Jones don't seem like the kind of people who would want to meet eachother. Nevertheless, they meet on a new episode of "Iconoclasts" (Sundance, 8 p.m.).
"Emily Owens M.D." (The CW, 9 p.m.) discovers the nurses don't like her.
Melanie Griffith and Wilmer Valderrama guest star on "Raising Hope" (Fox, 8 p.m.).
Andrew Carnegie builds a bridge across the Mississippi as the steel empire grows on the second installation of "The Men Who Built America" (History, 9 p.m.).
Here's one way to keep your network budget down: Have the contestants on "Face Off" (Syfy, 9 p.m.) design makeup for your NBC show "Grimm." Did I tell you Syfy and NBC were both part of Universal? Soon, the challenge on "Hot Set" (Syfy, 10 p.m.) will be to build a new one for Brian Williams. But not tonight.
One thing about Oprah, she's still curious. On "Oprah: Where Are They Now?" (OWN, 10 p.m.) she wonders the whereabouts of Rodney King and Kato Kaelin. I think I could help her with half of that.
The fascinating month long Tuesday night survey of the depiction of disabilities on screen continues with "A Child is Waiting" (TCM, 8 p.m.), "Mandy" (TCM, 10 p.m.), "Of Mice and Men" (TCM, midnight), "Charly" (TCM, 2 a.m.) and "Light in the Piazza" (4 a.m.).
On a night of no hockey, no baseball, and while awaiting the start of the basketball season, there is a single college football game: Arkansas State at Louisiana-Lafayette (ESPN2, 8 p.m.).
But there is a new season start for "Real Sports with Bryant Gumbel" (HBO. 10 p.m.) that features a report on Michael Strahan's new TV career (opposite Kelly Ripa), and a couple of Frank Deford stories, one about the creators of NFL Films, and the other a heartbreaking story of an inspirational high school volleyball center from Iowa.
Daytime Talk
Kelly & Michael: Gerard Butler, Krysten Ritter, Rick Schwartz. The View: Sissy, Pat & Gary Houston, Tony Bennett. The Talk: Anthony Anderson, Glynis McCants. Ellen DeGeneres: Portia De Rossi, Jerry O'Connell, LL Cool J, Victoria Jackson, Ali Guthy.
Late Talk
David Letterman: Taylor Swift. Jay Leno: Denzel Washington, Richard Engel, M. Ward. Jimmy Kimmel: Prince, Russell Peters. Jimmy Fallon: Tom Hanks, Victoria Justice, Aimee Mann. Craig Ferguson: Dr. Phil McGraw, Hana Mae Lee. Carson Daly: W. Kamau Bell, Lianne La Havas, the Hives (rerun). Tavis Smiley: T.C. Boyle. Jon Stewart: Gerard Butler. Stephen Colbert: John Grisham. Conan O'Brien: Will Arnett, Erin Burnett, Harry Shearer. Chelsea Handler: Zachary Quinto, Ben Gleib, Liz Gleib, Liz Carey, Ryan Stout.