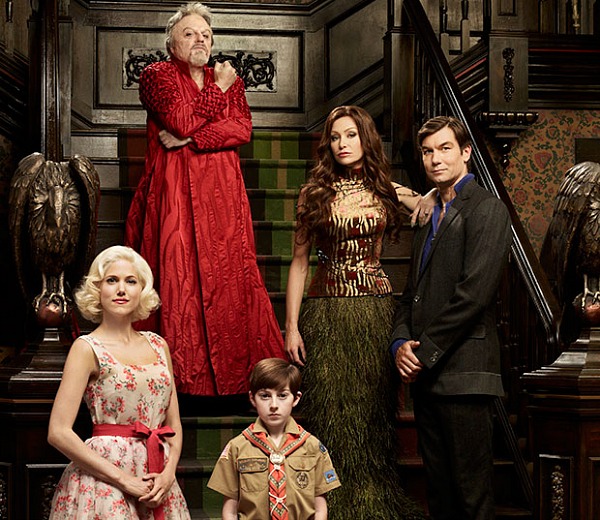 Networks that sour on TV pilots they've dumped a lot of money into are usually satisfied with burying them very deeply in vaults, pretending they never green lit them to begin with.
But since it's Halloween and NBC is doing very well this season with its football and its "Voice," they've deigned to show the $10 million pilot of a remake of "The Munsters" on a Friday, when it doesn't matter much what they do, audiences sizes are so low.
Now there have been some terrible "Munsters" remakes over the years, some involving the original cast, others with everyone from Edward Herrmann to John Schuck in the green skin and rubbery Frankenstein mask – but none with the personality original star Fred Gwynne.
In "Mockingbird Lane" (NBC, 8 p.m.), the fanciful and pricey "re-imagining" by Bryan Fuller, he brings the imagination and top notch art direction he brought to quirky, quite visual  series from "Wonderfalls" to "Pushing Daisies."
At another spooky, ramshackle Victorian mansion set for demolition (though it overlooks the Golden Gate bridge), the Munsters live again, though you wouldn't know it judging from the paterfamilias.
Because all leads on TV have to be good looking, there's no square headed green monster here. Instead, just as the "Beast" in The CW's new "Beauty and the Beast" just has a minor scar on his cheek, so is Jerry O'Connell's Herman Munster barely recognizable as a monster except for neck stitches that may be mistaken as a tight fitting necklace. He looks more like Dylan McDermott on the first season of "American Horror Story" than the icon Boris Karloff once portrayed.
Which makes him a pretty benign presence on Mockingbird Lane, where he just looks like another new neighbor maybe with some medical tale to tell.
And he doesn't get a good entrance. Eddie Izzard's Grandpa, by contrast, is created by the swirl of a pack of rats; Portia de Rossi's Lily appears from behind a frenzy from synchronized spiders (her gown from their web spinning).
And while Al Lewis' iconic Grandpa in the original was rather like Jackie Coogan's Uncle Fester in "The Addams Family" – an amusing but harmless family addendum, here the old bat is arguably the lead character. And why not, since Izzard brings a style and menace to the role that he also brought to the lead of the great series "The Riches."
In perhaps borrowing too much from other current series that trade on the vampire craze, from "True Blood" to "The Vampire Diaries," there's quite a lot of business about his ability to glamour neighbors, be invited inside their homes and his invitations to them quite literally for dinner.
In a season where the legacy of the original Eddie Munster has been revived through the widow's peak of Republican Vice Presidential candidate Paul Ryan, it's too bad that the new Eddie is a well-meaning kid in boy scout uniform and bangs (alas we never see his hairline).
The main plot of the pilot is not only the unusual family's move into the neighborhood but Eddie's experience at a boy scout camp ravaged by a creature they thought was a bear but which turned out to be Eddie's werewolf urges coming out. The metaphor for puberty and the family's handling of it makes it seem like "Mockingbird Lane" would be a family comedy suitable for its 8 o'clock hour, and minus any darker tendencies Fuller had mentioned earlier.
The show does less with Marilyn, the "beautiful" daughter who is hence the outcast in the original. Here, the character (played by charity Wakefield) is happy to be with the family and they're not to embarrassed by her shortcomings. But at least she gets more to do than de Rossi, who makes so little of an impression as Lily you wonder if she's even seen the original.
Fuller can get distracted by the fussy effects; Eddie's dragon has become Grandpa's dragon and it's huge and fire breathing. The nifty theme music has been turned into big orchestral variations on the theme to match the overblown visuals.
But mostly "Mockingbird Lane" looks as if it could have worked.And indeed, if there's a big reaction when it airs tonight, it may well go back into production.
But that kind of thing just won't happen to a show at 8 p.m. on a Friday night – even the one before Halloween.