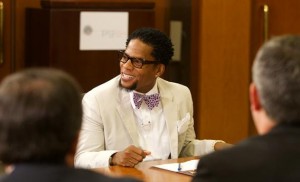 Instead of the usual standup special, "D.L. Hughley: The Endangered List" (Comedy Central, 11 p.m.), is a filmed special about the endangerment of black people, shot as if it's an extra long segment for "The Daily Show." Which makes sense, since it uses many of the same producer.
The real zombie plague, of course, is happening to popular culture. "The Walking Dead" is the most popular TV show, Presidents are turned zombie killers in books and movies and there are no lack of other movies on the thing. Tonight, for example, is the new "Rise of the Zombies" (Syfy, 9 p.m.) in which Mariel Hemingway plays a doctor who tries to find a cure for the zombie apocalypse. On "Devil's Playground" (TMC, 9 p.m.), there's a woman who is immune to the zombie plague.
It's mostly werewolves and vampires, though, on "Underworld: Awakening" (Starz, 9 p.m.). And there's a pandemic, but not a zombie one, in "Contagion" (Cinemax, 10 p.m.).
There are a couple of kids movies making debuts tonight: "Spy Kids: All the Time in the World" (Showtime, 8 p.m.) and "Alvin and the Chipmunks: Chipwrecked" (HBO, 8:30 p.m.). There's also a seasonable double play of "Monster House" (ABC Family, 8 and 10 p.m.).
For benign Halloween, there's always the "Good Witch" series. Catharine Bell returns for her fifth appearance as Cassie Nightingale in the new "The Good Witch's Charm" (Hallmark, 9 p.m.). By now she's got a newborn daughter and happens to be mayor.
Wouldn't it be nice: A crisp October Saturday afternoon World Series game! Dream on. There hasn't been a day game for the World Series in 25 years, and even that one was indoors at the Metrodome. Tonight's Game 4 of the fall classic will be in the chilly dark of the Motor City with Giants at Tigers (Fox, 8 p.m.). Detroit so far trails 2-0 in the best of seven series.
Zooey Deschanel returns to sing the National Anthem. The "New Girl" star and sometimes recording artist also performed at last year's series without making the "Stars Spangled Banner" too adorkable. Perhaps she'll duet with Siri this year.
The scariest films are those that mess with your mind, like "Diabolique" (TCM, 8 p.m.), whose Simone Signoret is also featured in "Games" (TCM, 10 p.m.). They are followed by the suspense and horror movies "What's the Matter with Helen?" (TCM, midnight), "I Bury the Living" (TCM, 2 a.m.), "Tormented" (TCM, 3:30 a.m.) and "Witness to Murder" (TCM, 5 a.m.).
Primetime college football tonight includes Notre Dame at Oklahoma (ABC, 8 p.m.), Michigan at Nebraska (ESPN2, 8 p.m.) and Mississippi State at Alabama (ESPN, 8:30 p.m.).
The Shins perform on a new "Austin City Limits" (PBS 9 p.m., check local listings.
Alas, it's a rerun on "Saturday Night Live" (NBC, 11:30 p.m.), of the 37th season opener from last month with Seth MacFarlane and Frank Ocean.