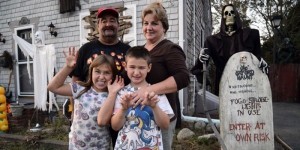 It's a big time of year, as you might imagine, for Chiller, the network that just has scary fare year-round. Tonight, they present their first original documentary,
"The American Scream"
(Chiller, 8 p.m.) about three Halloween-obsessed citizens of Fairhaven, Mass., who try to outdo themselves an eachother on their annual haunted houses.

From the Michael Stephenson, producer and director of "Best Worst Movie," which chronicled the cult of a movie called "Troll 2," "The American Scream" has the same balance of people totally serious about what they do, even if it's really funny. (Chiller, unfortunately, is one of those networks that isn't on every cable plan).

The surprising changes of
"Homeland"
(Showtime, 10 p.m.) result in one of the most powerful and unusual episodes in the series — with one of the most unwarranted secondary stories.
After a couple of episodes at the prison,
"The Walking Dead"
(AMC, 9 p.m.) concentrates on Andrea, who has broken off from the group and has been traveling with the mysterious warrior Michonne. Tonight they find a community that's been formed to fight the zombies and a governor who will test them.
One of the great things about Davis' concept album on
"Treme"
(HBO, 10 p.m.) is that he gets a lot of New Orleans stars to participate. Tonight, it's Fats Domino.

It's Easter on
"Boardwalk Empire"
(HBO, 9 p.m.), and just about everybody gathers for dinner. There is a singing saw demonstration and Nucky juggles.
It's Game 4 of the
World Series
(Fox, 8 p.m.) with Giants at Tigers and Detroit on the verge of collapse, with San Francisco ahead 3-0 in the series. Demi Lovato, the pop singer and "X Factor" judge, sings the National Anthem. So far, every singer has had a Fox show.

Wonder how it will do head to head against Sunday night Football, which features
New Orleans at Denver
(NBC, 8 p.m.).
Earlier NFL action has
Washington at Pittsburgh
(Fox, 1 p.m.),
Oakland at Kansas City
(CBS, 4 p.m.) and
New York Giants at Dallas
(Fox, 4:20 p.m.).
"Upstairs Downstairs," on
"Masterpiece Classic"

(PBS, 9 p.m., check local listings) dabbles with two issues that arise in the family — abortion and same-sex relationships. And Beryl is moving up in the world.

"The Mentalist"
(CBS, 10 p.m.) reaches its 100th episode.

Of course there's a Halloween party at
"666 Park Avenue"

(ABC, 10 p.m.). It wouldn't be a spooky address if it didn't.

"The Amazing Race"
(CBS, 8 p.m.) moves to Bangladesh, where the living isn't easy.

Leonard's accountant is arrested on
"The Good Wife"

(CBS, 9 p.m.).
"Keeping Up with the Kardashians" (E!, 9 p.m.) becomes the Rehashians when they fill a "special" episode with leftover footage. It's a prelude to a new season of "Ice Loves Loco" (E!, 10 p.m.).
It's not enough to pad the end of the "Real Housewives" series with all manner of its own leftover footage and reunion episodes. Now there is prequel padding as well, with
"The Real Housewives of Atlanta: The Hairstylists Tell All"
(Bravo, 9 p.m.) in advance of next week's season premiere.
It may be a little premature for a special about changing Presidents. They couldn't have held "Flipping the White House" (Discovery, 10 p.m.) for another 10 days?
Special effects pioneer Ray Harryhousen is saluted with three movies that featured his work, "20 Million Miles to Earth" (TCM, 8 p.m.), "Earth vs. the Flying Saucers" (TCM, 9:30 p.m.) and "First Man in the Moon" (TCM, 11 p.m.).
At the chilling hour, Lon Cheney becomes the original "Phantom of the Opera" (TCM, 1 a.m.) in the 1925 silent. IT's followed by the  Fritz Lang classics, "M" (TCM, 2:45 a.m.) with Peter Lorre.

Sunday Talk
ABC:
Obama deputy campaign manager Stephanie Cutter, Newt Gingrich, Austan Goolsbee, former chairman of the White House council of Economic Advisers.
CBS:
Sen John McCain, Chicago mayor Rahm Emanuel, former Govs. Jennifer Granholm and Haley Barbour.
NBC:
Govs. John Kasich, John Hickenlooper and Scott Walker.
CNN:
Republican chairman Reince Priebus, Govs. Bob McDonnell and Ted Strickland.
Fox News:
Sens. Rob Portman, Ron Johnson, Mark Warner and Mark Udall, Democratic strategist Joe Trippi, Republican strategist Karl Rove.