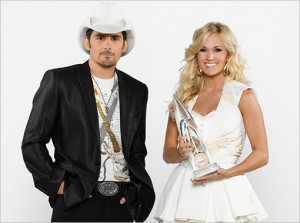 Brad Paisley and Carrie Underwood, right, return for the fifth time to host
The 46th Annual CMA Awards
(ABC, 8 p.m.) from the Bridgestone Arena in Nashville.
Performers include Jason Aldean, Dierks Bentley, Luke Bryan, Kenny Chesney, Eric Church, Kelly Clarkson, Eli Young Band, Brantley Gilert, Faith Hill, Lady Antebellum, Miranda Lambert, Little big Town, Tim McGraw, Blake Shelton, Taylor Swift, the Band Perry and the Zac Brown Band — as well as the two hosts.

You could almost make the case that ABC has built its fall season around the event, what with the new series "Nashville," the new Reba McEntire comedy, "Malibu Country" and last week's Katie Couric interview special.
Eric Church leads all performers with five nominations; Shelton and his wife Lambert have four each. Aldean, Chesney, Shelton, Paisley and Swift are up for Entertainer of the Year.
The awards show goes on for three hours. You can stretch it to four by watching the "CMA Red Carpet 2012″ (CMT, 7 p.m.) on cable.

Instead of the night of new episodes of NBC comedies that were originally scheduled, there's an episode of
"The Voice"
(NBC, 9 p.m.). Because four hours of it so far this week has not been enough? Actually this episode is a recap of the knockout rounds Monday and Tuesday. It's all to get you ready for the six hours of "The Voice" coming next week. Or at least to directly challenge the second two hour live episode of
"The X Factor"
(Fox, 8 p.m.) of the week. Tonight each of the judges decide which one of the acts on their teams they'll have to let go, and the Top 16 will be the Top 12 by the end of of the two hours.

NBC actually put on "30 Rock" a day earlier Wednesday so the politically-themed two part episode could atleast conclude before the election. You can watch it tonight online and pretend that everything is normal.

It would have been as big an NBA event as the season openening two nights ago. But the first  Knicks –  Nets game at the new Brooklyn Barclays Center has been canceled because of storm complications. But the late game is still on with
Oklahoma City at San Antonio
(TNT, 9:30 p.m.).
The new scripted late night comedy "Reality Show" (Showtime, 11:30 p.m.) is about a desperate TV producer who films a random unwitting family in hope of discovering drama that will make good TV. Nothing happens, so they steal their dog. Not a very original idea, and not a very good show either.
Halloween decorations may be coming down, but they're still having costume parties on
"The Vampire Diaries"
(The CW, 8 p.m.).
Stephen Hawking returns to play Words with Friends with Sheldon on "The Big Bang Theory" (CBS, 8 p.m.).
Anika Noni Rose guest stars on "Elementary" (CBS, 10 p.m.), playing a former colleague of Watson's.
Most of Seaside Heights depicted on "Jersey Shore" (MTV, 10 p.m.) has been destroyed and I just can't help blaming these goofs.
Because Kristin Cavallari is engaged to a Chicago Bear it qualifies her to be a guest star on "The League" (FX, 10:30 p.m.).

In the realm of law enforcement, watch out for those rogue cops, on display tonight on
"The Big Heat" (
TCM, 8 p.m.),
"Bullitt"
(TCM, 9:45 p.m.),
"The Racket"
(TCM, 11:45 p.m.),
"Infernal Affairs"
(TCM, 1:30 a.m.)
and
"The Taking of Pelham One Two Three"
(TCM, 3:30 a.m.).
Previously scheduled movies tonight whose titles were not meant to comment on the storms and floods, include
"Waist Deep"
(BET, 9 p.m.),
"Under Siege 2: Dark Territory"
(Encore, 8 p.m.) and
"Misery"
(TV Guide Network, 10 p.m.).

It's
Chiefs at Chargers
(NFL, 8 p.m.) on Thursday Night Football. In college football, it's
Eastern Michigan at Ohio
(ESPNU, 6 p.m.),
Virginia Tech at Miami
(ESPN, 7:30 p.m.) and
Middle Tennessee State at Western Kentucky
(ESPNU, 9:15 p.m.).

Daytime Talk
Kelly & Michael:
Gary Sinise, Jennifer Carpenter.
Katie Couric:
Cast of "Annie."
The View:
Nancy Grace, Tim Allen, Sabrina Bryan.
The Talk:
Jane Caczmrek, Brandon Routh, Paul Carrick Brunson.
Ellen DeGeneres:

Smmitt Smith, Cheryl Burke.

Late Talk
David Letterman:
Aerosmith.
Jay Leno:
Jamie Lee Curtis, Bary Zito, Sergio Romo, ZZ Ward.
Jimmy Kimmel:
Jon Stewart, Stephen Colbert, the Avett Brothers with the Brooklyn Philharmonic.
Craig Ferguson:
Joel McHale, Alton Brown.
Carson Daly:
Melissa Benoist, Selah Sue, Metric.
Tavi Smiley:
Jack Black.
Jon Stewart:
Bob Woodruff.
Stephen Colbert:
David Byrne & St. Vincent.
Conan O'Brien:
John Ce. Reilly, Casey Wilson, CoryChisel.
Chelsea Handler:
Jane Lynch, Mo Mandel, April Richardson, Chris Hardwick.