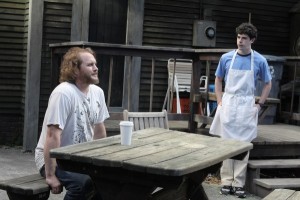 The title of Annie Baker's play at Studio Theatre, "The Aliens," has nothing to do with either immigration or science fiction. Rather, it is one of dozens of proposed names for a band that a couple of pals named K.J. and Jasper never quite got around to forming.
So, now approaching their 30s, sporting scraggly beards and an array of ratty T-shirts, they sit in an alley behind a coffee shop of a small Vermont town, smoking cigarettes, toying with tea so as to add psilocybin, exchange small talk, occasionally breaking out into lyrics of would-be songs, and mostly stare out into space.
The vast, empty silence between utterances is what lends Baker's play its wry realism and may drive some theater patrons daffy.
If it were not named the Green Sheep, the coffee shop in question might have been named Godot's, so infused is the disarming play with sitting and waiting. "Seinfeld" might have been a sitcom about nothing, but here is a play that begins with several  minutes of seemingly nothing, no lines and very little movement.
Staring off to a fixed point, adjusting their seats and making small, glacial expression changes all add up to a theater experience very different than those where each line is urgently blurted before the next in rat-a-tat style.
Here, the utterances sometimes get no response. Or stop mid sentence. Or after a quizzical few moments are just given an "OK" or "cool." Those two responses come from the third member of the cast, a high school kid who is a new employee at the café, and whose job it is to shoo away these aging slackers from what is supposed to be an employees-only area.
They ignore him, then try to placate him, and eventually lure him into their circle, where spontaneous lyrics are offered, the poems of Charles Bukowski are celebrated, and Jasper talks about progress on his beat-inspired novel.
It eventually turns into a touching and well-observed exercise into the realm of the lost and left-behind, in words that are as stunted as their lives.
"It's like watching paint dry," hissed an elderly audience member in the front row of the Sunday matinee, as amusingly unself-aware as the characters on stage in thinking nobody else could hear her. Actually, she was just denying herself the nuances of pigment shadings over two acts.
"The Aliens" works brilliantly at the Studio, because so much excellence is brought to bear. The tone of Baker's play is just right in reflecting this back-by-the-dumpsters world most would ignore.
The actors are perfectly suited to their roles as well: Scot McKenzie seems at first blissfully blank as K.J., occasionally breaking out in complex lyrics that sound like something out of Fleet Foxes or Grizzly Bear. Then we learn of a past breakdown, which probably led to his living with his mother, ingesting mushrooms and hanging out in the back lot of a coffee shop all day.
Peter O'Connor has a bit more intensity as Jasper, the would-be novelist who is more agitated about the loss of his girlfriend to a guy named Sprocket than he will let on. And Brian Miskell is just right as the teen, frightened of these older bearded slackers at first but slowly coming to admire and rely on them.
Director Lila Neugebauer does a splendid job in not only slowing her actors down to a crawl and inserting the silence the playwright intends, but in placing her characters in all manner of interesting poses and levels of the standout stage by Daniel Conway, a brilliantly detailed depiction of a back alley, with its weathered wood, battered picnic table and authentic asphalt complete with weeds and moss emerging from the cracks. Matthew Richards' lighting makes each Vermont afternoon intensely sunny; and the one night scene, with its mercury vapor-like security lighting, completely accurate in its brutal nocturnal glare.
Perhaps the off stage fireworks that end act one could have been accented with a hint of exploding color reflecting from afar, but using a sparkler's last dying ember as a way to go to blackout is a genius way to close the scene.
It's another subtlety in "The Aliens" that will cause it to remain with viewers long after winter comes and the back lot of the coffee shop really closes.
"The Aliens" plays through Dec. 23 at the Studio Theatre, 1501 14th St. NW, Washington, D.C.