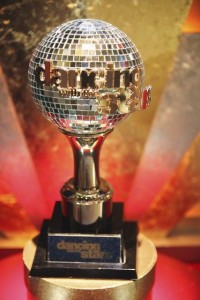 It used to be kind of a big deal when it was the finale night for
"Dancing with the Stars"
(ABC, 9 p.m.). But even on an all-star season, the show failed to muster as much interest as usual.
A winner will be named from one of two past winners, Shawn Johnson and Kelly Monaco and runner-up Melissa Rycroft, and all of the previously eliminated dancers will return for a routine.
Part of the reason ratings are down is that it's been consistently beat by "The Voice" (NBC, 8 p.m.), which has its own results show tonight where the Muppets show up on to mock the two who are eliminated.
It's an Olympic week on prime time. After the Fab Five appeared on "Dancing with the Stars" Monday, beach volleyball medalist Misty May-Treanor pops up on "Go On" (NBC, 9 p.m.), which you should not confuse with the hockey movie "Goon" (Showtime 2, 10 p.m.).

"Rizzoli & Isles" (TNT, 9 p.m.) returns with a new set of episodes.
Genghis Khan makes his bow on "Mankind: The Story of All of Us" (History, 9 p.m.). The printing press is invented, but so is the gun.
Before the year is over, let's recall once more, on its 200th anniversary, "The War of 1812" (PBS, 9 p.m., check local listings).
You'd be hard pressed to find a better animated double feature than "WALL-E" (ABC Family, 7 p.m.) and "Up" (ABC Family, 9 p.m.).

"Chopped" (Food, 10 p.m.) tackles cornish hens.
The final five dancers remaining on "Abby's Ultimate Dance Competition" (Lifetime, 9 p.m.) learn global styles.
Nick's writing a zombie novel on "New Girl" (Fox, 9 p.m.).

"Ben and Kate" (Fox, 8:30 p.m.) stumbles on another truth: Guys make some funny faces when they're playing rock guitar.
I guess one advantage of having your big ceremony at the "Little People, Big World: Wedding Farm" (TLC, 9 p.m.) is that the whole wedding party looks so tall by comparison.
Honey-pot ants are on sale in "Frontier Earth Presented by Walmart" (Animal Planet, 8 p.m.). Or maybe they're outside protesting.
A winner is named on the first season finale of "Chef Race: U.K vs. U.S." (BBC America, 10 p.m.).
Jax envisions a new direction for the club on "Sons of Anarchy" (FX, 10 p.m.).
If you wondered what happened to the pregnant dude, and whether his beard got any better, there's an update on "Oprah: Where Are They Now?" (OWN, 10 p.m.).
I'm thinking the people in "Doomsday Preppers" (National Geographic Channel, 9 p.m.) should meet the people doing "Extreme Couponing" (TLC, 10 and 10:30 p.m.).
Finally, a cable showing of "A Very Harold & Kumar Christmas" (More Max, 9 p.m.) is atually timely.
Here's the first of what will be repeated network showings of the 1966 "How the Grinch Stole Christmas" (ABC, 8 p.m.), paired with the classic from this century, "Shrek the Halls" (ABC, 8:30 p.m.).
The month-long Tuesday night Constance Bennett salute on Turner Classic Movies continues with "Tall Spin" (8 p.m.), "Wild Bill Hickok Rides" (9:30 p.m.), "Two-Faced Woman" (11 p.m.), "Smart Woman" (12:45 a.m.), "The Unsuspected" (2:30 a.m.) and "The Woman on the Beach" (4:30 a.m.).
College basketball tonight includes Vermont at Harvard (NBC Sports, 7 p.m.), Minnesota at Florida State (ESPN2, 7:15 p.m.), Iowa at Virginia Tech (ESPNU, 7:15 p.m.), North Carolina State at Michigan (ESPN, 7:30 p.m.), Maryland at Northwestern (ESPN2, 9:15 p.m.), Nebraska at Wake Forest (ESPNU, 9:15 p.m.)  and North Carolina at Indiana (ESPN, 9:30 p.m.).
Daytime Talk
Kelly & Michael: Helen Hunt, Bryan Adams, Carley Roney. The View: Joan Collins, Fran Drescher, Peter Billingsley, cast of the musical "A Christmas Story." The Talk: Pauley Perrette, Richard Blais, Carnie Wilson. Katie Couric: Barbra Streisand (rerun). Ellen DeGeneres: Ellen Pompeo, Jason Sudeikis, Miguel.
Late Talk
David Letterman: Alec Baldwin, Dirty Projectors (rerun). Jay Leno: Julie Bowen, cast of "Rocket City Rednecks," Little Big Town. Jimmy Kimmel: Reba McEntire, Future. Jimmy Fallon: Tom Hanks, Victoria Justice, Jamie-Lynn Sigler, Aimee Mann (rerun). Craig Ferguson: James Marsden, Daniela Ruah, Cory Kahaney. Carson Daly: RZA, Team Rubicon, Grimes (rerun). Tavis Smiley: Anthony Anderson. Jon Stewart: Warren Buffett, Carol Loomis. Stephen Colbert: Dolly Parton. Conan O'Brien: Mel Brooks, Kristen Schall, Jon Dore. Chelsea Handler: Whitney Cummings, Fortune Feimster, Ingrid Haas, Gary Valentine.