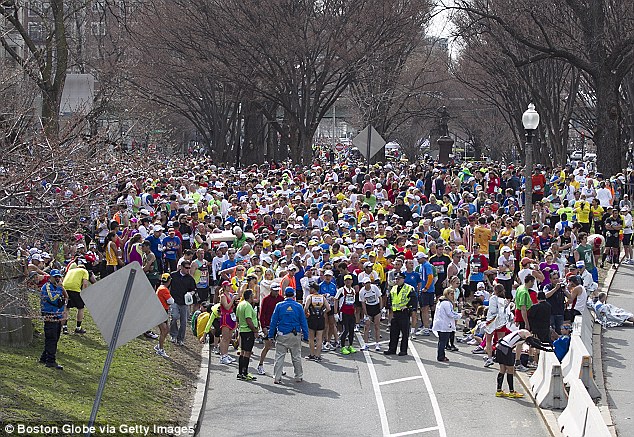 The explosions sounded ominous. From mile marker 25.5, it could have been a confetti cannon going off at the finish line. Except that the leaders finished hours ago and there would be no reason to celebrate now.
Maybe it was one of those metal-on-metal crashes that occasionally occur on  construction sites. But in the Back Bay on Patriot's Day?
"That doesn't sound so good," I said, repeating it again when the second explosion occurred seconds later. There was no way to know we were descending into another full terror lockdown, with the bright sunshiny promise of the day turned too soon to death and mayhem, nonstop speculation, with fear and uncertainty around the corner at the finish line.
I kept where I was, waiting my daughter, coming up from Mile 24 where she saw her friend among the 17,000 running by in the 117th running of the Boston Marathon. I had often come up for Patriot's Day because it was a spring holiday in Massachusetts if not Connecticut where I lived, to catch the novelty of a Red Sox game with a morning start time during the first couple weeks of the new season, and getting the bonus of watching marathon finishers at Kenmore at game's end.
The Patriot's Day weekend had been a tradition with a couple of buddies dating back a couple of decades, though we had all scattered away from New England and hadn't been up in a full five years now.
Part of the reason we hadn't come is because the lovable Sox had become two time World Series winners in recent years and tickets were much harder to get. But a lousy season last year and Jack's persistence paid off in some fine seats in a section that may not have even existed last time we were there — the Coca-Cola pavilion perched over left field next to the Wall but higher up.
The game this time was Sunday — a nifty two-hitter by Clay Buchholz; we had actually seen an April no hitter by Derek Lowe in 2002 (also against Tampa Bay) and thought we had a chance. As it was Buchholz took it into the seventh before it was broken up. Still: 11 strikeouts and a 5-0 shutout.
With the game part over there was always the marathon with another catch. Though we were once freewheeling guys on a weekend, this time one of us was also a responsible dad, bringing daughter up from college near Philly to see her friend run as well.
So while we watched the marathon as usual, and it's safe to say we've never watched for so many hours. And of course, like everyone else, we never imagined its abrupt end.
Standing and watching the variety of racers, I had almost forgotten their strata: Determined wheelchair racers zipping by first. Then women leaders, in a much different order than they were earlier in the race that we had seen on TV coverage. Finally the striding men, running so fast you could scarcely believe they'd been at that pace for 25 miles.
And then the mass of humanity: Not just anybody, since people had to train and qualify for this most prestigious international race. But that ambition was certainly open to everyone everywhere. And almost everybody knew a sibling, cousin, uncle, pal, grandpa, aunt who were so determined to make this accomplishment.
And because these athletes were just about the only people in modern sporting that weren't sponsored, didn't represent corporate or even team concerns, each runner was instead connected by family and friends, who filled the sidelines of half a million rooting them on.
But they didn't just save cheers for their loved one; they'd cheer everyone encouragement. Especially those who, by mile 25, gave up on the pacing and started to walk. Not ironic cheers to those who gave up, but sincere wishes to rally and finish. Some who put their names on their shirts in tape got back bigtime in strangers cheering them personally. Those in costumes brightened up the parade often to their own discomfort (how'd you like to run 26.2 miles in a hot dog costume?).
One guy was joking to the bystanders as he ran by. "Boston, this way?"
My daughter saw her friend and was starting to make her way up to where I was so we could prepare to leave town. But I didn't mind waiting around watching the endless stream of runners, especially from the vantage point of our meeting place: The Mass Ave. overpass of Comm Ave.
So when we heard those explosions, it rattled us.
There had been a similarly surreal mix of sport and deadly news 19 years earlier, when after the Patriot's Day Sox game and watching the marathon, we sat in an outdoor bar and watched their TV show the Waco compound burning that same afternoon in Texas. Switching back and forth from continuing marathon coverage and the Waco inferno was chilling.
It was chilling again Monday though what had happened wasn't immediately clear. But suddenly the Boston police who had been plentiful presence all along the route were running top speed in formation toward Copley. Sirens started to blow. An ambulance speed in. A smell of sulphur helped confirm my fears of the worst.
And then the most telling example something had gone terribly wrong: The race had stopped.
Usually the marathon would stretch out until the late afternoon. We'd see stragglers determined to finish even as the sun was setting sometimes, or after the barricades were being removed. But now: nothing.
More than 4,000 runners had yet to finish, had run 25 miles but wouldn't be allowed to continue. As you might imagine a big crowd of humanity started to bunch up just by the overpass we were on. The oft published Boston Globe photograph of runners stopped was taken from the bridge we were on, too. That was our view.
And still nobody knew anything about what had happened. No announcements were made. Cops wanted the streets clear for emergency vehicles but that was about it. Cell phones weren't working (the towers had been shut down, we heard later, so any further bombs could not be detonated remotely). But there was texting and Twitter.
As I've found for other immediate events — the earthquake on the National Mall in 2011 that closed the Washington Monument for example — Twitter is pretty good for finding out clear information quickly. And though tweets could not be counted on as verified facts, very few were wildly off or speculative. And one that punched me in the gut with something that turned out to be uncannily true: Two bombs, 60 injured. Only later would we hear about the dead.
At this point, my daughter was stuck south of Boylston Street's ground zero; we were stuck above it. And the number of people crowding around just grew — not just the stopped runners, but now everybody who was on the T — the underground trains had stopped and riders had been evacuated.
We were going to walk back to our Cambridge hotel anyway after watching the marathon, but hadn't thought it would be with such a mass of humanity, sirens blaring all around, the Mass Ave bridge over the Charles closed to traffic but big crowds of concerned people walking north, trying to check their phones along the way.
It was so reminiscent of scenes of workers evacuating Lower Manhattan across the Brooklyn Bridge on 9/11. And yet we didn't know whether we had another 9/11 on our hands. Or if the explosions had stopped.
Back at the hotel bar, watching the coverage finally, we learned about the JFK Library fire that was originally listed as an event linked to the bombs, and then not linked, and then liked again in the first police press conference, only to be unlinked again (Pictures of its fire at its height made it seem like no small thing).
My daughter was still trying to make her way to us, but was being stopped by the ever tightening lockdown in the area. She wasn't keen on being on the street anyway since she heard there was one or two other unexploded bombs found (which was debunked the next day).
It was not so different from 9/11 when, not knowing what else to do, I rushed over to the elementary school to pick her up, or just to see her or hug her. There I was given the shocking information that teachers hadn't told the kids about the attack — they were leaving it to the parents (I thought of the poor teachers having to act all day as if everything was all right).
Their plan didn't work: When I saw Lillie on the playground she told me a friend's dad had already come and told them the world was ending.
From this, though, I could tell in her voice how scared she was at the unknown, the possibility of senseless violence that could occur again anywhere in the city. I told her to relax for a half hour to see if the situation changed.
Eventually we had her take a working T to the end of the line near the Mass Pike, where we swung around and met her. It worked fine. We listened to news and speculation all the way back, as squads of police cars sped toward the city and we could go fast as we wanted the other way.
I thought about those people who were killed and injured, and the thousands who had been running. And I wondered if that old guy who had asked "Boston this way?" had made it all the way to the end.