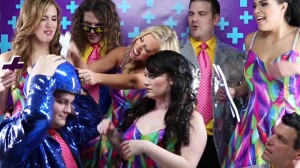 The new "Off Pitch" (VH1, 10 p.m.) is a funny new series that follows the artistic pursuits of a pretty terrible all adult, "Glee"-inspired show choir, the Grand River Singers of La Cross, Wis.
Because singing and dancing are secondary to having big personalities, it's particularly well suited for amusing TV, looking like a version of of which the network freely compares to "Waiting for Guffman."  That's due a lot to its colorful, demanding leader, who tells them they're family, and they would always have a home "for temporary."
Departing from its usual fare of captured drug dealers, tonight's "Locked Up Abroad" (National Geographic Channel, 9 p.m.) tells the story of the longest-held civilian prisoner of war in Vietnam, Ernest C. Brace, through recollection and re-ennactment. The story gets some involvement from his best friend of the era, Sen. John McCain, whom he met at the Hanoi Hilton.
"Suburgatory" (ABC, 8 p.m.) ends its second season with two episodes, as George and Dallas plan to move in together, making Dalia and Tessa unwilling common law stepsisters.
Also reaching its season finale — its second on cable — is "Southland" (TNT, 10 p.m.), which has been quietly wowing fans this season.
What do you really know about eels? "Nature" (PBS, 8 p.m., check local listings) gives you the lowdown. It kicks off a night of science programming on public television with the second chapter of its compact history of a continent, "Australia's First 4 Billion Years" on "Nova" (PBS, 9 p.m., check local listings) and an investigation of our digestive tract on "Guts with Michael Mosley" (PBS, 10 p.m., check local listings).
Now that it's all women left on "American Idol" (Fox, 8 p.m.), it's a good time to have them all choose their favorite diva song to perform. They also each sing a song from the year they were born.
Dawn has been the strong double agent for Stealth R Us, but she may be cracking under pressure on a new episode of "Survivor" (CBS, 8 p.m.).
Howard grad Nia talks about her sexual assault at age 18 on a new episode of "The Real World" (MTV, 10 p.m.).
A report on the guy who pretended he was Clark Rockefeller is scheduled on "Dateline" (NBC, 8 p.m.). But I wouldn't be surprised if they pre-empted it with an update from Boston, should there be any.
They throw an Oscar viewing party on "How to Live with Your Parents (For the Rest of Your Life" (ABC, 9:30 p.m.). Decorations must have been half price.
The guys on "Psych" (USA, 10 p.m.) how they might have solved a case differently.
The people on "My Crazy Obsession" (TLC, 10 p.m.) like pet squirrels and 60s culture too much. As long as they're not eating dryer lint or something.
Willie may be having a mid-life crisis on "Duck Dynasty" (A&E, 10 p.m.). As long as he doesn't shave the beard, though, he's fine.
There's some high and low programming on ION, the lowly broadcast network: A rare example of its new, original shows, "WWE Main Event" (ION, 8 p.m.) followed by the 2008 movie "Frost/Nixon" (ION, 9 p.m.).
I guess you could watch "Crossfire Hurricane" (HBO2, 8 p.m.) and decide whether it's still worth $500 (or much more through scalpers) to see the Rolling Stones in concert any more.
The sophisticated romantic roles are emphasized in tonight's installment of Turner Classic Movies' month-long Wednesday night salute to Laurence Olivier, with "That Hamilton Woman" (8 p.m.), "Perfect Understanding" (10:15 p.m.), "Rebecca" (11:45 p.m.), "Pride and Prejudice" (2 a.m.), "Wuthering Heights" (4 a.m.) and "The Divorce of Lady X" (5:45 a.m.).
NBA action includes Utah at Memphis (ESPN, 8 p.m.) and Houston at Lakers (ESPN, 10:30 p.m.). In hockey, it's Buffalo at Boston (NBC Sports, 7:30 p.m.). Baseball includes Philadelphia at Cincinnati (ESPN, 7 p.m.).
Daytime Talk
Kelly & Michael: Brad Garrett, Nick Lachey, Mark Feurestein. The View: Tom Sizemore, Olly Murs, La La Vasquez. The Talk: Benjamin Bratt, Drew Carey, Chris Kimball, George Eads (rerun). Ellen DeGeneres: Adam Sandler, Chris Rock, Salma Hayek, David Spade, Kevin James, Cee-Lo Green.
Late Talk
David Letterman: Selena Gomez, Bob Sarlatte, Killer Mike with El-P and Scar (rerun). Jay Leno: Keith Urban, Paula Dean, Django Django (rerun). Jimmy Kimmel: Harrison Ford, Anthony Mackie, M83. Jimmy Fallon: Steve Carell, Abigail Breslin, Justin Timberlake (rerun). Craig Ferguson: Kelly Osbourne. Carson Daly: Tom Collicchio, Walk the Moon (rerun). Tavis Smiley: Robert Battle, Alicia Graf Mack. Jon Stewart: Ricky Gervais. Stephen Colbert: Alan Cumming. Conan O'Brien: Jeff Goldbum, Kate Upton, Fall Out Boy. Chelsea Handler: Josh Wolf, Annie Lederman, Kurt Braunohler.