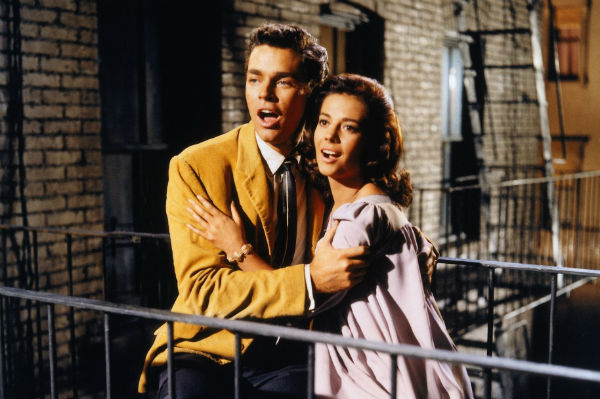 It's been a popular thing for a decade or more for orchestras to sub in scores live for silent movies. A little more unusual is presenting live soundtracks to talkies.
After somehow removing just the instrumental tracks, leaving the voices, sound effects and singing intact, the Baltimore Symphony Orchestra will do just that for "West Side Story."
I spoke to Marni Nixon about her famous role secretly filling in the singing voices for some of the best known musicals, including "West Side Story" last week for the Washington Post. That story can be found here.
But I also did an e-mail interview with BSO conductor Marin Alsop about her process in performing scores to films. That exchange can be seen after the jump.
It seems like it would be more limiting to perform the score for a talkie or musical than a silent film. Is it? 
It must definitely be much more precise, so I suppose that could be considered "limiting"; however, I find it more of a fun challenge to stick with the click track and especially to accompany the vocals! When they recorded the score, they didn't anticipate that people would ever try to sync it to a live accompaniment, so the pulse is constantly changing…just like live music!
Have you had experience conducting for a film's soundtrack, which I imagine is the same sort of discipline: looking at screen, keeping up with the action?
I have never recorded a film score; however, when I was in my twenties I made my living leading the string sections for films and television commercials (jingles) so I have had a lot of exposure to and experience with live film scores. In 'West Side Story' they use "streamers" and "punches" as indicators for the conductor and I remember those well from my studio days.
What is the most difficult thing about conducting to a film? How it limits the orchestra? Or is it the opposite: does it keep the orchestra in better time? 
I have never done a film where all the musicians all have the click track so I am curious as to whether that will help or make it more complicated.  In studio sessions everyone usually has the click and it helps coordinate everyone; however, that also takes getting used to!
You worked with Leonard Bernstein. What did he say about "West Side Story" and its music?
Bernstein loved "West Side Story" and especially the story: an updated, hip version of Romeo and Juliet (even though it's dated for us today), but he was often pegged as a "pop" composer because of "West Side Story"….Bernstein couldn't win with the critics but I don't think anyone had ever seen – or will ever see – his kind of immense, eclectic, all embracing musical talent.
Is "West Side Story" fun to perform? How does it stand up as a piece of music to you?
 It is a masterpiece. It is challenging on every level and also a blast…just like Bernstein!
Can you imagine the process Marni Nixon had in looping the vocals of Natalie Woods for the film recording? Is the process at all the same as conducting?
I haven't a clue!
What kind of response do you get from audiences at these presentations? Is it a different audience than you usually see?
The audience loves these presentations that bring together different media. Performing films with live orchestral accompaniment is an entirely new and unique way to experience both the films and their magnificent scores.
Any thoughts about future films you'd like to present in this way?
There's a newly digiitized "2001: A Space Odyssey" that I would love to bring to Baltimore.  Keep your eyes peeled!
WEST SIDE STORY — MUSIC & THE MOVIE A screening of the 1961 film with live performance of Leonard Bernstein's score by the Baltimore Symphony Orchestra, conducted by Marin Alsop. 8 p.m. Friday and Saturday, and 3 p.m. Sunday at the Joseph Meyerhoff Symphony Hall, 1212 Cathedral St., Baltimore. Call 877-276-1444 or visit BSOmusic.org.