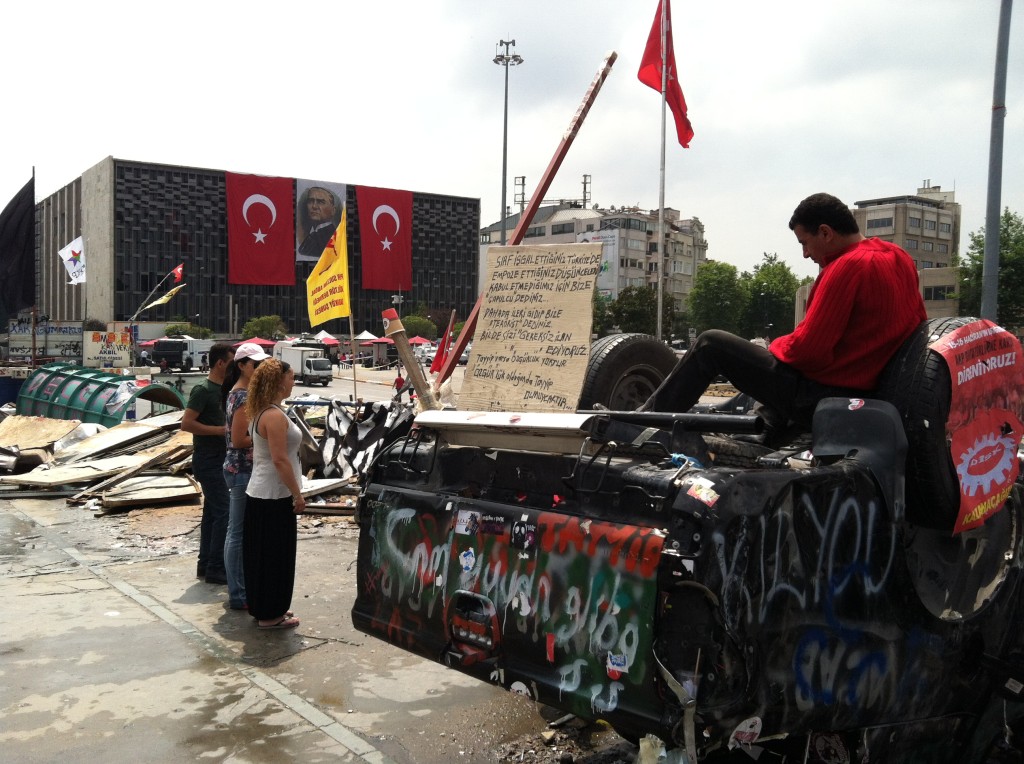 The way it had had been reported on TV, you'd think the tear gas would be evident from the moment we stepped off the plane in Istanbul.
But things seemed to be normal as we got into Ataturk Airport Thursday morning. Except you'd see things as you would at a totalitarian country: Big pictures of the fearless leader all over the place, on banners, and framed pictures. One oversized image, dramatic like a senior picture, overlooked the lost luggage office. I was too jet lagged to wonder if that was a bad sign.
We had booked way before protests started up in Taksim Square over a civic planning issue. Prime Minister Recep Tayyip Erdogan had been acting more like the Istanbul Mayor he once was, pushing ahead a plan to build a shopping mall on Gerzi Park adjoining Taksim Square and one of the last green spots in the city.
We'd watch reports intensify from the states as the day for our departure approached. When things looked like they were dying down or moving to the capital in Ankara, police launched a vicious tear gas attack Tuesday, knocking people over with water cannons. We left  for Turkey on Wednesday.
We'd gotten an apartment down one of the steep cobblestone streets from Gaila Tower, not all that far from the Taksim Square, northeast and a couple of big hills from us. We'd been advised by our landlord not to go up there. Then came the report of Erdogan sitting down with protesters and agreeing to halt the project for now.
We walked up this morning and found it wasn't far at all. Taksim Square is a hard place to love; it's a wide expanse of stone and concrete and brought me to mind of places like Tianamen Square, if only because of the recent political import and its familiarity from news cameras.
The graffiti all over town had been the only indication of uprising. Lots of political things I couldn't translate; visual things with fists.
The tangle of street writing only grew as we got closer; Then also the tents and banners and people. It was a familiar scene to anyone who has spent time at any Occupy sites in the U.S. Similarly, there were different groups lending support to the main cause as they handed out fliers to their own cause. makeshift food and community, literature in general, and wandering news media with portable cameras.
The news media were the butt of some of the protesting because they were apparently late to covering the protest; the night of the first occupation a main station was airing a film about Antarctica; hence the penguin is the adopted mascot of the movement.
The real bird to depict protest coverage is probably the ostrich, and for all the complaints, there is more news now about Taksim Square certainly than there was in the waning months of Zuccotti Park or McPherson Square (or that there is now, in the occupation of the presidents' office at Cooper Union in New York).
The people we talked to were calm and resolved: That meeting Erdogan had was a sham; they intended to stay as long as necessary, to make a point about capitalism and imperialist president having its way with a people's gathering spot.
It was the same grass roots democracy spirit that inspired the Egyptian Spring and  the 2011 Iranian uprising and the country was waiting to see which outcome would be more similar.
The police presence at the park was pulled back from where the people were; but sitting on the sides, in great numbers, about to pounce, like one of the many cats in the streets of this great old city.
In front of a government building adorned with two Turkish flags and a big portrait of the Prime Minister, hundreds lined up, waiting, alongside dozens of vehicles a couple of those awful tank-like vehicles with a ram in front and a water cannon, built for no other reason than to knock people down.
Chilling stuff. But we never thought they'd go into action so soon. Hours after we visited, things began to move quickly. Erdogan announced before supporters in Ankara that the demonstrators had to be gone by Sunday. Hours later began the sweep.
We heard about it this old fashioned way: People banged pots and pans and bottles in the cobblestone street where we stayed. A call to arms? More like an alert. The computer confirmed what was hard for news media to cover (they were swept out first): Water cannons and tear gas followed by squads of helmeted cops overturning or flattening tents. Very few protesters were in the footage I saw; had they disappeared?
The outrage continued in the form of noisemaking. Big crowds gathered outside the restaurant up the hill at the base of the Galata Tower, watching news footage on a TV. They'd cheer or react, but not in ways that were entirely discernible.
Were they cheering the fact the park was cleaning up? Or that there was defiance in the first place? A new concession joined the chestnuts and simit (sesame ring pastry) on the streets though – face masks to protect from tear gas.
Had the uprising hurt our vacation? Not at all. It brought a jolt of urgency and historical import to the trip, because we sought it out (Most visitors could be happy and safe in tourist zones and not notice the problems except for some unexplained pots and pans rackets at night).
Further, the events put in context much of what the rest of what we had already planned to see on the trip: Topaki Palace, there Sultans lived, was kind of off-putting. Talk about the one percent. Despite their M.C. Hammer getups, the  Ottoman Empire was not to be admired; its celebrated harem was little more than sexual slavery.
Pictures of Mustafa Kemal Ataturk were waving on banners inside Gerzi Park just as banners of Erdogan were flying outside. He was the first president of Turkey who founded country after the fall of the Ottoman Empire in World War I.
For protesters he is a stark contrast with the man who would clear a park to erect a shopping mall in a building meant to look like historic Ottoman barracks (would a harem shopping section be far behind?).