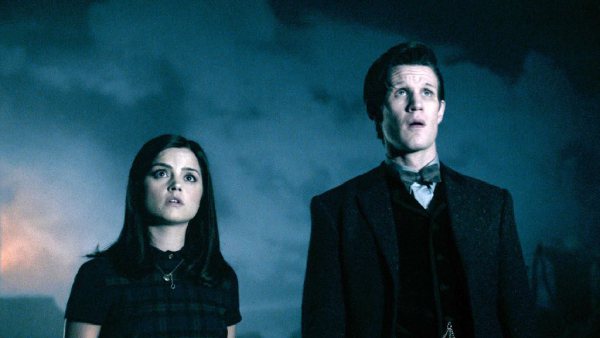 Christmas is a day of reruns, marathons and, for some reason, NBA games on American TV.
But in Britain, it's the day that is set aside for special episodes of favorite series. Such is the case with this year's Christmas special for "Doctor Who" (BBC America, 9 p.m.).
It's an especially noteworthy episode from a land where the changing of the guards at Buckingham Palace is a big deal. Tonight is the changing of the doctors, from the 11th to star in the role, the lanky Matt Smith, to the 12th, Peter Capaldi, who many TV Anglophiles recognize in his shar-tongued roles in the political series "The Thick of It" and "In the Loop." Can he tone it down as the new doctor? At least he will have to curb the incessant cussing. Jenna Coleman will continue to play the companion, for now. It's preceded by a retrospective, presumably of Smith's stint as the Time Lord.
American broadcast TV is entirely reruns, including reruns of holiday specials "Kelly Clarkson's Cautionary Christmas Music Tale" (NBC, 8 p.m.), "Kung Fu Panda Holiday" (The CW, 8 p.m.), "Ice Age:  A Mammoth Christmas" (Fox, 8 p.m.), "Merry Madagascar" (The CW, 8:30 p.m.), "Dragons: Gift of the Night Fury" (Fox, 8:30 p.m.), "Michael Buble's Third Annual Christmas Special" (NBC, 9 p.m.). And after premiering two days ago, here's the very same holiday episode of "Hollywood Game Night" (NBC, 10 p.m.). It's all about regifting, apparently.
Crazily, both "Kung Fu Panda 2″ (FX, 2 p.m.) and "How to Train Your Dragon" (FX, 8 p.m.) play opposite their holiday specials.
Not sure who stops opening presents to watch, but here's the 30th annual "Disney Parks Christmas Day Parade" (ABC, 10 a.m.), taped weeks ago at theme parks in Florida and California, hosted by Nick Cannon and Neil Patrick Harris. Among the acts roped into performing are Mary J. Blige, Jordin Sparks, Jason Derulo, Ne-Yo, the Wanted, Il Volo, Dove Cameron, Candice Glover and the cast of "Teen Beach Movie."
Five NBA games are scheduled through the day: Bulls at Nets (ESPN, noon), Thunder at Knicks (ABC, 2:30 p.m.), Heat at Lakers (ABC, 5 p.m.), Rockets at Spurs (ESPN, 8 p.m.) and Clippers at Warriors (ESPN, 10:30 p.m.).
"A Christmas Story" (TBS, 8 and 10 a.m., noon, 2, 4 and 6 p.m.) winds up its 24 hour marathon. You'd think that kid would learn not to stick his tongue on the pole after all these times. At the end you might want to know what happened to all those people. It's there in "The Cast of 'A Christmas Story': Where Are They Now?" (TV Guide Network, 8 p.m.).
Not a bad night to continue the month-long Wednesday night salute to Fred Astaire on Turner Classic Movies, with some of his best loved work in "Top Hat" (8 p.m.), "Swing Time" (10 p.m) and "Shall We Dance" (midnight) as well as "Carefree" (2 a.m.) and "The Barkleys of Broadway" (3:30 a.m.).
But mostly it's a last ditch effort to show the Yuletide fare one more time: "Santa Clause 3″ (ABC Family, 7 p.m.), "Good Luck Jessie: New York Christmas" (Disney, 8 p.m.), "Kristin's Christmas Past" (Lifetime, 8 p.m.), "Crazy for Christmas" (Lifetime Movie Network, 8 p.m.), "National Lampoon's Christmas Vacation" (ABC Family, 9 p.m.), Alastair Sim in "A Christmas Carol" (FXM, 9 p.m.), "A Snow Globe Christmas" (Lifetime, 10 p.m.), "The Christmas Hope" (Lifetime Movie Network, 10 p.m.) and "A Very Harold & Kumar Christmas" (More Cinemax, 10 p.m.).
All 12 of Hallmarks original Christmas movies rerun today starting at 6 a.m. and ending in prime time with "Christmas Spirit" (Hallmark, 7:30 p.m.), "The Christmas Ornament" (Hallmark, 9 p.m.) and "Let It Snow" (Hallmark, 10:30 p.m.).
Several networks hope to create their own Christmas traditions by replaying certain movies, from "Steel Magnolias" (Bravo, 7:30 and 10 p.m.), to "Big" (IFC, 8 and 10:15 p.m.), "Forrest Gump" (Spike, 5:30 and 9 p.m.), "Ocean's Thirteen" (Oxygen, 8 and 10:30 p.m.) and "You've Got Mail" (WEtv, 8 and 10:30 p.m.).
But there are some interesting movies around including "Reservoir Dogs" (Encore, 8 p.m.), "Jackie Brown" (Encore, 9:30 p.m.) and "Slap Shot" (Flix, 10 p.m.).
I said some snide comments about their age the other day for the premiere, but having watched "Rolling Stones: Sweet Summer Sun Return to Hyde" (Showtime, 8 p.m.), about the London stop on their 50th anniversary tour, I can assure you the band has rarely sounded better.
One men's college hoops game: Iowa State vs. Boise State (ESPN2, 7:30 p.m.) from Hawaii.
Daytime Talk
All reruns: Kelly & Michael: Matt Damon, Aretha Franklin. The Talk: Queen Latifah, Antonia Lofaso. Ellen DeGeneres: Ashton Kutcher, Jose Andres, Loni Love, Sting. Wendy Williams: Carla Hall, Joe Levy, Carrie Keagan, Sharon Carpenter.
Late Talk
Reruns all: David Letterman: Will Ferrell, Jameis Winston, Chris Cornell with Joy Williams. Jay Leno: Kirstie Alley, "Turtleman" Ernie Brown Jr., Switchfoot. Jimmy Kimmel: Queen Latifah, Adam Pally, Cage the Elephant. Jimmy Fallon: Joaquin Phoenix, Candice Bergen, Ice & Wine and Calexico. Craig Ferguson: Mark Harmon, Wolfgang Puck. Carson Daly: Roberto Aguirre-Sacasa, Pierce the Veil. Tavis Smiley: Jonathan Butler. Arsenio Hall: Eddie Murphy, Flo Rida. Conan O'Brien: Jane Lynch, Natasha Lyonne, Mike Lawrence. Chelsea Handler: Sara Bareilles, April Richardson, Ian Karmel, Heather McDonald.