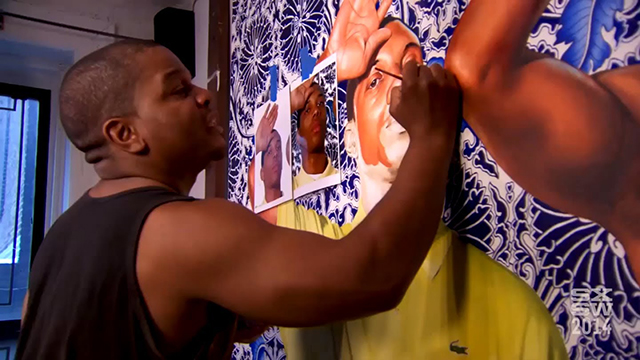 The striking modern paintings by Kehinde Wiley have brought a strength and power to African-American subjects painted in realist style and heroic poses combined with busy colorful patterns as a backdrop. In the illuminating short documentary "Kehinde Wiley: An Economy of Grace" (PBS, 9 p.m., check local listings), we follow the artist as he attempts to find models for a new project — depicting women in the clothes and poses of classic portraiture, along with those busy patterns.
Women in Harlem are understandably skeptical when he approaches, yet they're intrigued when they thumb through a catalog of his impressive work. They are more blown away when they spend their day as a photographic model, wearing designs by Riccardo Tisci, and can hardly contain themselves when they see the finished works. It's surprising Wiley can finish so many large canvases in such a short time but we find one of the artist's tricks of the trade: He gets apprentices to do the pattern painting.
The demise of the Jerry Lewis MDA telethon is probably traced to the first "Stand Up to Cancer" (ABC, CBS, NBC, E!, Encore, ION, National Geographic, Oxygen, TNT, VH1, 8 p.m.) for all of the networks involved (32 altogether) and all of the stars. But mostly for all the money they raise. And they don't have to stay on all night.
Performances in the hour include The Who, Jennifer Hudson, Ariana Grande, Dave Matthews, Lupe Fiasco and Common. And stars who will pop up, at presumably seconds for a time, include Gweneth Paltrow, Katie Couric, Reese Witherspoon, Pierce Brosnan, Jennifer Aniston, Halle Berry, Jon Hamm, Kiefer Sutherland, Ben Stiller, Will Ferrell, Mark Harmon, Rob Lowe, Eric Stonestreet, Jesse Tyler Ferguson, Tony Hale, Robert Downey Jr., Melissa McCarthy, Steve Carell, Sofia Vergara, Kevin Bacon, Dave Grohl, Kareem Abdul-Jabbar, Marg Helgenberger, Matt Passmore, Rob Riggle, Ethan Zohn, Bree Turner, Anna Kendrick, Tony Goldwyn, Hailee Steinfeld, Josh Gad, Giada De Laurentis, Jaime King, Mira Sorvino, Joe Manganiello, Jordana Brewster, Alison Sweeney, and Charlie Wilson.
Except for "a new "Masters of Illusion" (The CW, 8 p.m.) is an illusion of entertainment: Everything's a rerun but for the newsmagazines "Dateline" (NBC, 9 p.m.) and "20/20″ (ABC, 10 p.m.).
Thackery's hand is forced on "The Knick" (Cinemax, 10 p.m.), but please, not amputated.
I hope there's an appropriate salute to Joan Rivers on her "Fashion Police" (E!, 9 p.m.) where she was working almost to the end.
Two new episodes of "Brain Games" (National Geographic, 9 and 10 p.m.) are counting on the smart people to stay home on Friday nights.
A "Friday the 13th" themed ceremony is the worst idea possible on "Four Weddings" (TLC, 9 p.m.).
Jonah is released from juvenile detention just in time for the season finale of "Jonah from Tonga" (HBO, 10 p.m.).
A helicopter heist is attempted on "Airplane Repo" (Discovery, 10 p.m.).
Tom Hanks plays Walt Disney, trying to get the film rights to "Mary Poppins" from Emma Thompson's P.L. Travers in  "Saving Mr. Banks" (Starz, 9 p.m.), making its premium cable debut. , Colin Farrell and B.J. Novak also star.
Those racy movies of the 1930s that came before the strict enforcement of the Motion Picture Production Code in the mid-1930s are the focus on Friday nights this month on Turner Classic Movies. Alec Baldwin and Robert Osborne host the 67 movies which run all day, starting with "The Big Shakedown" (6 a.m.), "Parachute Jumper" (7:15 a.m.), "Ex-Lady" (8:30 a.m.), "Virtue" (9:45 a.m.), "Wild Boys of the Road" (11 a.m.), "Safe in Hell" (12:15 p.m.), "Frisco Jenny" (1:30 p.m.), "Female" (2:45 p.m.), "Illicit" (4 p.m.), "Night Nurse" (5:30 p.m.), "Baby Face" (8 p.m.), "The Divorcee" (9:30 p.m.), "Footlight Parade" (11 p.m.), "Gold Diggers of 1933″ (1 a.m.), "Search for Beauty" (2:45 a.m.), "Taxi!" (4:15 a.m.). There is also a 2008 documentary on the topic, "Thou Shalt Not: Sex, Sin and Censorship in Pre-Code Hollywood" (6:45 p.m.).
Baseball includes Arizona at Dodgers (MLB, 10 p.m.).
College football has Pittsburgh at Boston College (ESPN, 7 p.m.) and Washington State at Nevada (ESPN, 10:30 p.m.).
Today is the women's semifinals and mixed doubles finals at the U.S. Open (CBS, 12:30 p.m.).
Daytime Talk
Kelly & Michael: Kevin Kline, Juliette Lewis. The View: Jennifer Coolidge, Mario Cantone and Lara Spencer (rerun). Wendy Williams: Mike "The Situation" Sorrentino (rerun).
Late Talk
David Letterman: Tina Fey, Kevin Drew, Moody McCarthy. Jimmy Fallon: Claire Danes, Mo'ne Davis, Fences with Macklemore. Jimmy Kimmel: Terry Bradshaw, Trailer Park Boys Mike Smith, John Paul Tremblay and Robb Wells, the Kooks. Seth Meyers: Stephen Colbert, Amy Sedaris, Matthew Berry (rerun). Craig Ferguson: Seth Green, Lynette Rice. Carson Daly: Brett Gelman, Sir Sly, Skaters (rerun). Tavis Smiley: Chuck D. Arsenio Hall: Chris Tucker, Paula Abdul, Snoop Dogg (rerun).