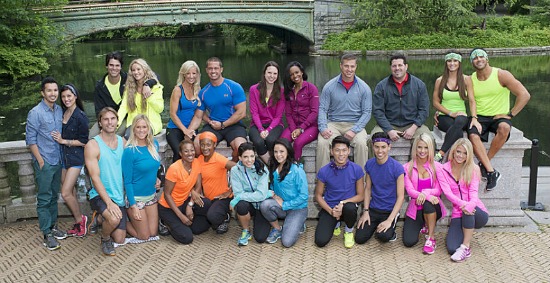 The most treacherous bit of travel for the 25th season on "The Amazing Race" (CBS, 8 p.m.) may be in moving from Sunday nights to Fridays — traditionally one of the lightest nights of the week for viewing. At any rate another 11 hopeful teams gather at Times Square to begin the race. Among the most prominent teams is Bethany Hamilton, the surfer who lost an arm to a shark, with her husband Adam Dirks; as well as a couple of barely-remembered "Survivor" contestants, Whitney Duncan and Keith Tollefson. Also on board are TNA wrestlers Brooke Adams and Robbie E. Strauss. The 26,000 mile trip through eight countries will include first time visits to the Virgin Islands, Malta and Scotland's Shetland Islands.
The race start kicks off a night season openers for "Hawaii Five-0" (CBS, 9 p.m.) and "Blue Bloods" (Cbs, 10 p.m.).
"Live from Lincoln Center" (PBS, 9 p.m., check local listings) begins its 40th anniversary season with a concert version of "Sweeney Todd: The Demon Barber of Fleet Street" with the New York Philharmonic, with bass-baritone Bryn Terfel alongside film star Emma Thompson. Oddly, Tim Burton's 2007 version of "Sweeney Todd: The Demon Barber of Fleet Street" (IFC, 1:45 p.m.) with Johnny Depp and Helena Bonham Carter is also on today.
Earlier, Gwen Ifill moderates a town hall meeting from Sunday on the University of Missouri-St. Louis campus to explore issues arising from the recent police shooting, "America After Ferguson" (PBS, 8 p.m., check local listings).
John Legend joins forces with Lee Ann Womack on a new "CMT Crossroads" (CMT, 10 p.m.).
A new "Real Time with Bill Maher" (HBO, 10 p.m.) includes Alexandra Pelosi, Naomi Klein, Charles M. Blow, John Feehery and Anthony C. Zinni.
The season premiere of "Shark Tank" (ABC, 8 p.m.) swells to a full two hours.
Racial tension has always been an element on "The Knick" (Cinemax, 10 p.m.) but is especially so tonight after a police stabbing.
A new season of "20/20" (ABC, 10 p.m.) starts with the disturbing story of a 12-year-old in Wisconsin stabbed on a slumber party to please a fictional internet character.
The final Friday full of pre-Code movies is today on Turner Classic Movies, "A Free Soul" (6 a.m.), "Downstairs" (8 a.m.), "Ladies They Talk About" (9:30 a.m.), "Loose Ankles" (10:45 a.m.), "They Call It Sin" (midnight), "Heroes for Sale" (1:15 p.m.), "Employees' Entrance" (2:30 p.m.), "Midnight Mary" (4 p.m.), "Other Men's Women" (5:15 p.m.), "The Public Enemy" (6:30 p.m.), "Scarface" (8 p.m.), "Little Caesar" (9:45 p.m.), "Penthouse" (11:15 p.m.), "Three on a Match" (1 a.m.), "Call Her Savage" (2:15 a.m.), "The Hatchet Man" (3:45 a.m.) and "State's Attorney" (5 a.m.).
Baseball tonight includes Minnesota at Detroit (MLB, 7 p.m.).
In college football, it's Fresno State at New Mexico (ESPN2, 8 p.m.) and Middle Tennessee at Old Dominion (Fox Sports 1, 8 p.m.).
Hockey preseason action includes Vancouver at Calgary (NHL, 9 p.m.).
Daytime Talk
Kelly & Michael: Andy Samberg, Omar Epps, AJR. The View: Michael Strahan, Tory Johnson, Rory Kennedy. The Talk: Luke Wilson, Pat O'Brien, Susan Feniger. Ellen DeGeneres: Anna Faris, Kenny Chesney, Janel Parrish. Wendy Williams: Chloe Grace Moretz, Wolfgang Puck. Meredith Vieira: Joy Behar, Train.
Late Talk
David Letterman: Ted Danson, Andrew Norelli. Jimmy Fallon: Matthew Broderick, Nathan Lane, Robert Plant. Jimmy Kimmel: Kaley Cuoco-Sweeting, Anthony Anderson, Bastille (rerun). Seth Myers: Luke Wilson, Max Greenfield, Banks (rerun). Craig Ferguson: Ben Kingsley, Bojana Novakovic. Carson Daly: John Slattery, Christela Alonzo (rerun). Tavis Smiley: Hannah Appel, Aloe Blacc.