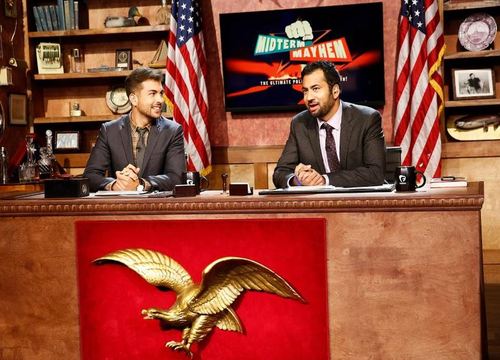 They've been telling you the results for weeks now (instead of informing voters on who they might choose), so it's natural that Midterm Election Coverage begins two hours before any polls close on Fox News, CNN and MSNBC.
Al Jazeera America and Bloomberg and PBS wait until 7 p.m., at least; with Fox Business weighing in at 8 p.m. and the major networks waiting until 10 p.m., when they can actually have things to report and polls in the West will almost be closed.
One network round up is called "2014: Your Voice Your Vote" (ABC, 10 p.m.), which may confuse you with "The Voice" (NBC, 8 p.m.), which doesn't start live performances for voting until next week (and there are no early polling on that yet, though I'm sure somebody is working on it).
Mixing a little entertainment with their news will be Nando Vila and Kal Penn, pictured above, on "Midterm Mayhem: Election Night — The Final Smackdown" (Fusion, 9 p.m.) and, even better, live coverage on "The Daily Show with Jon Stewart" (Comedy Central, 11 p.m.) followed by the final election night from "The Colbert Report" (Comedy Central, 11:30 p.m.), whose Stephen Colbert does his final show there next month.
Inspired by the first season successes, 16 new contestants run in ready to compete on "MasterChef Junior" (Fox, 8 p.m.). There are some cute 8 to 12 year olds apparently making some amazing dishes, but there are also some tears. Some contestants are so tiny they can't see over their mystery boxes for their first challenge. Inaugural season winner Alexander presides over the action, like a culinary savant. At stake is a $100,000 prize, a trophy and an obvious career path.
Casualties are already occurring in the fall TV schedule. Already gone is "Manhattan Love Story" replaced by a second new episode of "Selfie" (ABC, 8 and 8:30 p.m.). New romantic comedies still going include "Marry Me" (NBC, 9 p.m.)
As midterm winners are determined, a new "Makers" (PBS, 9 p.m., check local listings) looks at women in public life, with interviews from Hillary Clinton, Sen. Barbara Mikulski and the late Shirley Chisholm.
A couple of sports documentaries are on tonight: "The Offseason: Kevin Durant" (HBO, 10 p.m.) looks at life for the Oklahoma City forward between seasons of the Thunder. Whole lot of X-Box I'm thinking. On "30 for 30″ (ESPN, 9 p.m.) "Brothers in Exile" focuses on the rise of Cuban stars in Major League Baseball, starting with the brothers Livan and Orlando Hernandez.
Speaking of brothers, the History Channel is employing them as they slowly go down the road toward the fictional with the new "Search for Lost Giants" (History, 9 p.m.) in which a pair of brothers try to find traces  a supposed race of giants who lived in the Massachusetts woods. It follows a second season of "The Curse of Oak Island" (History, 9 p.m.), in which another set of brothers try to find a buried treasure. At least they got something tangible at the end of last season in the form of a 17th century coin.
A new season of my favorite Alaska series, "Life Below Zero" (National Geographic Channel, 9 p.m.) picks up at about spring time, and checking on the various adventurous outdoorsmen and women shows that things are awfully warm near the Arctic Circle, and flooding is a concern.
The synergy between Marvel and ABC continues with a look at the company, narrated by a woman in the next "Captain America," Emily VanCamp, "Marvel: Pulp to Pop" (ABC, 9 p.m.).
The Jewish roots of Tony Kushner, Carole King and Alan Dershowitz are examined on "Finding Your Roots with Henry Gates Jr." (PBS, 8 p.m., check local listings).
Bob Hope is the star on Turner Classic Movies tonight with a half dozen films, starting with the one that began his career, "The Cat and the Canary" (8 p.m.) and continues with "My Favorite Blonde" (9:30 p.m.), "My Favorite Brunette" (11 p.m.), "The Seven Little Foys" (12:45 a.m.), "The Princess and the Pirate" (2:30 a.m.) and "Road to Bali" (4:15 a.m.).
It's Tina Fey vs. Tina Fey with "Admission" (HBO Signature, 10 p.m.) running opposite "Baby Mama" (Fox Movie Channel, 10 p.m.).
"Grease" (ABC Family, 6 p.m.) is paired with "Grease 2″ (ABC, 9 p.m.).
And monsters abound, from the original "Jurassic Park" (AMC, 8 p.m.) to the 2005 "King Kong" (Cinemax, 10 p.m.) to "Monsters Behind the Iron Curtain" (Animal Planet, 9 p.m.).
Hockey action includes St. Louis at New Jersey (NBC Sports, 7:30 p.m.). Basketball has Houston at Miami (NBA, 7:30 p.m.) and Cleveland at Portland (NBA, 10 p.m.).
In college football, it's Bowling Green at Akron (ESPN2, 8 p.m.) and Toledo at Kent State (ESPNU, 8 p.m.). And there's one exhibition college basketball game: Northwood at Villanova (Fox Sports 1, 7 p.m.).
Daytime Talk
Kelly & Michael: Matthew McConaughey, Felicity Jones. Ellen DeGeneres: Viola Davis, Ella Henderson. Wendy Williams: Kelly Ripa, Patricia Dimango, Tanya Acker, Larry Backman. Meredith Vieira: Jewel, Johnny Weir, Tara Lipinski. Queen Latifah: Kate Walsh, Lamorne Morris.
Late Talk
David Letterman: Jessica Chastain, Lenny Marcus, Foo Fighters (rerun). Jimmy Fallon: Savannah Guthrie, Matt Lauer, Felicity Jones, FKA Twigs. Jimmy Kimmel: Maya Rudolph, Michael Chiklis, Kenny Chesney. Seth Meyers: Martin Short, Coco Rocha, Simon Rich. Craig Ferguson: Zoe Saldana, T.J. Miller (rerun). Carson Daly: Megan Amram, the Melvins, Dataclysm. Tavis Smiley: Matt Bai, Kandace Springs. Jon Stewart: Reince Priebus. Stephen Colbert: Andrew Sullivan. Conan O"Brien: Dr. Phil McGraw, Joshua Jackson, PHOX.