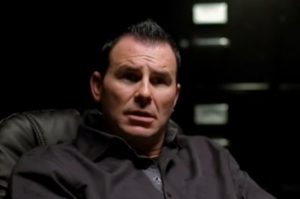 CNBC has quietly canceled "Money Talks," the one-season reality show that followed the sports book operations of an ex-con in Las Vegas.
The prime time show had low ratings from its start, but it also had some vociferous critics, including some who called his claims of 70 percent success bogus, and others, like me, whose families had been burned by just the kind of elderly-targeted telemarketing scams that got its star Darin Notaro convicted more than once.
He changed his name to Steve Stevens for the new enterprise and show, which CNBC defended as a program to show how his operation worked — not as an endorsement of his methods.
That puts them at a short arm's length from some of his more odious ways of doing business, such as  sending vulgarity-sprinkled physical threats to his critics, among them Mark Rudnitsky at Sportsgrid.com but also yours truly.
At first he wrote his late night emails in the third person:
find someone else to worry about except for Steve Stevens because he makes more money and knows more about sports than any of you
and
Steve Stevens aka Darren Otero made more than you and high school did you do in your entire life go kill yourself
Then they got more direct
keep running your mouth and see if you don't get your ass whooped fake internet wankster
A flurry of them last week were more direct:
we're coming to get you Roger you fat f***
He explained his sudden re-interest
I let all you pussies run your mouth when I had all the cameras on me now I'm coming to get you your a fake bitch and you're in trouble you have to pay the price … I'm coming to your house
No, I think that's still illegal in this world.
I've gotten my share of vulgar, half-literate email over the years, and a few threats. But none from a guy who is star of a program associated with the National Broadcasting Company.
CNBC has finally done the right thing and disassociated itself from the guy as they fill up their prime time with "Shark Tank" reruns and the considerably more estimable host of "The Profit."
But how did they ever have go into business with him in the first place?