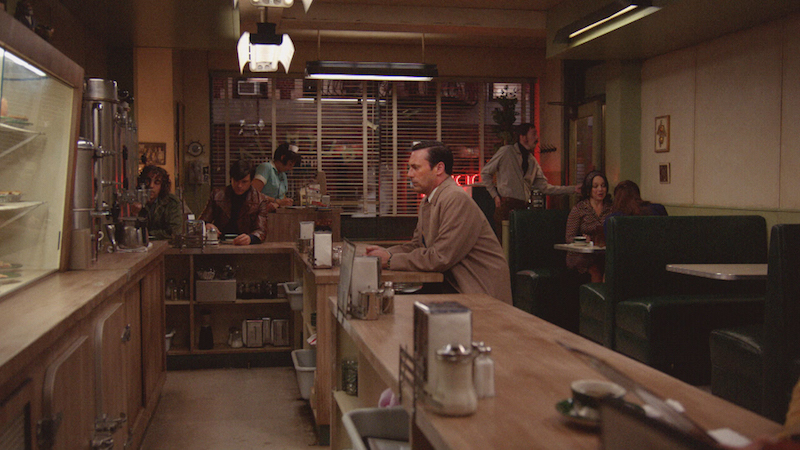 The overly anticipated final half-season of "Mad Men" began with Don, the dog, Draper issuing orders to a woman wearing a chinchilla coat. She's told to act out how it makes her feel.
It could have been a bedroom exercise but it was a casting call.
See? Don's working.
But in the next scene, he and Roger, now wearing a hideous handlebar mustache, are out with a trio of younger model/showgirl types.
Ten months after the last episode, when his second marriage sadly fell apart, he's out of control with the ladies, with three on his answering service asking to for a late night visit (that and Don is hitting up the answering service woman, too).
Don's a dog. But so is every other man in advertising. So when Peggy and Joan team up to give a bump to a nylons firm being beaten by L'Eggs, they're clobbered with innuendo. Peggy ignores it, Joan starts to steam. Neither says anything to the guys, though.
Peggy has an honest prospect for a boyfriend for the first time in a while, though, when she allows an underling's brother in law to call. They nearly go to Paris that night, but she can't find her passport. Hope things go well until the next time they meet in three weeks. It's good to see her smile. But when she awakes she downplays it all to the drinking.
Amid Don's reverie, he has a dream about Maggie Siff's character Rachel, the department store magnate, from the first episode of the series. Before the end of the episode, Rachel will have died of leukemia, and Don makes an awkward attempt to visit while everyone is sitting shiva.
The poor guy is trying to connect with something in his past and is at that age what his life will measure up to be.
That's the case with Ken, the eyepatches ad man suddenly back at the agency. His father in law is retiring and swears he's had a good life, and Ken is about to get fired at work for some complicated reason and past bad blood. His wife was just yelling at him about dropping the ad biz and writing that novel. At the end, he's happy to be moving on — hired by a firm that will make him a client for them. He gloats about it and promises hard time ahead, in a scene that seems to be there to tie up his story at least.
The meaning of life thing keeps banging around — Peggy Lee hammers home the message as "Is That All There Is" plays at the beginning and end of the episode.
Don keeps thinking he's seeing people he knows and the waitress at the diner certainly looks as familiar to him as she does to us — Elizabeth Reaser was in "The Good Wife," "Grey's Anatomy" and the "Destiny" series.
She's got an old time look to her, and when she and Don are in the diner together later it almost looks like a Hopper painting. They hook up during her 15-minute break, but only because Roger had thrown down a $100 tip earlier after he was rude to her. She thought it was advance payment for prostitution, but a dazed Don still doesn't know where he'd seen her before.
I'm thinking it may a recurring thing, but there's only six episodes left and a dozen stories to wrap up.