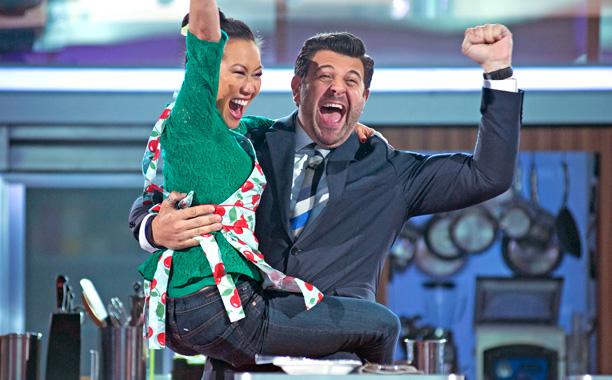 Have enough cooking shows yet? "Food Fighters" (NBC, 8 p.m.) returns for a second season with a regular person, in this case a Florida reporter, going head to head against professional chefs inn hopes of a $100,000 prize. The show has marked the broadcast debut of Adam Richman of "Man vs. Food" and contestants this time around will be open to amateur chefs as young as 12. Think of it as the "MasterChef Junior" effect.
But why cook at all? If you give enough wrong answers on "Boom!" (Fox, 8 p.m.) you could get covered with mac and cheese.
Speaking of boom, a bomb is found in Ethan's car on "Wayward Pines" (Fox, 9 p.m.).
Now that he's interviewed President Obama on his actual podcast, Marc is asked to be a college lecturer on his fictional comedy, "Maron" (IFC, 10 p.m.).
"The Astronaut Wives Club" (ABC, 8 p.m.) prepares for the launch of Scott Carpenter.
An actor is killed on "Aquarius" (NBC, 9 p.m.) and it ain't Sharon Tate.
The hunt for "Hannibal" (NBC, 10 p.m.) heats up, especially now that he's been canceled.
Finally, the first eviction comes on "Big Brother" (CBS, 9 p.m.). Can we speed this thing up?
Towanda gets her sisters to go to the Everglades on "Braxton Family Values" (We, 9 p.m.).
It's not so much the dome that has been the problem on "Under the Dome" (CBS, 10 p.m.); it's the tunnels.
Andy questions her relationship with Sam on "Rookie Blue" (ABC, 10 p.m.).
"Beat Bobby Flay" (Food, 10 p.m.) gets a July Fourth theme.
Turner Classic Movies opens its vault of Disney films, with things ranging from the 1937 Mickey Mouse short "Hawaiian Holiday" (8 p.m.) to 1957's "Johnny Tremain" (8:30 p.m.), "The Liberty Story" (10 p.m.), "The Living Desert" (11 p.m.), "The Great Locomotive Chase" (12:15 a.m.), "Treasure of Matecumbe" (2 a.m.) and "Rascal" (4 a.m.).
I've maintained all along that "Avatar" (FX, 8 p.m.) is nothing without 3D. But then again, neither was "Con Air" (Esquire, 8 p.m.).
The championship is long over but there is still the College World Series Home Run Derby (ESPN, 9 p.m.). Because nobody wants to leave Omaha.
Baseball includes San Diego at St Louis (MLB, 7:15 p.m.).
It's Hamilton at Winnipeg (ESPN2, 7:30 p.m.) in Canadian Football.
Daytime Talk
Kelly & Michael: Marg Helgenberger, Jennifer Morrison. The View: Adrian Grenier, Valerie Bertinelli, Jane Leeves, Wendie Malick, Melissa Peterman, Molly Sims, Deborah Roberts (rerun). The Talk: Bryce Dallas Howard, Jaymes Vaughan, Marcel Vigneron, Irika Sargent (rerun). Ellen DeGeneres: Mariah Carey, Dax Shepard, Sharon Van Etten (rerun). Wendy Williams: Omari Hardwick, Naturi Naughton. Meredith Vieira: Joey McIntyre, Peter Facinelli (rerun). Queen Latifah: Ben Kingsley, Jesse Williams (rerun).
Late Talk
Jimmy Fallon: Dwayne Johnson, Meghan Trainor, John Legend (rerun). Jimmy Kimmel: Andy Samberg, Russell Wilson, Butch Walker. Seth Meyers: Martha Stewart, Laura Prepon, Jamie xx, Chad Smith (rerun). James Corden: One Direction (rerun). Carson Daly: Kathryn Hahn, Faith No More, Neil Marshall (rerun). Jon Stewart: Sarah Vowell. Conan O'Brien: Jane Lynch, Conor McGregor, John Roy.