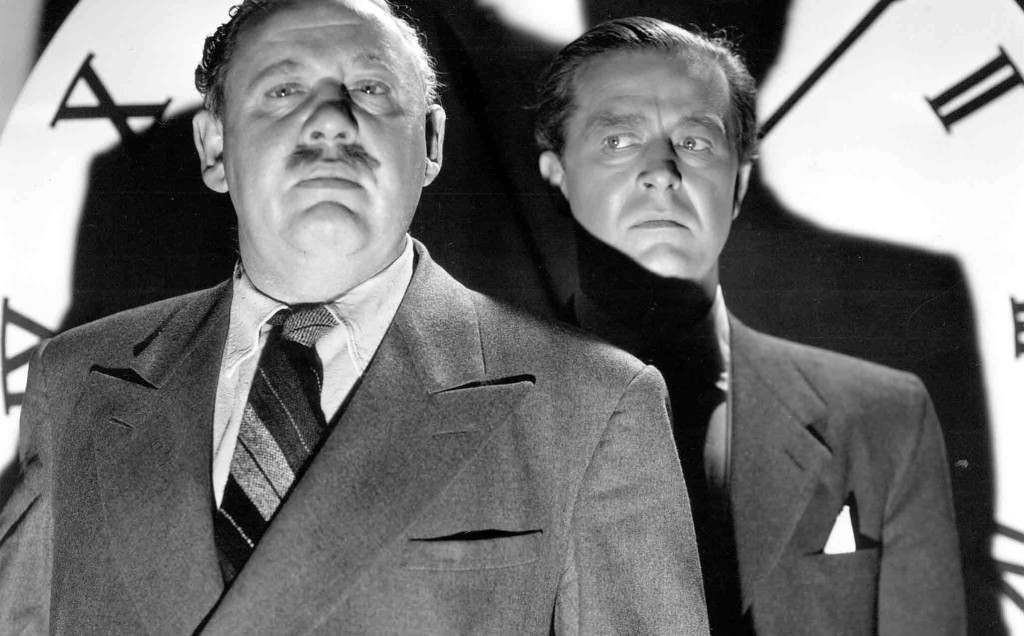 The Friday salute to film noir continues into July on Turner Classic Movies all day with "Johnny Belinda" (6 a.m.), "Key Largo" (8 a.m.), "The Lady from Shanghai" (10 a.m.), "The Bribe" (11:30 a.m.), "Scene of the Crime" (1:15 p.m.), "They Live by Night" (3 p.m.), "The Threat" (4:45 p.m.), "White Heat" (6 p.m.), "The Big Clock" (8 p.m.) (pictured above), "The Window" (9:45 p.m.), "Shadow on the Wall" (11:15 p.m.), "High Wall" (12:45 a.m.), "The Long Goodbye" (2:30 am.), and "Marlowe" (4:30 a.m.).
Don't confuse your "Rise of the Guardians" (FX, 8 and 10:30 p.m.) with your "Guardians of the Galaxy" (Starz, 9 p.m.). The former was the one about Santa Claus, the Easter Bunny and the Tooth Fairy banding together; the latter last summer's hit movie that made Chris Pratt a box office thing.
Nasty way to pre-empt Shark Week: "Jaws" (AMC, 7:45 p.m.).
The network known for its true crime reenactments steps away for some actual (relatively) live coverage with "Prison Break: The Manhunt Ends" (Investigation Discovery, 9 p.m.), wrapping up the brash two man escape from the New York prison and how it ended.
It's worth it to get a replay of Annie Lennox's Los Angeles performance of her "Nostalgia" album, rerun on "Great Performances" (PBS, 10 p.m.).
With reruns on all broadcast networks tonight, "What Would You Do?" (ABC, 9 p.m.). I'd say find a nice book.
No "Real Time with Bill Maher" for another month or so. In its place tonight, as if to grind in the insult, "Tammy" (HBO, 10 p.m.).
Baseball includes Marlins at Cubs (ESPN2, 2:10 p.m.), Giants at Nationals (ESPN, 6 p.m.), Tampa Bay at Yankees (MLB, 7 p.m.) and Mets at Dodgers (ESPN, 10 p.m.).
Third round play continues at Wimbeldon (ESPN, 7 a.m.).
A couple of weird things in world basketball: U.S. vs. Italy  (ESPNU, 11:15 a.m.) in the FIBA U-19 World Championship quarterfinal and U.S. vs. Turkey (ESPNU, 11 p.m.) in the World University Games.
And in Canadian football: Calgary at Montreal (ESPN2, 7:30 p.m.).
Daytime Talk
Kelly & Michael: Josh Groban. The View: Craig Robinson, Archie Panjabi, Michelle Collins (rerun). The Talk: Tracee Ellis Ross, Shelley Wade, Eric Greenspan, Carnie Wilson (rerun). Ellen DeGeneres: One Direction, Jimmy Page (rerun). Wendy Williams: Bevy Smith, Robert Verdi, Mary Alice Stephenson (rerun), Meredith Vieira: Jennifer Lopez (rerun) Queen Latifah: Denzel Washington (rerun).
Late Talk
Jimmy Fallon: Chris Pratt, Elizabeth Olsen (rerun). Jimmy Kimmel: Jada Pinkett Smith, Jai Courtney, Nate Ruess (rerun). Seth Meyers: Amanda Seyfried, Judd Apadow, Katie Lee, Chad Smith (rerun). James Corden: Anna Kendrick, Brittany Snow, Hailee Steinfeld (rerun). Carson Daly: Hugh Dancy, San Fermin, ASTR (rerun). Tavis Smiley: Dr. Ruth Westheimer, Robert Glasper.