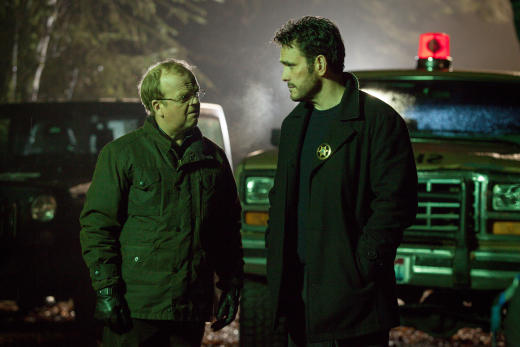 Mysterious TV series usually begin better than they end. Keep that in mind for the season finale of "Wayward Pines" (Fox, 9 p.m.), the claustrophobic new series about a town that's tough to leave. In the intervening weeks, we've discovered why — they're way in the future; there are terrible creatures out there that will gobble them. In what may well be a series finale (Matt Dillon, for one, says he has no plans to do another), there will be a showdown as the creatures advance, somebody cuts the power that's been keeping them out and there's a bigger  role for that malevolent nurse, a fun part for Melissa Leo.
John Glen runs for the Senate on "The Astronaut Wives Club" (ABC, 8 p.m.), which sounds like a terrible idea.
On the new "Man vs. Child: Chef Showdown" (FYI, 9 p.m.) has kids go against pro chefs. On "Food Fighters" (NBC, 8 p.m.), it's a former NFL cheerleader against pro chefs. What does everybody have against pro chefs?
The new "Rusty's RockFeast: Backstage with the Zac Brown Band" (FYI, 10 p.m.) has Rusty Hamlin cooking for music fans.
Daniel considers his new life on "Rectify" (Sundance, 10 p.m.), still about the best thing on TV this summer.
Johnny wonders whether John Lennon wrote any good songs after he stopped getting high on "Sex & Drugs & Rock & Roll" (FX, 10 p.m.).
On a new "Maron" (IFC, 10 p.m.), Marc does his bit to put a stop to bullying.
Lina's 40th birthday party is ruined on "Married" (FX, 10:30 p.m.).
There's a nice serving of George Burns and Gracie Allen on Turner Classic Movies with "The Big Broadcast of 1936″ (8 p.m.), "The Big Broadcast of 1937″ (10 p.m.), "A Damsel in Distress" (midnight), "Honolulu" (1:45 a.m.) and "Going in Style" (3:15 a.m.).
Baseball includes Seattle at Detroit (MLB, 1 p.m.) and Dodgers at Mets (MLB, 7 p.m.).
First round action begins in the Senior British Open (ESPN2, noon).
The Tour de France (NBC Sports Network, 8 a.m.)  hits stage 18 and the Pan American Games (ESPN2, 7 p.m.) continue in Toronto.
Daytime Talk
Kelly & Michael: Jake Gyllenhaal, Ashley Benson, Dr. Wendy Bazilian. The View: Nat Wolff. The Talk: Denis Leary, Dr. Gadget. Ellen DeGeneres: Harry Connick Jr., Eddie Redmayne (rerun). Wendy Williams: Dascha Polanco, Selenis Leyva, Diane Guerrero, Grover (rerun). Meredith Vieira: Anthony Mackie, Billy Bush, Kit Hoover, Martha Stewart, Betsey Johnson (rerun). Queen Latifah: Mario Lopez, Cary Elwes (rerun).
Late Talk
Jimmy Fallon: Katie Holmes, David Wain, Michael Showalter, Sage the Gemini with Nick Jonas. Jimmy Kimmel: Colin Farrell, Meghan Tainor. Seth Meyers: Jake Gyllenhaal, Ashley Benson, the Yes Men, David Lovering. James Corden: Cobie Smulders, Judd Apatow, Mark Duplass, Life of Dillon. Carson Daly: Mike Epps, Hundred Waters, Irvine Welsh (rerun). Tavis Smiley: Felicity Huffman. Jon Stewart: T-Nehisi Coates. Conan O'Brien: Kevin Hart, Roman Reigns, Hippo Campus (rerun).