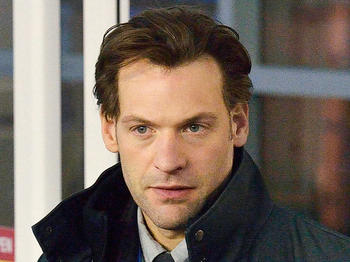 There are a lot of scary visuals in FX's "The Strain," still in its second season on FX.
But one that most alarmed fans was the wig on star Corey Stoll's head.
Stoll, who earned fans with his clean-shaven pate in things like "House of Cards" and movies such as "The Bourne Legacy," "Non-Stop" and this summer's "Ant-Man," wore a thick head of hair in a not entirely convincing coiffe as Dr. Ephraim Goodweather, head of the Center for Disease Control Canary Team in Guillermo del Toro and Chuck Hogan's TV adaptation of their three-novel series.
So in recent episodes Stoll has flipped the wig so his character can travel the city "in disguise."
At the TV Critics Association press tour this summer, Stoll was ambivalent about the change.
"There's pluses and minuses," he said. "There's something nice about having a mask, something that differentiates me from the character and gives me an excuse to be a character more than just my usual appearance."
But you can't fight audience reaction.
"I think it was pretty clear that me having hair was a distraction for the audience," Stoll says, "and that was a shame. So I think that, in and of itself, makes it easier for me."
Del Toro said, however, they planned on doffing the wig early on.
"When we were talking about the wig early on in preproduction, I said, 'When you go incognito after you are a national fugitive, you need to change your look and if you don't have hair, what are we going to do? Like a six day stubble?'" the director said. "So that was planned from the start."
Indeed, at last year's press tour Del Toro said, "if you know the books or you know where it's heading, we needed the character to have a change of look and somewhere to go that completely makes him able to be able to mix into the normal population without being seen. So we needed the character to have one look that could be then altered for people to not go, "Oh, that's not Goodweather." So unless he grows a beard or puts an eye patch, it would be very hard to have a change of look. We needed somewhere to go."
"That was part of the conception of the character," said executive producer Carlton Cuse.
"I was skeptical at first when Guillermo said he wanted me to wear a wig because the assumption was that it was trying to somehow make me fit sort of a mold of a particular kind of hero or particular kind of TV actor," Stoll said last year. "But it was sort of the opposite in that it sort of, helped increase the eccentricity of the character and, sort of, bring him more into the world, I felt, and it, sort of, functions as, sort of a mask."
As for any benefit in spending less time in makeup as a result, Stoll says, "It's about the same amount of time."
When someone asked if people recognize him, he replied, "I look like other characters that I play. I'm 6'2″ and bald, so people see me."
"The Strain" runs Sundays on FX through Oct. 4.