We end our week's worth of looking at each day's new network offerings with Sunday, traditionally one of the strongest nights of television, but mostly because of cable's continued strong offerings. 
But broadcast has done well on the night as well, which means room for only a couple of new shows — both on ABC.
Hard to think to Sunday as the end of the week instead of the beginning, but that's how the networks have treated it, kicking off the new season Monday and marching along since. (And if you think we missed Saturday, we did not; the networks did).
NEW SHOWS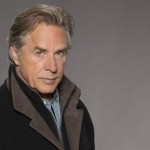 "Blood & Oil" (ABC, 9 p.m., starts tonight). Don Johnson returns to television as a kind of modern day J.R. Ewing taking advantage of the energy boom in the middle of the country, except that this is set in Utah, not North Dakota. It still feels like a solid update, with a story about a philandering son who may be cut out of the family fortune, an ambitious newcomer and his wife, and enough of a soap to keep going for a while.
"Quantico" (ABC, 10 p.m., tonight). Bollywood superstar and former Miss World Priyanka Chopra may alone make this new series worth watching for a while, despite its over-the-top premiere, with boldly frisky FBI trainees shifting when there is another of one of those events that is suddenly and quite tastelessly becoming a dramatic TV cliche: The echo of 9/11. Now the tale turns on which of the trainees might have done it — she seems to be a suspect just because of skin color.
RETURNING SHOWS
"America's Funniest Home Videos" (ABC, 7 p.m., returns Oct. 11), "Bob's Burgers" (Fox, 7:30 p.m., returns tonight), "Madam Secretary" (CBS, 8 p.m., tonight), "The Simpsons" (Fox, 8 p.m., tonight), "Once Upon a Time" (ABC, 8 p.m., tonight), "Brooklyn Nine Nine" (Fox, 8:30 p.m., tonight), "The Good Wife" (CBS, Oct. 4), "Family Guy" (Fox, 9 p.m., tonight), "The Last Man on Earth" (Fox, 9:30 p.m., tonight), "CSI: Cyber" (CBS, 10 p.m., Oct. 4).
OF NOTE ON CABLE
"Homeland" (Showtime, 9 p.m., returns Oct. 4). Still one of TV's great and ambitious dramas, "Homeland" is also bold enough to address current issues rather than rewrite it into zombies and such. The action moves to Berlin this season, with Carrie Mathison in the midst of an Edward Snowden-style cyberspying caper.
"The Leftovers" (HBO, 9 p.m., Oct. 4). The wildly uneven first season tries to find a solution to its storyline as it spills outside of Tom Perrotta's novel. The reason they pick up the best of the cast and move it to Texas, though, is not to avoid those white-robed, chain-spoking cultists, or even old memories, but because it's cheaper to shoot there. Still, it may revive the thing in the short term.
"The Affair" (Showtime, 10 p.m., Oct. 4). I never expected frankly it would go to a second season (because its title describes an incident, I thought it'd be more like "The Slap"). The writers probably didn't think it would go into a second season either, so they split the various points of view once again from two to four — now including the spouses left behind.
"The Walking Dead" (AMC, 9 p.m., Oct. 11). Beyond cable's most popular drama, the zombie saga is often the most viewed show on all of TV, which bodes poorly for the future: Producers will manufacture more zombies and more gore. But the original troupe trudges on, the zombies seemingly playing less and less a role as they fight other living people for position.
"Flesh and Bone" (Starz, 8 p.m., Nov. 8). A new drama about the ballet world promises beauty and artistry, if only the narrative can go beyond the stories we've heard before.
"The Royals" (E!, 10 p.m., Nov. 15). The best series on E!, about a sensational royal family, returns for a second season of guilty pleasure. With Elizabeth Hurley as queen.
"Ash vs. Evil Dead" (Starz, 9 p.m., Oct. 31). Speaking of gore, the originator of "The Evil Dead" turns to the gore-friendly arms of cable for the bloodbath continuing the franchise, with the great Bruce Campbell back at the helm. A Halloween start won't hurt.