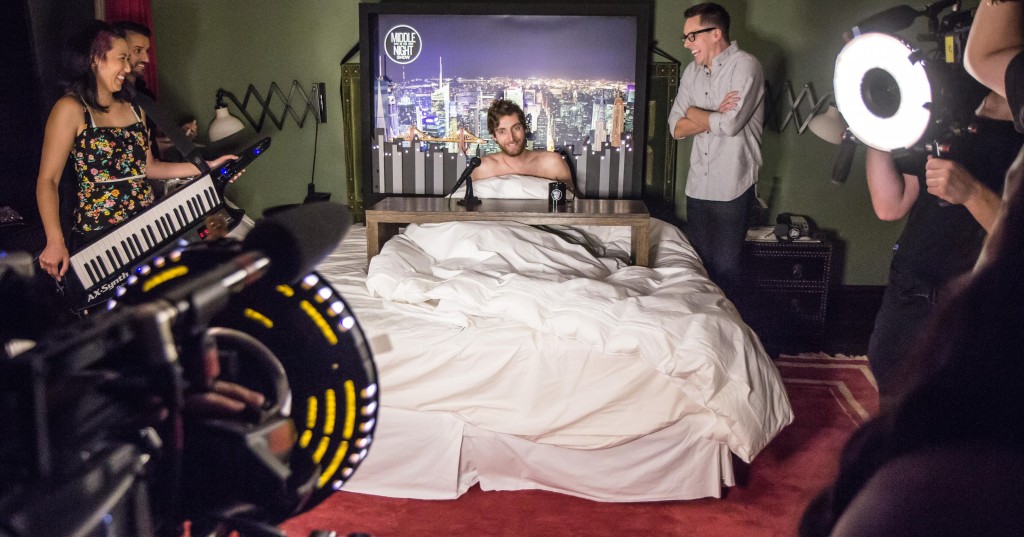 Not quite everybody has a late night talk show yet. To remedy that, Brian Murphy breaks into celebrity homes and makes them host one on the spot. Thomas Middleditch from "Silicon Valley" is the initial victim on the premiere of "Middle of the Night Show" (MTV, 11 p.m.), which isn't quite on in the middle of the night.
Bryan Cranston goes from Walter White and Lyndon Johnson to aged superhero Titanium Rex in the new online stop-motion animated series "SuperMansion" (Crackle, streaming), which has two puns right there.
It was a little frightening and off-putting at first to see Billy Eichner running around New York surprising passerby with oddball celebrity questions. By now, though, his "Billy on the Street" (truTV, 10:30 p.m.), now on a new channel, is breathlessly delightful, especially when he's joined with another celebrity, in this case Tina Fey who fails in naming the required number of Latino stars in a game called Latina Fey, then runs around trying to find a new friend. Most New Yorkers are very game for signing up.
The CW's week of premieres continues with the seventh season start for "The Vampire Diaries" (The CW, 8 p.m.), its first without Nina Dobrev. It's followed by the season three premiere of "The Originals" (The CW, 9 p.m.).
Thursday Night Football has Indianapolis at Houston (CBS, 8:25 p.m.).
The American League Divisional Series get under way with the first games of Texas at Toronto (Fox Sports 1, 3:30 p.m..) and Houston at Kansas City (Fox Sports 1, 7:30 p.m.).
Sex clubs get a lot of TV time. One is investigated on a new "How to Get Away with Murder" (ABC, 10 p.m.), which follows another night of "Grey's Anatomy" (ABC, 8 p.m.) and "Scandal" (ABC, 9 p.m.).
Shiri Appleby and Constance Zimmer of "UnReal" are guest judges on "Project Runway" (Lifetime, 9 p.m.).
The seventh season premiere of Rob Drydek's "Ridiculousness" (MTV, 10 p.m.) has 50 Cent as guest star.
Gigi is angry at her grandson for not returning her calls on a new "Gigi Does It" (IFC, 10:30 p.m.).
Uzo Aduba guest stars on "Comedy Bang! Bang!" (IFC, 11 p.m.).
Turner Classic Movies' spotlight on trailblazing women directors continues with work from the 1970s and 80s including Barbara Loden's "Wanda" (8 p.m.), Claudia Weill's "Girlfriends" (10 p.m.), Martha Coolidge's "Valley Girl" (11:45 p.m.), Nancy Savoca's "True Love" (1:45 a.m.) and Allison Anders' "Border Radio" (3:45 a.m.).
Hockey has Minnesota at Colorado (NBC Sports, 9 p.m.).
In preseason basketball, it's Boston at Real Madrid (NBA, 3 p.m.), Cleveland at Philadelphia (NBA, 7 p.m.) and Toronto at Lakers (NBA, 10 p.m.).
College football has South Carolina State at Bethune-Cookman (ESPNU, 7:30 p.m.), SMU at Houston (ESPN2, 8 p.m.) and Washington at Southern California (ESPN, 9 p.m.).
Daytime Talk
Kelly & Michael: Seth Rogen, Billy Eichner, the Vamps. The View: Ashley Judd, Jenna Elfman, Adriana Trigiani, Paul Wilson, Alfonso Ribeiro. The Talk: Tom Selleck, Jessica Radloff, Duff Goldman. Ellen DeGeneres: Chalsea Clinton, Matt Bomer, the Band Perry. Wendy Williams: Rev. Al Sharpton, Brian Balthazar. The Real: Keisha Knight Pulliam, Marques Houston. Meredith Vieira: Ashley Judd, Jewel.
Late Talk
Stephen Colbert: Cate Blanchett, brian Chesky, Dartmouth University Football Dummy. Jimmy Kimmel: Lena Dunham, Darby Stachfield, Don Henley. Jimmy Fallon: Michael Fassbender, Brie Larson, Cee-Lo Green. Seth Meyers: Ted Danson, Kevin Millar & Sean Casey, Robert Kirkman. James Corden: Nathan Lane, Rachel Bloom, the Maccabees. Carson Daly: Chace Crawford, Craft Spells, Amy Berg. Tavis Smiley: Dr. Kukufu Zuberi, Sonia Manzano. Trevor Noah: Rachel Maddow. Conan O'Brien: Artie Lange, Aaron Sorkin, Beirut.