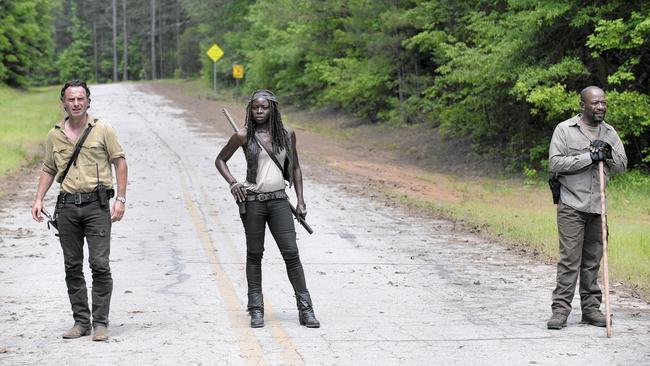 "The Walking Dead" (AMC, 9 p.m.) swings back for its sixth season, its numbers strong if its zombies are limping. The focus returns to zombies for the 90-minute premiere, focused primarily in systematically trying to clear them out while in Alexandria. It's all obsessed over later on "Talking Dead" (AMC, 10:30 p.m.).
Another great episode of "Homeland" (Showtime, 9 p.m.) has its own dramatic peaks; last week's season premiere precedes it at 8.
"The Leftovers" (HBO, 9 p.m.) walks back the timeline a bit to show what led to the moving of last season's characters from New York to Texas.
Sunday Night Football has San Francisco at Giants (NBC, 8:30 p.m.). Earlier games include Washington at Atlanta (Fox, 1 p.m.), Cleveland at Baltimore (CBS, 1 p.m.) and New England at Dallas (CBS, 4:25 p.m.).
"America's Funniest Home Videos" (ABC, 7 p.m.) returns for its 26th season with a new host, Alfonso Ribeiro, formerly of "The Fresh Prince of Bel-Air" and "Dancing with the Stars," his apparent connection to the last host, Tom Bergeron.
"Anthony Bourdain: Parts Unknown" (CNN, 9 p.m.) travels to Okinawa.
I wouldn't be surprised if they started over completely on "Project Greenlight" (HBO, 10 p.m.). Not that the director there is the only one who changes his mind; "Dolly & Em" (HBO, 10:30 p.m.) are also changing the script of their play, annoying Olivia and Evan.
Of the new series, "Quantico" (ABC, 10 p.m.) is doing well; "Blood & Oil" (ABC, 9 p.m.) not so much.
A museum is vandalized on "The Good Wife" (CBS, 9:30 p.m.).
Did a dating app lead to murder on "CSI: Cyber" (CBS, 10:30 p.m.)?
Malcolm tries to kill Felicity on a new episode of "The Widower" (PBS, 10 p.m., check local listings) and high tail it back to Scotland.
"Keeping Up with the Kardashians" (E!, 8 p.m.) has a season finale. But I'm thinking we'll still find a way to keep up with them, if only on offshoots like "Dash Dolls" (E!, 9 p.m.).
The jam canning drive was a success for the Women's Institute on "Home Fires," one of two British Sunday night series running under the name "Masterpiece" (PBS, 8 p.m.). The other is "Indian Summers" at 9 p.m., in which neighboring Indian residents are allowed to visit the British residents at the club.
The third games in the American League Divisional Series has Kansas City at Houston (MLB, 4:10 p.m.) and Toronto at Texas (Fox Sports 2, 8:10 p.m.).
In game four of the WNBA Finals, it's Minnesota at Indiana (ESPN, 8:30 p.m.).
President Obama talks about Russia and Syria in a new "60 Minutes" (CBS, 7:30 p.m.).
Madeline Albright, once a Madame Secretary of State herself, guest stars on the fictional "Madame Secretary" (CBS, 8:30 p.m.).
The costuming is saluted in two films from 1954, "A Star is Born" (TCM, 8 p.m.) and "It Should Happen to You" (11:15 p.m.).
It's Montreal at Ottawa (NHL, 7 p.m.) in hockey action.
In NBA preseason games, it's  Haifa at Lakers (NBA, 9:30 p.m.).
Sunday Talk
ABC: Rep. Jason Chaffetz, Bobby Jindal. CBS: Ben Carson, Donald Trump, Rep. Mick Mulvaney. NBC: Bernie Sanders, Reps. Charlie Dent, Dave Brat. CNN: Martin O'Malley, Reps. Tom Cole, Raul Labrador and Debbie Wasserman Schultz. Fox News: Rep. Jim Jordan, Newt Gingrich.