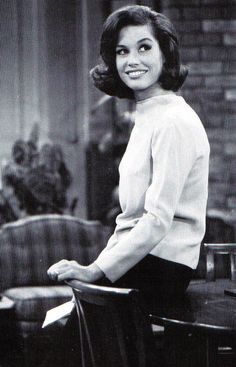 From the moment she stepped on the set of "The Dick Van Dyke Show" as Laura Petrie there was something about Mary Tyler Moore that was fresh and appealing — enough to power a great ensemble sitcom "The Mary Tyler Moore Show" before turning to wider challenges that she also beat, winning an Oscar nomination for her role in "Ordinary People." In "Mary Tyler Moore: A Celebration" (PBS, 8 p.m., check local listings), there are accolades from fans and colleagues amid the clips.
The better than expected "Manhattan" (WGN America, 9 p.m.) returns for its second season, with detonation looming for the bomb they are building in Los Alamos. At times, it seems the series is more about the women and relationships than men in secret workshops, but the series by Sam Shaw and Thomas Schlamme captures an American past with detail like no series since "Mad Men" and has an enviable cast of Olivia Williams, Rachel Brosnahan that is being augmented by William Petersen as a tough new officer in tonight's episode and promised additions of Mamie Gummer, Griffin Dunne and Neve Campbell. But series star John Benjamin Hickey is absent for the whole of the episode and his absence dominates action.
That Scarface won the "I Am Hip Hop Award" at The 2015 BET Hip Hop Awards (BET, 8 p.m.) and was immediately arrested on child support contempt charges backstage Friday in Atlanta, suggests that contempt for child support and women in general may well unfortunately be embodied in hip hop. Snoop Dogg hosts the event that went otherwise without apparent incident.
It's the Al Pachino-portrayed gangster of the same name, however, who is the subject of "Inside Story: Scarface" (Reelz, 9 p.m.).
The dramatic rise and fall of the University of Southern California Trojans football team is chronicled in Aaron Rashaan Thomas' "Trojan War" to begin the third season of sports documentaries on "30 for 30″ (ESPN, 9 p.m.).
Syrian refugees could be a Trojan Horse for ISIS, Donald Trump has declared. Forgetting for a moment Trump's fantasy world, historians go back to Troy to see if such a thing as a Trojan Horse actually existed on "Secrets of the Dead" (PBS, 9 p.m., check local listings).
"Chicago Fire" (NBC, 10 p.m.), the show that started an empire, returns for its fourth season.
Gordon Cooper's space mission is recounted, with inebriation, on "Drunk History" (Comedy Central, 10:30 p.m.).
We find out if the guy ever finds the bomber of Pan Am 103 on the third and final installment of "My Brother's Bomber" on "Frontline" (PBS, 10 p.m., check local listings).
Jimmy takes Gerald out on the town on "Grandfathered" (Fox, 8 p.m.).
Sometimes, to "Live Free or Die" (National Geographic, 9 p.m.) means some "Dirty Rotten Survival" (National Geographic, 10 p.m.).
Eddie goes to his first school dance on "Fresh Off the Boat" (ABC, 8:30 p.m.).
With plans for a pumpkin patch party, at least "Scream Queens" (Fox, 9 p.m.) is at least trying to be seasonal.
A Greek life murder is the case tonight also on "iZombie" (The CW, 9 p.m.).
"The Muppets" (ABC, 8 p.m.) party with Ed Helms, to Kermit's chagrin.
The odd point of the new series "Limitless" (CBS, 10 p.m.) is that drugs, indeed, do work.
Daisy, Mack and Coulson try to protect Lincoln on "Marvel's Agents of S.H.I.E.L.D." (ABC, 9 p.m.). Don't let him go to the theater!
Is "Best Time Ever with Neil Patrick Harris" (NBC, 8 p.m.) better at an earlier hour? Well, it couldn't be much worse.
If you missed "The Godfather, Part II" (Sundance, 4:30 p.m.) yesterday, it's on again, followed by "The Godfather, Part III" (Sundance, 9 p.m.). Thankfully, there's no part four.
The showcase of women directors continues with work from the 1980s including Joan Michelin Silver's "Crossing Delancey" (8 p.m.), Amy Heckerling's "Look Who's Talking" (10 p.m.), Euzhan Palcy's "A Dry White Season" (11:45 p.m.), Gillian Armstrong's "Mrs. Soffel" (1:45 a.m.) and Susan Sideman's "Cookie" (3:45 a.m.).
The National League Divisional Series games reach game 4 with St. Louis at Cubs (TBS, 4:30 p.m.) and Dodgers at Mets (TBS, 8 p.m.).
Hockey action includes Tampa Bay at Detroit (NBC Sports, 7:30 p.m.).
It's Arkansas State at South Alabama (ESPN2, 8 p.m.) in college football.
NBA preseason games include Milwaukee at Cleveland (NBA, 7 p.m.) and Denver at Golden State (NBA, 10:30 p.m.).
In soccer, it's U.S. vs. Costa Rica (ESPN, 6:30 p.m.) in an international friendly.
Daytime Talk
Kelly & Michael: Jessica Chasten, Gabrielle Union, Ciara. The View: Alan Mencken, Scott Weinger, Linda Larkin, Gilbert Gottfried, Jonathan Freeman. The Talk: Kathy Bates, Nichelle Turner. Ellen DeGeneres: Steve Carell, Sienna Miller, Rob Thomas. Wendy Williams: Taye Diggs. Meredith Vieira: Sara Bareilles.
Late Talk
Stephen Colbert: Sarah Silverman, Elijah Wood, Legends of Zelda. Jimmy Kimmel: Taraji P. Henson, Matthew Fox, Byron Bowers. Jimmy Fallon: Michael Strahan, Eve Hewson, Charles Kelley, Dierks Bentley, Eric Paslay. Seth Meyers: Sophia Bush, Josh Meyers, Craig Finn. James Corden: Jeff Daniels, Kirsten Dunst, Billy Eichner, Franz Ferdinand & Sparks. Carson Daly: Danny Boye, Aaron Sorkin, Melanie Martinez, Bryan Carberry & J. Clay Tweel. Tavis Smiley: Henry Greely, Patricia Jennings, Gerry Spence. Trevor Noah: Richard Dawkins. Conan O'Brien: Chris Pratt, Eric Dane, Dawes (rerun).